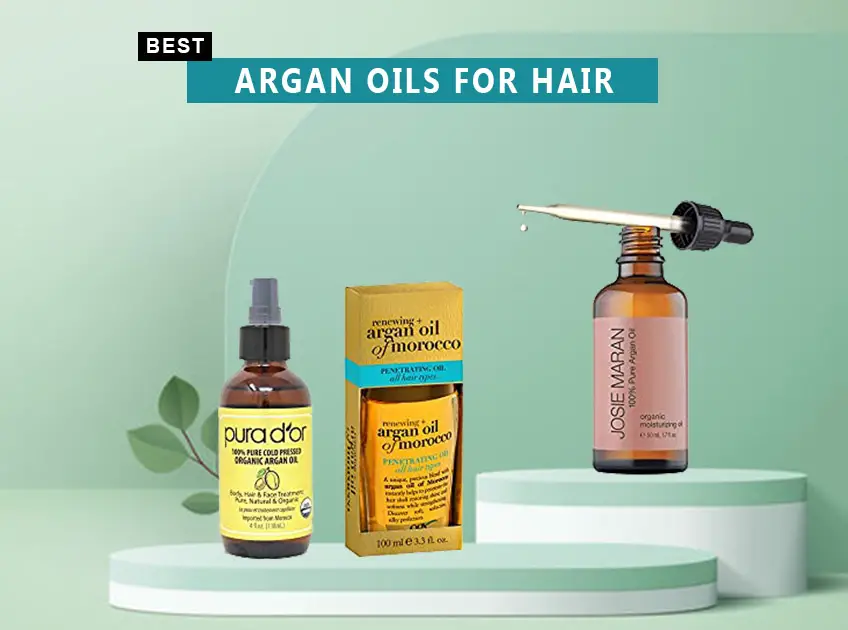 Argan oil, also called liquid gold, is an elixir for hair growth. It is made from the fresh kernels of the fruit of the argan tree in Morocco. This oil has been used for centuries for different purposes, especially cooking and as a home remedy for various skin and hair issues.
Argan oil is a rich source of vitamin E, fatty acids, and antioxidants, providing moisture, hydration, and luster in its true, undiluted form. Since it has multiple skincare and hair care benefits, including it on the beauty shelf is a wise decision.
Argan Oils
It is important to use 100% pure oil; therefore, most brands obtain argan oil from argan nuts, extract, and often cold-press to preserve its hair-nourishing qualities. Since multiple brands offer argan oil, we have narrowed the search and listed the 7 best argan oils for hair to make your hunt easy.
7 Best Argan Oils for Hair
1. Most Popular Worldwide: Moroccanoil Treatment
A multitasking hair treatment infused with antioxidant-rich argan oil
Infused with essential fatty acids to promote a healthier look and feel
Softens hair, detangles, smooths frizz, and flyaway
Improves hydration up to 118%
What we don't like: This product is highly effective but comes with a hefty price tag that may restrain you from buying.
[ Read: Essential Oils For Frizzy Hair ]
2. Premium Treatment For Hair
Extracted from the kernels of the Argania Spinosa Tree through cold pressed extraction method.
Adds an extra layer of protection against environmental factors as it is rich in vitamin E and essential fatty acids
Locks in natural moisture by boosting superior hydration levels
Can be used on the skin as it helps reduce redness and skin irritation with its anti-aging properties
What we don't like: People with oily skin can have acne and breakouts using this oil. So, it is better to use it only on hair.
[ Read: Top 12 Benefits of Vitamin E oil For Your Skin And Hair ]
3. A Complete Skincare And Hair Care Solution: Mother Nature Organics Argan Oil
USDA Certified Organic Argan Oil of Morocco
Natural hair treatment with no fillers or additives
Most effective for rejuvenating your skin, hair, and nails
Hydrates hair follicles and provides essential nutrients that repair split ends and brittle hair to help prevent hair loss
What we don't like: Even though this oil is excellent, the smell is not very pleasing.
[ Read: 11 Home Remedies To Control Hair Fall Naturally ]
4. Replenish The Lost Hydration: Ogx Renewing Argan Oil Of Morocco
Helps seal in nutrients and shine to locks, leaving hair strong and silky smooth
Gives hair a renewed look and feel of silky perfection and radiant shine
Ideal for all hair types, textures, and moisture levels
Helps to penetrate the hair shaft while renewing and softening locks
What we don't like: According to a reviewer, hair gets oily and dirty; therefore shower is a must.
[ Read: How To Keep Your Hair Healthy and Strong ]
5. High-Grade Oil For Luscious Locks: Pure Body Naturals Organic Argan Oil
Premium quality oil sourced from the Argan Forest in Morocco; great for hair and skin
Infused with vitamin A and vitamin E and packed with antioxidants, Omega-6 fatty acids, and linoleic acid
100% pure and chemical-free
Most versatile essential oils to rejuvenate how you look and feel
What we don't like: Although the brand claims to have organic and pure argan oil, it doesn't smell like unrefined argan oil.
6. Give An All-Around Protection: Josie Maran 100% Pure Argan Oil
100% pure, 100% organic, and 100% natural Argan Oil
It is a multi-tasker that nourishes, conditions, and heals
Clinically proven to benefit hair, skin, and nails
Cruelty-free, paraben-free, sulfate-free, gluten-free, phthalate-free, synthetic fragrance-free, mineral oil-free, formaldehyde-free, and PEG-free.
What we don't like: Its hefty price tag is the only downside that doesn't fit everyone's beauty budget. But remember, something that's costly is effective too.
7. Budget-friendly Hair Oil: The Ordinary Moroccan Argan Oil
It uses 100% pure Moroccan Argan Seed Oil extracted through a cold pressing
Adds soft sheen and strength to hair
Completely unrefined and imparts a natural scent of Argan
Free of harmful chemicals and allergens
What we don't like: Some people may find the smell of this Argan Oil a little overpowering.
[ Read: 7 Best Hair Oils For Men ]
Conclusion
Argan oil improves scalp health, lubricates the hair shaft, and helps your hair maintain moisture. Moreover, it also prevents styling and coloring damage due to the presence of medium-chain fatty acids that have a protective effect that can help prevent damage.
With a plethora of benefits, argan oil could be the right choice to manage major hair issues and give a complete makeover to them.
You Might Also Like: