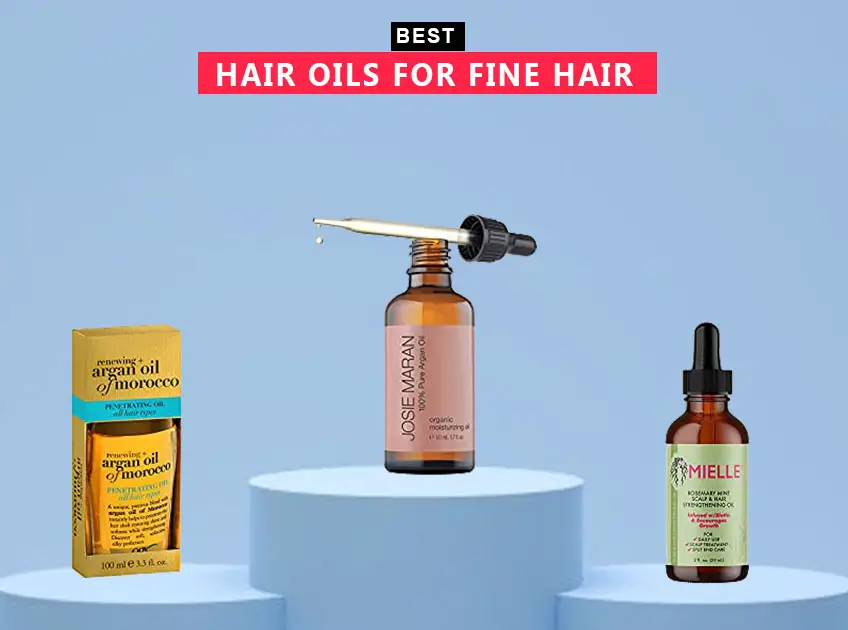 Fine hair means its width is less compared to other hair types. With a smaller diameter, the hair looks thin compared to thick and coarse hair. Generally, fine hair is a result of genetics, and you are born with it.
Since fine hair looks limp, people often wonder whether they should use hair oil. Even though when you wash and air dry them, they look full and voluminous; soon after drying, they fall flat. At the same time, heavy oils, butter, and creams also weigh fine hair down.
Hair Oils
If you think using oils will result same for your fine hair, too, fret not. We have selected the 7 best hair oils for fine hair that will nourish your strands without making them limp and flat. At the same time, these oils will address multiple hair issues and curb them. Check them out!
[ Read: 7 Best Shampoos for Coarse Hair ]
7 Best Hair Oils For Fine Hair
1. Premium Treatment for hair: PURA D'OR Organic Moroccan Argan Oil
Extracted from the kernels of the Argania Spinosa Tree through cold pressed extraction method.
It adds an extra layer of protection against environmental factors as it is rich in vitamin E and essential fatty acids
Locks in natural moisture by boosting superior hydration levels
It can be used on the skin as it helps reduce redness and skin irritation with its anti-aging properties
What We Don't Like: It is not suitable for oily hair.
[ Read: 7 Best Argan Oils For Hair ]
2. USDA Certified Organic: Kate Blanc Cosmetics Castor Oil
Castor oil promotes healthy hair growth, giving longer, thicker, and voluminous hair and diminishing hair fall.
It works well for the scalp, eyebrows, and eyelashes too
It is 100% guaranteed authentic, pure, natural, and hexane free.
Effective treatment for dry, brittle hair, dry scalps, and dandruff
Useful for the skin, too, as it moisturizes skin and reduces blemishes, acne, pimples, scars, and fine lines without leaving your skin dry
What We Don't Like: It feels sticky and makes hair greasy.
[ Read: 9 Best Castor Oils For Hair Growth ]
3. Moisturizing and Strengthening: OGX Renewing + Argan Oil of Morocco Penetrating Hair Oil Treatment
It is suitable for all hair types and helps give strong and silky hair
It helps seal in nutrients and shines on the locks, making them look voluminous and bouncy
The oil penetrates deep into the cuticles, giving a renewed look and feel of silky perfection and radiant shine
Features a potent blend of rich cold-pressed Moroccan argan oil that revives each hair strand
The pleasing citrus-fresh, floral-green, and woody scent gives good vibes
What We Don't Like: It is expensive.
[ Read: 17 Mind-Blowing Short Curly Haircuts for Fine Hair ]
4. Most Popular Worldwide: Moroccanoil Treatment
A multitasking hair treatment infused with antioxidant-rich argan oil
Infused with essential fatty acids to promote a healthier look and feel
Softens hair, detangles, smooths frizz, and flyaway
Improves hydration up to 118%
What We Don't Like: It feels sticky.
[ Read: How To Make Bleached Hair Soft And Silky ]
5. Nourishing Treatment: Mielle Organics Rosemary Mint Scalp & Hair Strengthening Oil
It is a nutrient-rich, biotin-infused treatment that provides intensive deep hair treatment.
It prevents hair damage and gives strong and lustrous hair with voluminous growth
The fresh and pleasing scent makes hair feel and smell refreshed.
It is an effective oil that addresses multiple hair issues like split ends, hair fall, and hair thinning.
The blend of 30 essential oils and nutrients penetrates the scalp and increases blood circulation to combat dandruff and an itchy scalp.
What We Don't Like: It may feel slightly heavy on the hair.
[ Read: 7 Simple Home Remedies For Dry Itchy Scalp ]
6. Give An All-Around Protection: Josie Maran 100% Pure Argan Oil
100% pure, 100% organic, and 100% natural Argan Oil
It is a multi-tasker that nourishes, conditions, and heals.
It is clinically proven to benefit hair, skin, and nails.
Cruelty-free, paraben-free, sulfate-free, gluten-free, phthalate-free, synthetic fragrance-free, mineral oil-free, formaldehyde-free, and PEG-free.
What We Don't Like: Its hefty price tag is the only downside that doesn't fit everyone's beauty budget. But remember, something that's costly is effective too.
[ Read: 7 Best Conditioners For Fine Hair ]
7. Hydrates DRY HAIR: HERSTYLER HAIR REPAIR SERUM
The major ingredients are argan oil, aloe vera, and Vitamin E
Tames frizz and flyaways, maintaining the health and vibrancy of the locks
Infused with argan oil that provides deep nourishment and ultra hydration to dry and dull hair
It also contains Aloe vera and Vitamin E to repair hair damage
Suitable for all hair types
What We Don't Like: It does not work on 4C hair.
[ Read: 7 Best Hair Dryers For Fine Hair ]
Conclusion
These are the best hair oils for fine hair that we selected based on quality and performance on fine hair. Now that you know them with their downsides grab the one you like the most for healthy hair.
You Might Also Like: