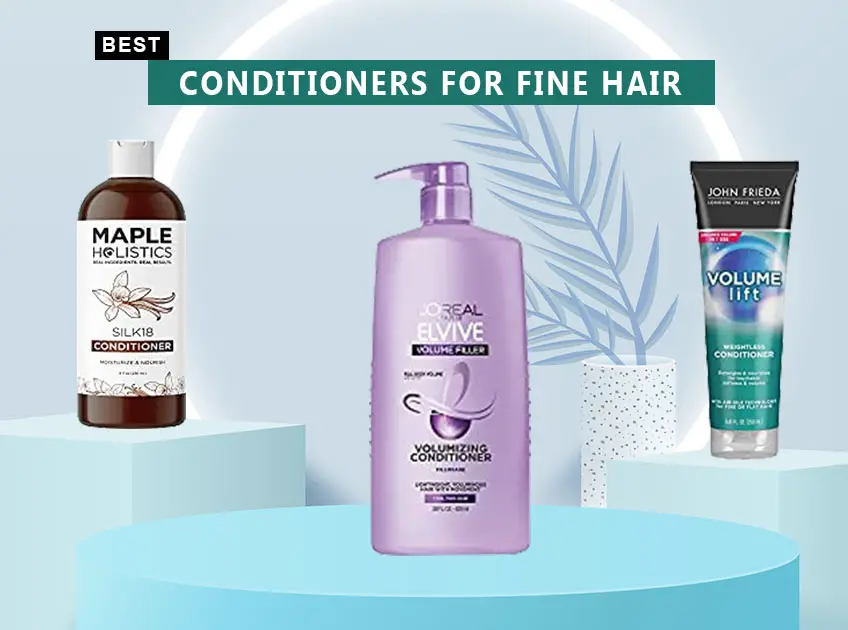 Fine hair needs special attention to give them a thicker, more lustrous, and voluminous look. Even though there are plenty of hair conditioners, using the best conditioner for fine hair is one of the best ways to make them look dense and voluminous.
Many conditioners can build strength, and plump hair, making it look thicker. Also, some conditioners have advanced technology that expands hair, making them bouncy. Therefore, using such conditioners will help give a boost to fine hair.
Conditioners
If you are confused about which conditioner to invest in, we have listed the 7 best conditioners for fine hair. All of them are reviewed by us to bring you the best of the entire world. Keep reading and find out their features.
7 Best Conditioners for Fine Hair
1. Ultra Hydrating: Maple Holistics Hair Conditioner for Damaged Dry Hair
It is loaded with some amazing plant-based ingredients like green tea, aloe vera, argan oil, hibiscus, pomegranate, jojoba oil, shea butter, silk amino acids, and keratin
It makes hair silky and helps in easy detangling of them
The presence of jojoba oil and argan oil, a rich source of Vitamin E, helps keep hair nourished deeply
It is free of sulfate, paraben, and other harmful ingredients.
What we don't like: It is an expensive hair conditioner for fine hair. Also, if your hair is extremely dry and damaged, it won't be of any use.
[ Read: Aloe Vera for Hair Straightening ]
2. Protein Treatment: OGX Thick & Full + Biotin & Collagen Extra Strength Volumizing Conditioner
Loaded with powerful ingredients, it helps make hair healthy and shiny
The blend of hydrolyzed wheat protein, bamboo fiber extracts, biotin, and collagen work in favor of hair, nourishing them intensely
It works great on ultra-fine hair, giving them volume and bounce
The refreshing scent of coconut and jasmine makes it pleasing
What we don't like: It might leave residue; therefore, a thorough cleaning is essential.
3. Best for Colour-Treated Hair: John Frieda Volume Lift Lightweight Conditioner
Air Silk Technology is the biggest USP of this conditioner; that ensures deep nourishment and hydration of the strands
It ensures easy and pain-free detangling of hair
Does not weigh hair down and keeps its volume intact
It is suitable for color-treated fine hair
What we don't like: It is not suitable for people with gluten sensitivity. Also, it is not anti-frizz, so it may not work for such hair types.
[ Read: Best Shampoo And Conditioner For Tangled Hair ]
4. High-quality and Affordable: L'Oréal Paris Elvive Volume Filler Thickening Conditioner
Adds volume and bounce to the fine textured hair, making them look dense, healthy, and lustrous
Contains the goodness of filloxane elixirs that enhance fine hair's density by deeply penetrating and expanding hair strands
Delivers long-lasting results and added volume for over 24 hours
It helps to improve hair texture and density
What we don't like: It contains parabens, sulfates, and gluten; therefore, you should use it with care.
5. Fine To Normal Hair: Wella Enrich Moisturizing Conditioner
It delivers instant and long-lasting hydration to hair and thus improves their texture
Suitable for damaged, dry, rough, and processed hair, making them smooth, soft, and supple from root to tip
It is hypoallergenic and smells amazing
Helps detangle hair without weighing them down
What we don't like: It may contain parabens considered nasty for hair health. Also, this conditioner is pricy.
[ Read: 7 Best Root Lifters For Fine Hair ]
6. Long-Lasting Voluminous Hair: BIOLAGE Volume Bloom Conditioner
Suitable for dry, dull, and damaged hair as it provides them extra hydration and nourishment
The hydrating and moisturizing formula creates healthy hair that lasts forever
Helps detangle fine hair and improve their texture
It is safe for color-treated hair, making them bouncy and voluminous
What we don't like: It is expensive.
7. Dermatologist-tested: Jack Black – Nourishing Hair and Scalp Conditioner
It is designed for fine hair with a rich moisturizing formula
Infused with certified organic ingredients that are safe for hair and give them a boost of health and nourishment
It consists of antibacterial and anti-inflammatory properties
Free of paraben, sulfate, fragrance, and colorants
What we don't like: Due to the presence of silicone, this product may not work well on curly hair.
[ Read: 5 Homemade Hair Serum Recipes for Healthy & Nourishing Hair ]
Conclusion
Even though you might not have thought it, conditioners can greatly affect how your hair will look. Since fine hair looks limp and lifeless, using the best conditioner will tremendously impact its health and volume.
If your fine hair is dull and damaged, it's time to shift from your normal conditioners to those we have mentioned above. They will help bring back health and life to your fine textured hair. Choose any of them and give a boost to your locks.
You Might Also Like: