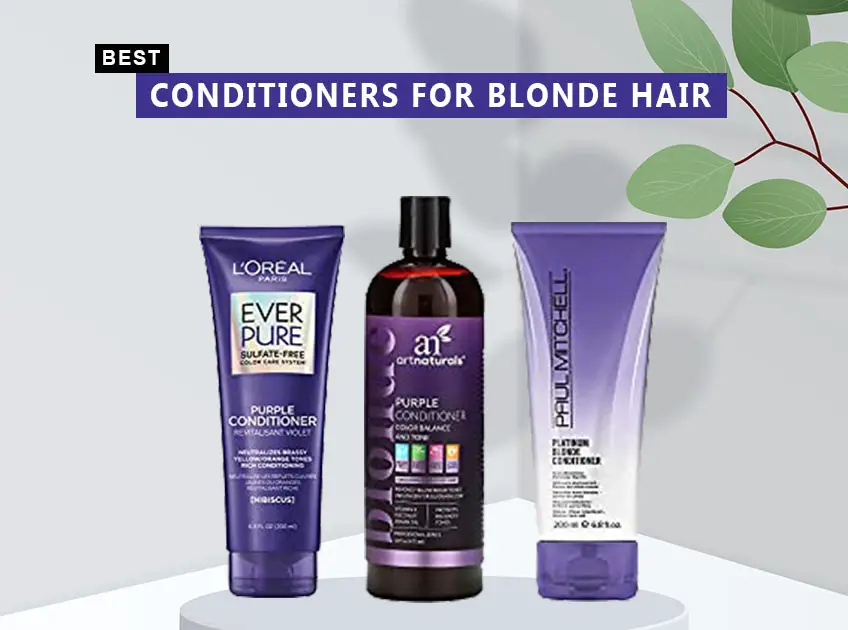 Whether you have blonde hair naturally or after color treatment, taking care of it is essential to maintain health and shine. To ensure your goldilocks stay shining, you need to use the best conditioner for blonde hair because shampoo alone can't do all the work.
The best conditioner for blonde hair is the one that keeps the frizz at bay and provides extra nourishment and hydration to it from root to tip. Since many brands manufacture conditioner for blonde hair, not all fulfill every criterion.
Conditioners
To make your search easy, we have listed the best conditioners for blonde hair that will give a bounce to your blonde hair and make the best part of your personality.
Check them out!
7 Best Conditioners for Blonde Hair
1. Plant-based Ingredients: John Frieda Sheer Blonde Go Blonder Conditioner
Features its exclusive BlondMend Technology that helps hydrate and soften the hair
Free of ammonia and peroxide, suitable for all hair types
The refreshing citrus fragrance makes it pleasing
Works well with natural as well as treated hair
Due to the presence of gentle ingredients, it is suitable for everyday use
2. Affordable and Effective: L'Oreal Paris EverPure Sulfate-Free Brass Toning Purple Conditioner for Blonde, Bleached Silver, or Brown Highlighted Hair
Soothes frizzy, dull, and dry strands by deeply nourishing and hydrating them
Hair feels soft, smooth, hydrated, and bouncy with a high shine
Works well on natural as well as color-treated blonde hair
It is free of paraben, sulfate, and other harsh salts and ingredients that can harm hair health
What we don't like: You may notice hues of purple on the hands after using this conditioner.
3. Light-Weight And Refreshing: Paul Mitchell Platinum Blonde Conditioner
It helps neutralize the brassy tones and improve the shine, texture, and health of blonde tresses
Features color enhancing formula and helps enhance the overall look of blonde hair
It is infused with the goodness of sunflower seed, macadamia seed, and other such natural extracts
Protects the hair from root to tip, making it lustrous and moisturized
Free of paraben and other harmful ingredients
What we don't like: It is expensive as compared to other conditioners available in the same size for blonde hair.
[ Read: 7 Best Shampoos For Lightening Blonde Hair ]
4. Balance Hair Tone: artnaturals Purple Conditioner
Infused with healthy ingredients like Vitamin E and coconut oil
Dramatically transforms dull blondes into softer, supple, and healthier hair
It is designed to work wonders on treated hair due to its Vitamin E enriched formula
Good not only for hair but scalp as well
What we don't like: The overpowering fragrance of the conditioner is not liked by everyone.
5. Intense Hydration: GK HAIR Global Keratin Deep Conditioner Masque
Works well on damaged blonde hair, reviving and revitalizing them completely
Suitable for all hair types- fine, textured, curly, dry, oily
Infused with Juvexin, a keratin anti-aging protein blend that tames the frizz
It also contains jojoba oil that ensures healthy hair growth
What we don't like: It comes with a hefty price tag and doesn't fit everyone's beauty budget.
[ Read: 16 Effective Home Remedies for Hair Growth and Thickness ]
6. Mirror Shine Hair: Get Back Gorgeous Purple Conditioner for Blonde Hair
Gives luminous blonde hair shining beautifully in just three minutes
Works well for all hair types- naturally, blonde, colored, highlighted, or gray
The protective ingredients present in the conditioner create a protective shield around the strands, ensuring they stay healthy irrespective of the weather
The active ingredients are natural extracts and plant-based glycerin.
What we don't like: It may leave purple residue on hands after use.
7. Vegan Friendly: MARC DANIELS PROFESSIONAL Powerful Purple Toning & Moisturizing Conditioner
Loaded with the goodness of pro-vitamin B5 to restore the health of damaged and chemically treated hair
Ensures giving soft, silky, shiny, and lustrous hair
It also contains Vitamins A and C, and antioxidants that boost hair health tremendously
Free of parabens and sulfate and gives long-lasting results.
What we don't like: It doesn't work well on fine textured hair.
Conclusion
If you have a hard time managing your blondes and they are getting dull and dry with every wash, maybe it's time to change your conditioner and get the one made specifically for blonde hair.
Pick any of the products we have mentioned and give your beautiful blonde a boost of health and hydration.
You Might Also Like: