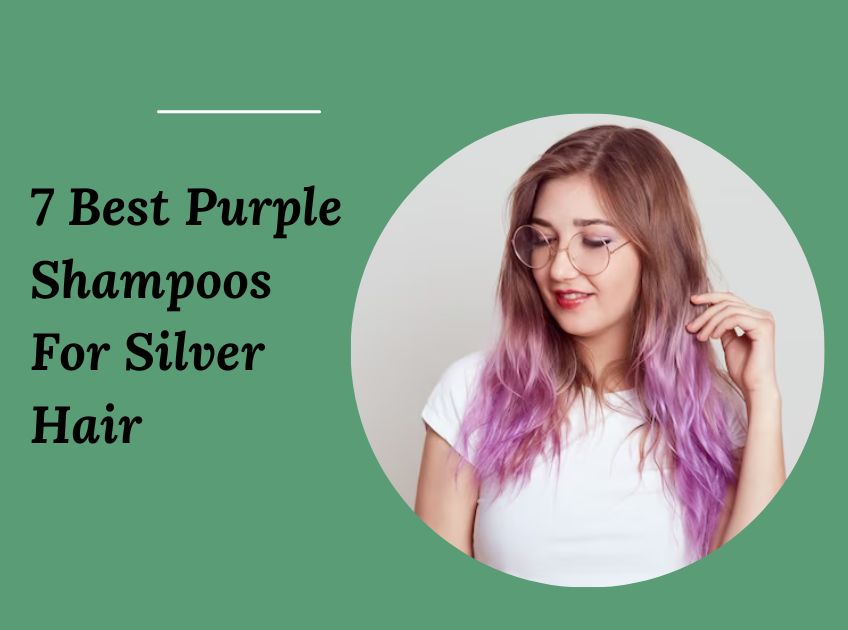 If you have recently colored your hair silver and looking for the best purple shampoo for silver hair, you are at the right place. Since the work of purple shampoo is to brighten dull, brassy, and over-yellow hair and neutralize the brassy tones to bring back the silver tone, they are highly useful for such hair colors.
Purple Shampoos
Even though silver hair is in trend and looks great, maintaining it could be tricky. It is when purple shampoo will come to the rescue. All the purple shampoos we have selected are based on their effectiveness on silver hair. You can use them anytime to enjoy the stunning locks.
7 Best Purple Shampoos For Silver Hair
1. Sun Protection: Bold Uniq Purple Shampoo
It is useful for hair colors like blonde, platinum, or silver
It helps protect the ice-cool blonde or ash tones perfectly
It improves hair quality and offers sun protection to the strands
Make hair soft and smooth
Reduces hair breakage, controls frizz, and heals split ends
Free of paraben, SLS, additives, and harmful chemicals
What We Don't Like: It may not work well for orangey or pre-lightened dark blonde hair color
[ Read: 7 Best Shampoos For Lightening Blonde Hair ]
2. Plant-Based Formula: L'Oreal Paris Ever Pure Brass Toning Purple Shampoo
Nourishes, hydrates, and moisturizes the hair
It contains hibiscus and purple dye to neutralize brassiness
It is an effective treatment for damaged, bleached, or colored silver hair
It can be used 2-3 times a week and get rid of yellow or orange tones
Free of paraben, harsh chemicals, and gluten
It is a sulphate-free color safe product
What We Don't Like: It may not suit sensitive skin or scalp.
3. Suits Color Processed Hair: Matrix Total Results So Silver Color Blessed
Helps maintain colored hair at home
Neutralizes the yellow tones and enhances the true hair color
Does not strip off the hair color
It helps get back the soft and natural texture of hair
It eliminates gray hair and is best for silver hair maintenance
What We Don't Like: Overpowering smell.
4. Best Paraben-Free Formula: L'ange Purple Toning Shampoo
Eliminates yellow and orange brassy tones effectively
Formulated with omega-rich oils
Nourishes your hair for a healthy shine
It contains a powerful blend of rich botanicals
Treats over-processed hair
Preserves hair color and makes hair healthy, soft, and naturally luminous
Increases hair elasticity, making them bouncy
It does not weigh hair down
Free of alcohol and paraben
What We Don't Like: It may not suit an itchy scalp.
[ Read: The 14 Best Shampoos for Fine Hair ]
5. Boosts Shine: Joico Color Balance Purple Shampoo
It instantly corrects warm yellow tones
Boosts the smoothness and shine of hair
Removes static
Contains a powerful blend of green tea extract, UV absorbers, antioxidants
Formulated with Smart Release Technology
Infused with rosehip oil, keratin, and arginine
Strengthens hair root to tip
Protects hair from pollutants and damage caused by heat or styling
What We Don't Like: It may leave behind a sticky residue on the hair.
[ Read: Results of Leaving Purple Shampoo on Your Hair ]
6. Best Gray Hair Coverage: Kick Active Purple Shampoo For Blonde And Silver Hair
Formulated with exclusive silver shampoo technology
Delivers lighter color adjustment with a smooth, silky texture
It is a protein-rich formula
Extends life to the color and health of hair
Protect hair from environmental damage, brassy undertones, split ends, and breakage
Features anti-frizz and protein-rich formula
Offers UV protection to the strands
Adds to the shine and body of the hair
What We Don't Like: It may not suit coarse and thick hair.
7. Ultra Nourishment: KÉRASTASE Blond Absolu Bain Ultra-Violet Anti-Brass Purple Shampoo
Contains neutralizing agents that neutralize yellow undertones
Restores hair health and is ideal for blonde and grey hair
Infused with hyaluronic acid and edelweiss flower extracts
Helps boost luminosity and offers deep nourishment
Protects hair from daily pollution
Makes hair soft and shiny
What We Don't Like: It may leave behind purple streaks
Conclusion
So, these are some of the most effective and the best purple shampoo for silver hair. If you want to maintain your stunning silver tresses for a long, it's time to start using any of these purple shampoos and enhance the life of your silver strands.
You Might Also Like: