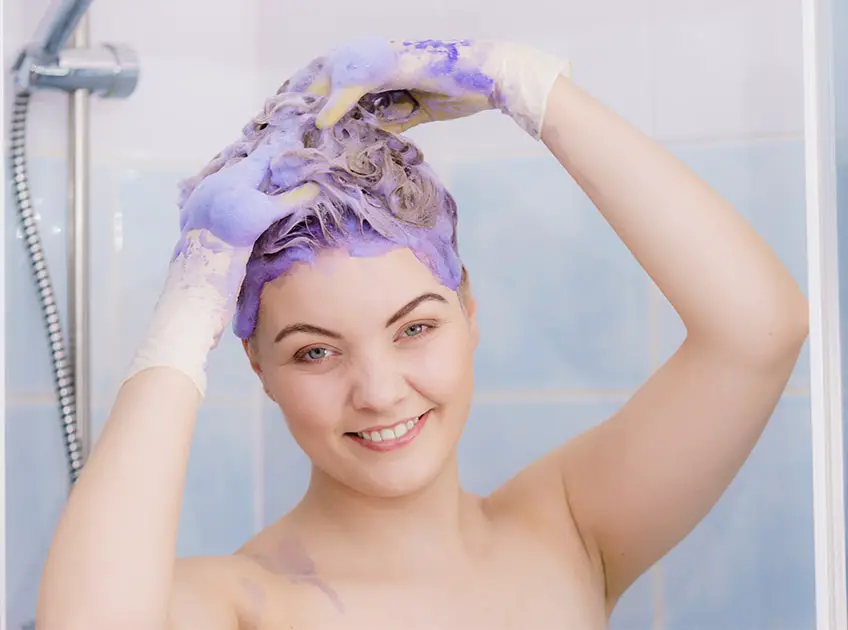 Sometimes it happens that we don't feel like getting the desired share after dying the hair. In such cases, toners are our best resort but which one to use? Blue and purple shampoos can be used in these cases but which is better? Read on to know the difference.
Blue Shampoo Vs Purple Shampoo
Blue shampoo and process of using it:
1. Who Can Use it?
Blue Shampoo: People with brown or brunette hair will find the blue shampoo useful as it neutralizes the orangish, reddish and other cool warm tones. Brunettes with ombre, foils, streaks, highlights, balayage or hair lightening can use it.
Purple Shampoo: Purple shampoo is meant for people with blonde highlights, or grey or blonde hair. It helps in neutralizing the warm tones and thus reduces the yellow shades. Brunettes and blondes can use for maintaining the highlights.
2. Pigments
Blue Shampoo: Hair-bonding blue-violet pigments are used for formulating the blue shampoo. This neutralizes the warm tones, removes brassiness and imparts a shiny and vibrant look to the hair.
Purple Shampoo: The purple pigments with which this shampoo is formulated help in maintaining the platinum or correct light-colored hair.
[ Read: What Happens If You Leave The Purple Shampoo on Your Hair Too Long? ]
3. Process of Using
Blue Shampoo: The shampoo needs to be applied from root to tip and then rinsed. Apply a conditioner. Use a leave-in hair serum or oil to nourish the damp hair.
Purple Shampoo: Use a clarifying shampoo to wash your hair and make the follicles ready for absorbing the purple shampoo pigment. Let the purple shampoo sit on the damp hair for about 5 minutes for blonde or ashy tresses and 10-15 min for grey and platinum tones. This is the curing time needed for the shampoo. Rinse and follow by a deep conditioning hair mask so the strands get rejuvenated.
 [ Read: Purple Shampoo On White Hair ]
Benefits Of Purple And Blue Shampoo
Here are the advantages of blue and purple shampoo:
1. Long-Lasting Color: With these shampoos, your hair color would last long with minimal effort. So the blonds and brunettes no more need to go to the salon frequently.
2. Keeps The Hair Shiny: The shampoos help in maintaining the natural shine and luster of hair, thus eliminating the need for any special treatments.
Blue and purple shampoos are toning products that help in dealing with the brassy hair tones. Pigments used in them, help in getting the desired shade when applied following the tips mentioned above. If you are a first-timer, it is always fine to experiment with both the shampoos to check which one works best for you.
You Might Also Like: