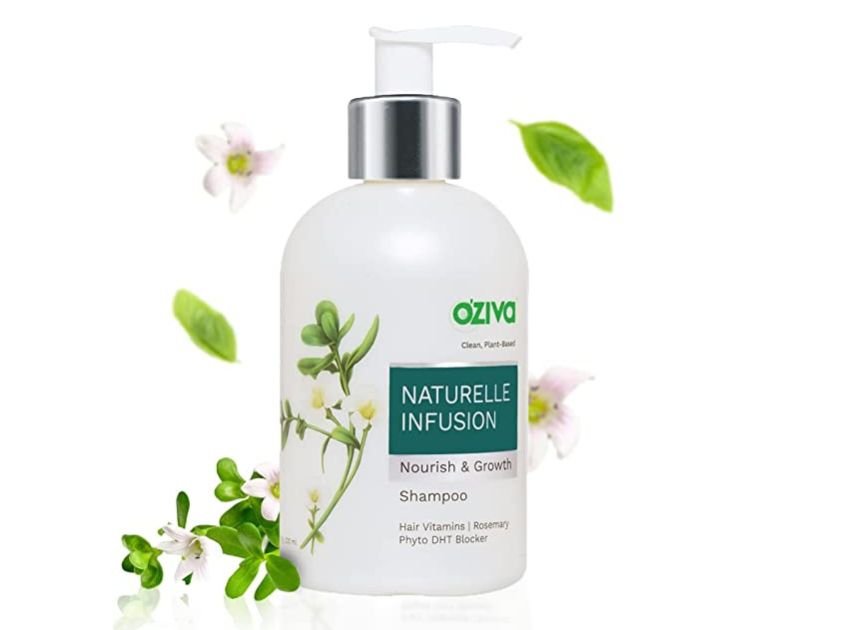 Hair fall is one of the most common problems among men and women. Poor nutrition and lifestyle can contribute to hair fall and other hair-related issues. Even though you can spend plenty of time in the salon to get some hair treatment, you won't get a long-lasting result until you don't start using a chemical-free and high-quality shampoo.
Since every hair is different with different needs, you can find plenty of products in the market that commits to healthy and lustrous hair growth. However, choosing a shampoo that suits all skin types and works well for all family members is a bit tricky. Therefore, today we will review Oziva Naturelle Infusion Nourish & Growth Shampoo, which suits all hair types and is composed of 100% natural ingredients.
Let's find out the major components and benefits of using it.
Product Review
Oziva Naturelle Infusion Nourish & Growth Shampoo nourishes hair deeply and prevents hair loss. It works more like a defense shampoo that combats major issues of the scalp and hair, promoting healthy growth.
The different extracts of herbs and plants provide nourishment to the hair and scalp. Since most hair problems start with hair roots, this shampoo provides nutrition right at the scalp and makes the hair stronger.
The major benefits of this hair care product include reactivation and promotion of hair growth, reduction of hair fall, prevention of premature hair greying, and increase in hair strength.
Since this product is free from harsh chemicals that are often found in other brands, this product seems promising. People who are facing hair fall issues and want to get voluminous growth can opt for Oziva Naturelle Infusion Nourish & Growth Shampoo.
[ Read: How I Reversed My Pcos Hair Loss ]
Product Description
Oziva Naturelle Infusion Nourish & Growth Shampoo is a deep nourishing; hair fall defense shampoo that prevents hair loss, strengthens hair, and promotes hair growth. It consists of extracts of Hairy Root Culture, Saw Palmetto, Sesbania Biotin, Jaborandi, and Amica. Together these extracts work to help protect hair from daily wear and tear, making them strong and healthy.
The shampoo is free of sulfate, silicon, phthalate, alcohol, and dye. It is believed that regular use of Oziva Naturelle Infusion Nourish & Growth Shampoo reduces hair fall by up to 15% and improves hair growth. It is suitable for all hair types.
To use, wet your hair with lukewarm water and apply shampoo thoroughly on your scalp and hair. Massage gently and leave the shampoo on the scalp for two to three minutes. Now rinse well with lukewarm water and remove the entire residue.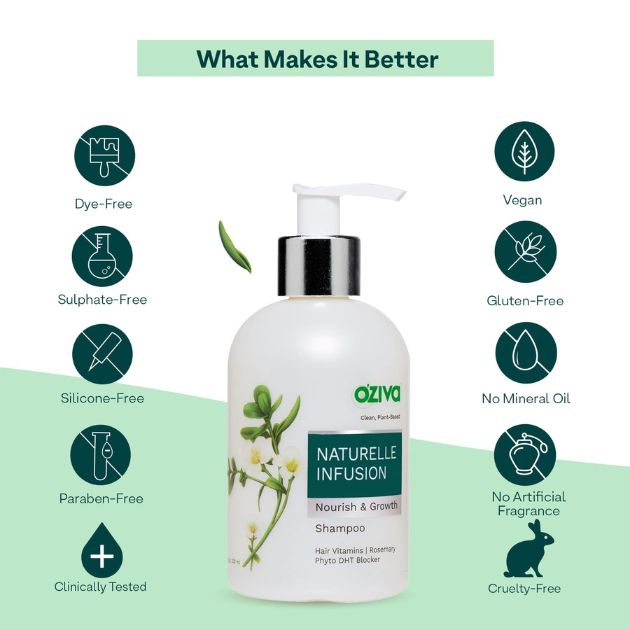 Nutrition Facts
The two major blends of Oziva Naturelle Infusion Nourish & Growth Shampoo are-
Volume Enhancing Blend- It consists of biotin extracts and rosemary oil.
Hair Fall Control Blend- The presence of Brahmi extracts nourishes the hair, and Saw Palmetto Extract works as a DHT blocker to prevent hair follicle shrinkage and make the hair roots stronger.
What We Like
It is a chemical-free product, highly effective in preventing hair loss and attaining voluminous growth.
Every ingredient of the product is plant-based.
It is paraben-free, sulfate-free, dye-free, silicon-free soy-free, gluten-free, and chemically tested.

What We Don't Like
If you are looking for an instant result, this product is not for you. It is essential to use it for at least three to four months and thrice a week to see the difference in hair growth and hair strength. Even though it will make the hair silky, smooth, and shiny after each wash, to attain the benefits of hair fall prevention, you need to use it regularly.
How Much Does Oziva Naturelle Infusion Nourish & Growth Shampoo Cost?
The regular price of Oziva hair shampoo is Rs 449, but you can get it at a discounted price of Rs 436. Make sure you buy it from its official website or from Amazon to enjoy the benefits of offers and deals.
Alternative Products
Conclusion
For all men and women facing difficulty in maintaining hair strength and luster, Oziva Naturelle Infusion Nourish & Growth Shampoo is a one-stop solution. The plant extracts present in this product naturally help to strengthen hair and make them voluminous. The best thing is there will be no side effects as there are no harsh chemicals in it. So, give it a try and see the difference.
Read More