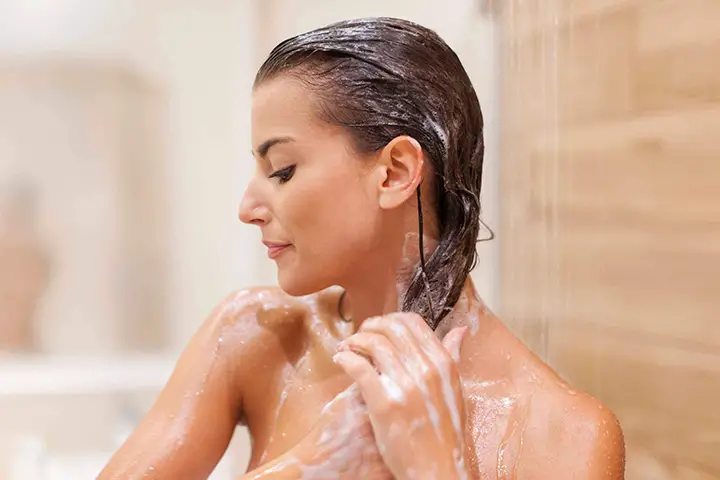 Yes, a limited amount of baking soda can be used with shampoo. Some people use baking soda dissolved in water for removing excess build-up of oil and soften the hair. Though there is no concrete evidence proving that baking soda can be efficient in softening hair and restoring shine, its abrasive nature can damage the hair and cause skin irritation.(1)
Our scalp has a pH of 5.5 and hair shaft has 3.67 but baking soda has a pH level of 9. So using it with a moisturizing shampoo can reduce the negative impact to some extent. Let us see more on this in the next section.
[ Recommended: Is It Safe to Use Baking Soda on Your Hair ]
How Can Baking Soda Help Prevent Buildup in Hair:
Baking soda has an exfoliating effect because of which removal of dirt deposits and excess oil becomes easy.(2)

To create a semi-viscous paste, take 4 tablespoons of baking soda with 3/4th cup of water and some essential oil.

This has to be applied to locks on dry or wet hair, right from the roots till the ends. Let it sit for 1-3 minutes and rinse well with warm water. Use a towel to dry your hair.

Those having dry hair need to use a creamy conditioner after rinsing out the baking soda so the strands remain moisturized.(3)
Drawbacks of Using Baking Soda:
Baking soda strips off the natural oils in the hair which can lead to dryness.

Since the amount of oil varies from one person to another, combining this with shampoo or natural conditioner containing coconut oil or argan oil can help in the restoration of moisture.

Limiting the quantity of baking soda reduces the chances of breakage since too much of it may lead to tearing and split ends of hair.
Scientific Evidence:
Recommended Topics: