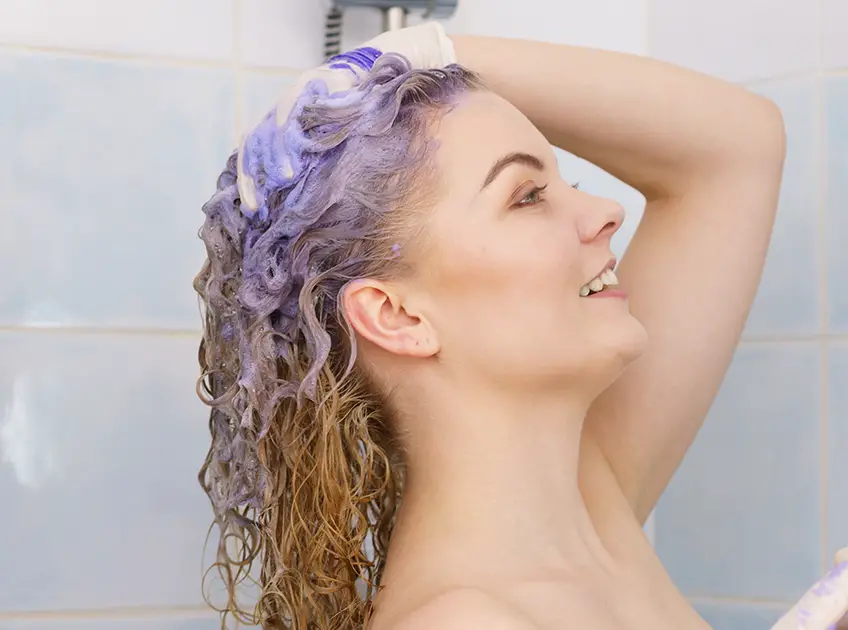 Out of so many, purple is one of the most interesting hair colors. The amazing hue it brings to the hair enhances the personality and makes one look amazing. If you have got purple hair color, different shades will appear with each wash. From ombre to lavender, faded fuchsia to pink, pretty shades will bring an interesting and dreamy look to your personality.
So, if you are worried about your faded purple hair, it's time to bounce back to make it look pretty all over again. Purple color is one of the most popular fantasy hair colors as it comes out to be pretty each time you wash your hair. If you are avoiding dying the hair in purple color just because you are worried about losing the purple color intensity, check out how beautifully it comes out.
[ Read: Purple Shampoo On White Hair ]
Lighten Purple Hair To Lavender
Faded Purple To Ombre
Some colors that have a purple base include shades of gray and silver. When your hairstylist creates violet, lilac, and plum, he mixes these two shades to attain the desired shade of purple. Over time, with each wash, the faded purple color turns out to be lighter at the roots and dusky purple at the ends, looking gorgeous.
Faded Purple To Lavender
A stunning lavender shade is obtained with a silver undertone. You can easily get a metallic cast with a silver undertone that will not let the roots show soon. It will also help prevent getting a bleach yellow tone when the purple color fades. With each wash, you will be able to flaunt your striking lavender color.
Faded Purple But Dark At Roots
If you want something darker for the roots, tell your stylist about it. He or she will apply a darker shade of purple to the roots by double dipping the dye. As you wash the hair, the roots will hold a deep color for longer, ensuring the roots will remain darker for long.
[ Read: Does Baking Soda and Shampoo Lighten Hair? ]
Faded Purple To Gray
Getting a gray hair color after washing is not a big deal. It is because silver and gray are the leftover purple pigment. Before dying, hair is bleached so that the open pores of hair can absorb the dye easily. Over time, with each wash, the purple shade starts fading, which will help you attain silver and gray tinges.
Faded Purple To Faded Fuschia
Out of many purple shades like violet, lilac, and lavender, a bright, vivid Fuschia shade is an altogether different color. The dusky rose and blue undertones look stunning and will give an impressive color to the hair.
Faded Purple To Pink Hair
If you have medium curly hair, pink and purple will really look interesting on you. If you are heading for a party and going to wear a pink dress, believe me, it will look amazing on you. The luscious, colorful curls look very interesting.
Faded Purple To Light Purple Hair
For long straight layered hair light purple color looks amazing. The blonde base will brighten up the color, which will eventually flatter the light skin tones. It looks like the hair has got a professional touch-up.
[ Read: Best Purple Hair Dye For Dark Hair ]
Faded Purple To Balayage
If you are looking for some shade that looks great in all skin tones, you can enjoy the Balayage shade that comes when the purple color fades. Women with medium to long straight hair can enjoy such beautiful luscious locks anytime.
Faded Purple Highlights With Brown Hair
This is another superb hair color that looks dazzling in all skin colors and all hairstyles. If you do not want to have all brown hair, try adding faded purple highlights to get an edgy look. The faded purple highlights pop up against the dark base and look stunning.
[ Read: How To Highlight Hair At Home Without Foil ]
Faded Purple On Platinum Hair
A few colors popping from here and there bring freshness and vividness to the personality. A few strands of faded purple color give a flirty touch to the blonde hair. It enhances the personality and makes one looks extremely pretty.
Now that you know how to lighten purple hair to lavender and the ways you can make them look prettier when they fade, you would love to get a purple shade, isn't it? It is one fantasy color that can make anyone look interesting. Thinking about getting hair color? Try purple right now!
You Might Also Like: