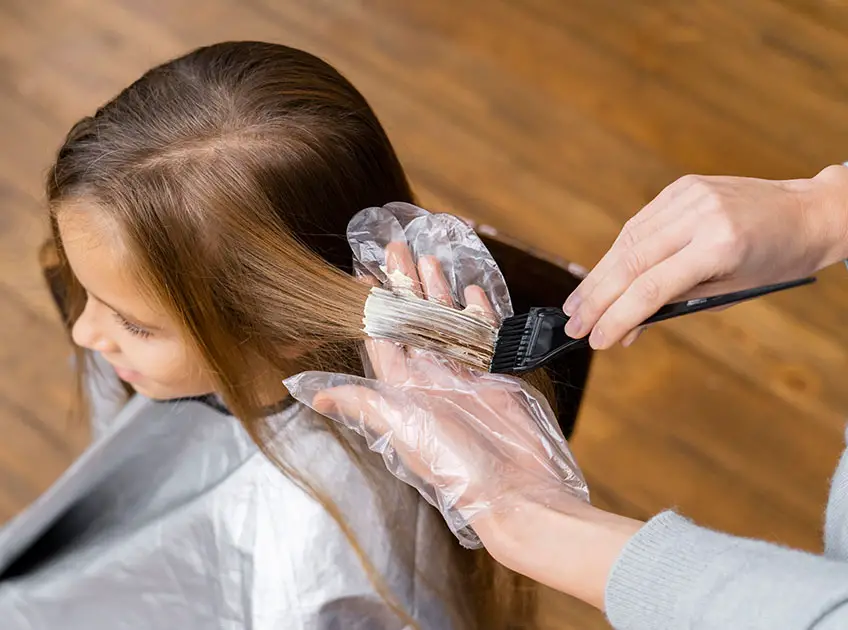 When we decide about highlighting our hair, we should analyze certain things before highlighting to hair. Choose the hair color for your hair, attire, skin tone, and profession. Because one thing we should know is that coloring and highlighting for hair are always different.
Once you highlight means, you just take or separate some hairs and do shade like a spark or spread the highlights, which shows the hair alone with shades.
Highlight Hair At Home Without Foil
Hair Highlight At Home
Going spa for highlighting is quite expensive, but there are many options and ideas for highlighting at home itself. You can survive with what you need or without the need for the highlighting process.
If you don't have aluminum foil paper with you, no worry about it, there is a simple and powerful method to highlight the hairs.
The Accessories You Needed For The Highlight Without Foil
Gloves
Flat paddle brush
Hair highlighting kit
Hair tinting brush
Segmenting clips
Sharp tail comb
Hair shampoo
Finally conditioner
Process Of Highlighting Your Hair Without Foil
There is an always options for highlighting without aluminum foil. A proper method with the above accessories will get a better highlight in your hair.
First things you need to be ready to do anything for your hair color or highlights, you should read the instructions given in the backside of the highlighting box. And arrange all the needed accessories in a properly viewed place.
Before mixing the highlighting dye, use gloves, to avoid stains on your hands. And mix the dye in a given ratio with the help of instruction. And take all the strands from the detangled hair with your normal hair brush or comb. Make sure you're removing all tangles because dyes do not properly stick in the hair and it looks messy too.
Divided your hair into the upper and lower parts, use a hair clip to tie the upper half part, and let free the bottom parts
Comb your hair once again with a flat paddle brush; now apply the mixed dye on the bristles of the flat paddle brush, use a tinting brush for applying.
The next step is just combing with a flat paddle brush throughout the hair, till the tip. You must remember that the tip of the hair highlight is darker than the top.
So do this same process again throughout the tip because you need dark shade on the bottom.
Now go to the upper part of the hair, and follow the same process in the top part of the clipped hair.
After finishing the whole part of the hair, let it dry for the time given in the instructions of the pack.
This is the final step for highlighting, wash your hair with normal shampoo and use conditioner at the end. After drying your hair, you can see the trendy and enchanting hair and you can do beautiful hairstyles which suit you.
Dos And Don'ts For Highlighting
Dos- All highlights shade does not suit your hair. Pick the one that fits you very well, but don't see others appear the same, it has a high chance to go wrong. Because every hair's skin tone is different. So, choose the highlight which is slightly matched your hair color.
Don'ts- The highlight should not be a massive alteration. For example, if you have dark black hair, you should not choose silver or platinum highlights. Be conscious always that will make you look prettier and more modern.
Risk Factors, You Should Avoid
When doing coloring or highlighting, your hair is prone to breakage and may spoil the hair. So, do not use strong and thick highlight cream for the hair.
Always read the instruction before starting the dyeing process to reduce hair breakage. Have to avoid sulfate chemicals in the highlighting cream.
But most people like to bleach their hair for highlights but without bleaching also, we can highlight your hair in a good method.
And using accessories like hair brushes, clips, and gloves everything should be cleaned and maintained healthily.
If you want to do a completely different shade of highlight, you need to bleach your hair. But doing bleach to your hair creates hair damage and started to fall. So always remember, you may do one or two shades that may be lighter than your normal shade.
Prevent Damaged Hair From Highlights
The simplest and coolest way to avoid hair damage from highlights is using a value conditioner to balance the tough element of the hair.
And also use some homemade oil to massage gently the scalp to avoid damage from the highlighting chemicals.
Do not wash hair your daily, don't use a rough towel to wipe, and should not pull the hair hardly. And whenever hair wash is done, using of dryer frequently makes your hair damaged.
To prevent this, use a soft fabric towel to observe the water and make your hair dry. Another option to avoid hair damage is to use a slip silk pillow.
Everyone likes to be fashioned in highlighted hair so we use ironing for rolling, curling, and straightening to try different hairstyles. We cannot avoid such dryers, but maintain medium heat to the hair to prevent hair fall or hair damage.
Image Credit: freepik
You Might Also Like: