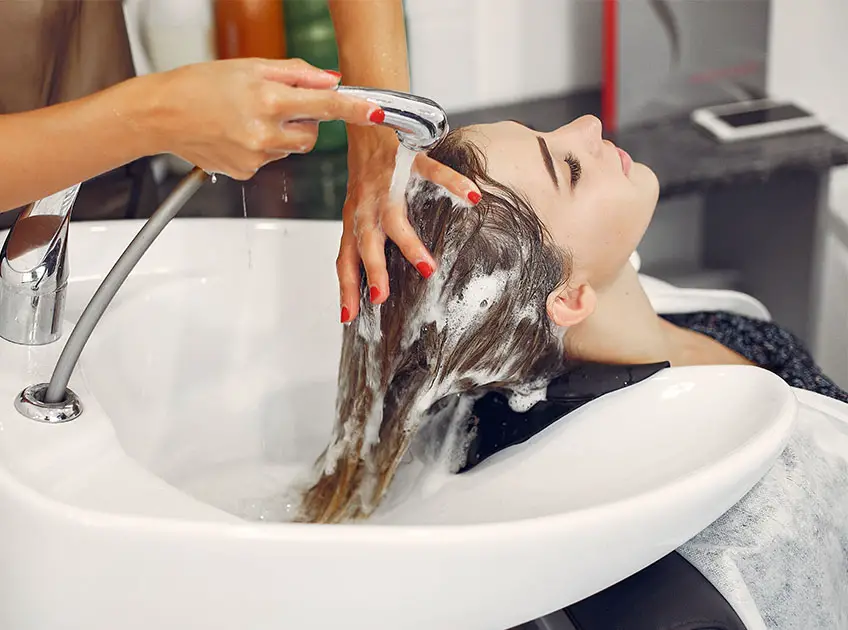 Honestly, who wants to deal with a terrible dye job? Hair coloring or highlighting can be a big commitment. You can achieve the most effective results by maintaining your hair daily and doing routine touch-ups, but the way you prep your roots is equally critical. Often, people are confused about whether to wash their hair before coloring or to highlight. The following blog is intended to settle the debate.
Should I Wash My Hair Before Coloring Or Highlighting?
Many people doubt whether to wash their hair before coloring or not. The simple answer to it is. Keep your hair clean.
You might be excited if you plan to get your hair colored or highlighted for the first time. But there are some things that you should keep in your mind before you move with the hair coloring process. Choosing the right color may come in the list. But, the most important thing you should consider is good care. Caring for your hair before getting dye is essential.
With that in mind, we've come up with this blog. So, let's jump deep into the blog.
[ Read: How To Highlight Hair At Home Without Foil ]
How To Prepare The Hair Before Coloring Or Highlighting?
For the past few decades, women and men have been coloring their hair to look fashionable. According to the statistics, around 4 million people in the United States have colored their hair at least 3 to 4 times a year, so if you have decided to color yours, know how to prepare for it.
The process of hair coloring involves more harsh chemicals like ammonia and hydrogen peroxide. These chemicals tend to change the hue of your natural hair. Sometimes it causes brittle and curly hair. Hence, it is always essential to pamper the hair with good care before you change your hair color. But how?
Here are a few things that should be done before coloring your hair to prevent damage.
You should not try washing your hair right before dying it. Because shampooing right before the highlighting or coloring process may strip the natural oil and fade out the coloring. Also, it may lead to hair damage.
However, it doesn't mean you should dye your hair with oil or dirt. Your hair and scalp should be clean before you move on with the dying process. Because excessive oil or grease can impact the color and give an inconsistent result.
So, when is the right time to wash your hair before coloring or highlighting? Here we go.
[ Read: How to Get Shiny Hair Naturally at Home ]
When To Wash Hair Before Coloring Or Highlighting?
It is always good to wash your hair for 12 to 24 hours before coloring or to highlight it. Your scalp will produce natural oil and sebum, like a thin protective layer on your strands. This may help in preventing scalp irritation or hair damage. Hence,
The best way to take care of the hair before the highlight process is to ensure you nourish it. You can even massage your scalp with hot oil and leave it overnight for the best results.
Always stay away from hair styling tools before highlighting them.
So, how do we wash the hair before coloring it?
Use mild shampoo to wash your hair. This helps in removing any products that are developed on your scalp.
Go with the hydrating conditioner.
Rinse completely from the roots to the ends.
That's it.
However, some products are good, while others should be avoided before you go with the coloring process. Guess what they are.
[ Read: How To Tone Down Hair Colour That Is Too Light ]
What Products Are Good To Use Before Dying Your Hair?
Precoloring treatment: It is something that you should consider before your dying process. Yes, use a deep hydrating conditioner as a hair masks a week before highlighting. Get some oil treatments. It will nourish your hair and prevent excess hair damage during coloring sessions.
Use mild shampoo: Washing your hair with a mild shampoo before 12 – 24 hours will remove the grease and dirt from your hair and scalp.
Non-oil Products: If you have a spray or serum, use non-oil products to avoid grease or oil buildup.
Dye remover: It is not a mandatory one. If you've colored your hair and wish to remove its traces, go with it.
[ Read: How To Remove Hair Dye ]
What Products Should Be Avoided Strictly?
Heavy styling products: Always try to stay away from the products like hairspray, gels, and serums. Because they may cause scalp buildups.
Oil: Treating with oil before coloring can be a reasonable thing. However, try to avoid applying oil on your hair right before you with the coloring progress.
Dry Shampoo: Don't use dry shampoo, particularly at the hair ends, because it may affect the color that you wish to achieve.
[ Read: How To Remove Hair Dye From Skin at Home? ]
Addon tips
Always ensure that you pick the right shampoo for your hair. Not all shampoo is high in chemicals. There is some mild shampoo that helps in removing dirt and grease from your hair and scalp.
So, look for shampoos that have a high SLS level. They may help in cleansing to remove dirt, gels, hairsprays, and other traces that are sticking to your scalp and hair. However, please don't use them for everyday use because they may cause damage to your hair.
[ Read: How To Get Rid Of Oily Hair Naturally ]
Wrap up
It is always important to keep your hair clean and dry before highlighting or coloring your hair. Hence, wash it for 1 to 2 days before you move on to the coloring process. This helps maintain the natural oil secretion on your scalp.
Image Credit: freepik
You Might Also Like: