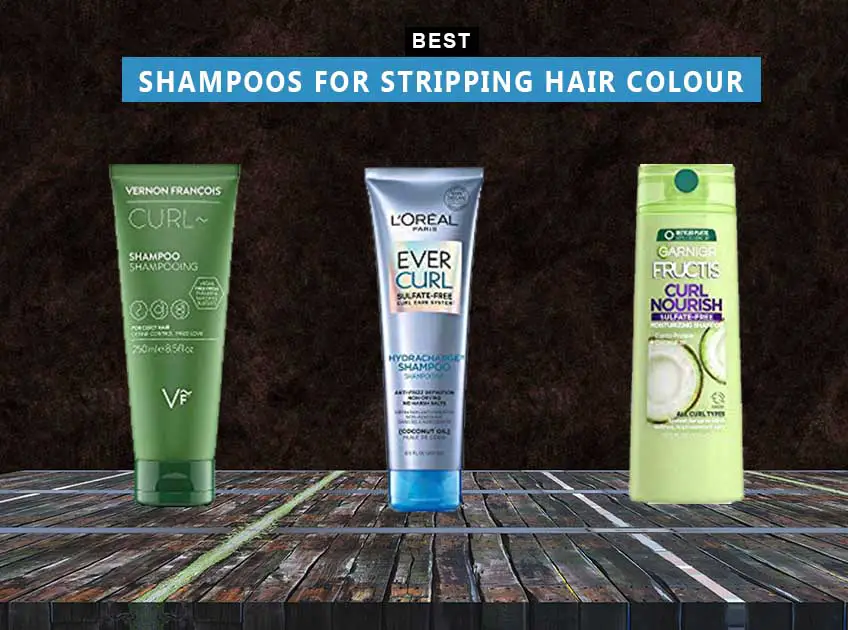 Got your hands on the newest, trendy hair colour but worried about getting rid of your current hair colour? Well, we have got you covered! Getting rid of hair colour is quite a task, but there are some shampoos that are proven to provide some aid.
Hair colours or hair dyes contain some harmful chemicals that can permanently damage your hair and leave some residue if not removed properly. Introducing a good shampoo in your hair care routine is the best step you can take to achieve those beautiful strands that you deserve.
Stripping Hair Colour
While there are some readily available products to remove hair colour, but they are not at all safe to use for people with thin hair or sensitive scalp as those products contain harsh chemicals and make hair prone to breakage, excessive dryness, and even hair fall.
We would recommend you to try a few shampoos from our picks of the best shampoos for stripping hair colour to find out which one works the best depending on your hair type and texture.
7 Best Shampoos for Stripping Hair Colour
1. For Dull Hair – Nexxus clean and pure clarifying shampoo
This shampoo for stripping hair colour is a great option for people who want to get rid of colour from their hair
since it contains a lot of strong surfactants that are effective at doing so.
This mild clarifying shampoo thoroughly cleanses while nourishing and purifying hair.
This shampoo is safe for even dull, dry, or damaged hair because it is made without silicones, dyes, or parabens.
It contains a lot of effective salts and detergents, which are great for boosting the colour of your hair.
What We Don't Like: This shampoo has a strong scent.
[ Read: How to Remove Hair Dye with Baking Soda ]
2. Budget Friendly – Noughty Detox Dynamo Clarifying Shampoo
This clarifying shampoo gets rid of buildup and residue from hair color, styling products, hard water, chlorine, and urban pollutants.
In order to clean and purify hair, chelating agents, detoxifying peppermint, and sorrel leaf extracts are present in this shampoo.
The composition of this detox shampoo contains 97% natural ingredients. It is completely cruelty-free and vegan.
Made entirely from environmentally friendly and ethically traded materials.
All hair types can use this clarifying shampoo.
What We Don't Like: It dries the hair out.
3. Hair-Thickening: Nioxin System 1 Cleanser Shampoo
It contains Sodium Laureth Sulfate, Sodium Chloride, Sodium Lauryl Sulfate, Salicylic Acid, Citric Acid, and Sodium
Hydroxide, which when used repeatedly over a short period of time, creates the ideal cocktail for quickly stripping hair dyes and color-depositing conditioners.
It has density protector Nioxin technology, which offers control over smoothing and hair resilience.
After using this shampoo, your hair will grow out with body, volume, and shine.
It eliminates toxins, pollutants, minerals, and product build-up.
What We Don't Like: It could dry hair out, not recommended for daily use.
[ Read: 7 Best Shampoos For Thick Hair ]
4. Sulphate Free – Keracolor Fade Effect Color Fading Shampoo
While preserving moisture with its coconut oil-rich formula, this shampoo utilizes vitamin C to give hair a subtle colour lift.
It is a fading shampoo without sulphates that removes semi-permanent direct dyes while gently cleansing hair and scalp.
The shampoo also includes hydrolyzed keratin and biotin to protect against the harsh stripping effects that colour pigment extraction through the hair cuticles has on the hair fibres.
What We Don't Like: Not the fastest way to remove hair colour as it could take some time to show results.
5. Peppermint Infused – ogx extra strength refreshing scalp + teatree mint shampoo
You can naturally lighten any undesired hair colour by using this clarifying shampoo.
To revive and reset strands, this shampoo eliminates residue without stripping them.
This shampoo will thoroughly clean your hair. It stimulates the senses with a revitalising tingling feeling and is made with peppermint, tea tree oil, and witch hazel.
Its mild formula leaves hair lustrous, silky, and moisturised with a healthy look and feel while providing a long-lasting clean.
What We Don't Like: Contains tea tree and mint, which some people may find overwhelming.
6. Best for Curly Hair – L'Oréal Professionnel Curl Expression
A moisturising shampoo that will softly remove any undesired product or colour build-up without compromising your gorgeous curls.
It provides weightless, long-lasting hydration for healthy, effortless-to-detangle curls and coils while gently cleansing the hair.
Contains Hibiscus seed extract, which is excellent for retaining moisture for curls.
What We Don't Like: It is a bit expensive.
[ Read: 7 Best Sulfate-free Shampoos For Curly Hair ]
7. Brand Value – ouai detox shampoo
To leave your hair feeling natural, the shampoo cleans the pores on your scalp, treats greasy hair, gets rid of build-up from hair colour, and balances moisture.
You can repair overworked locks using this intense shampoo with apple cider vinegar.
Contains hydrolyzed keratin, which helps to smooth and strengthen strands.
For those who frequently use heavy-duty leave-in products like gels and dry shampoo or who wish to reset their hair and scalp, this shampoo is a weekly treatment that works best.
What We Don't Like: Smell can be overpowering for some.
Conclusion:
Always keep a list of the things that can nourish your head and the things that can trigger allergies on your scalp. Try it out first with test bottles to see whether it works better, and if you experience an allergic response, consult a dermatologist right away.
You Might Also Like: