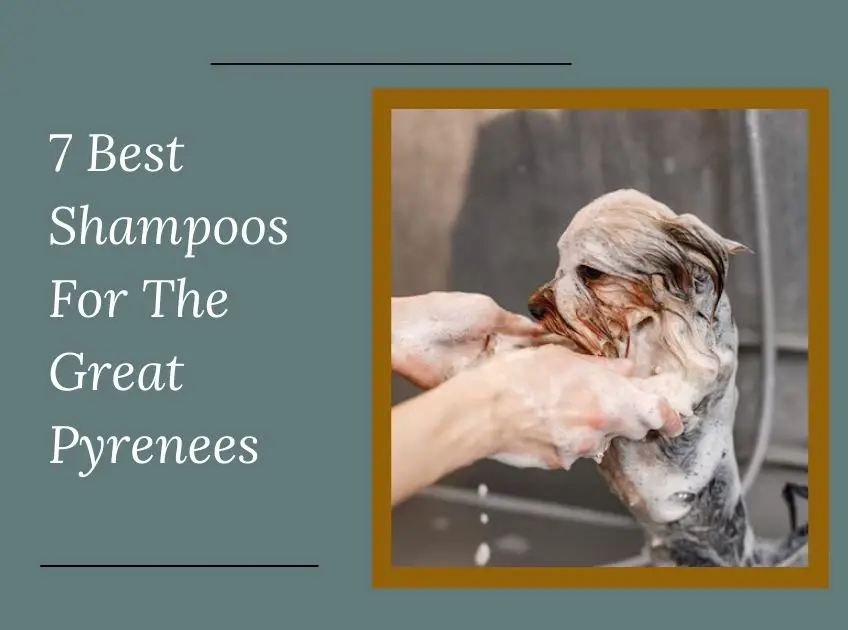 The Great Pyrenees is known for its adorable white and thick coating. To always look clean and soft, this needs some maintenance. If the right shampoo is used, it won't strip off the natural oils in its body, resulting in healthier skin.
This is important as shampoos that dry out the skin result in a brittle and coarse feeling. We have shortlisted some of the best shampoos for your Great Pyrenees. Read on to know more.
Choosing the best dog Shampoo for the Great Pyrenees
Never use shampoos meant for humans, on dog's skin as the pH balance value is different for both and this can be harsh on the dog's skin.
If your dog has any skin condition, it should be taken into account. For example, this could be allergies leading to itchy, dry and scaly skin, which needs a special moisturising shampoo. Similarly, for sensitive skin, a product with gentle natural ingredients has to be used.
Look for soothing ingredients in the product, such as aloe vera, shea butter, coconut oil or oatmeal which can keep the skin hydrated.
The thick double coat in the Great Pyrenees could be sometimes difficult to untangle. So, it is better to go for one with conditioner or detangling properties, so your job could be done with less effort.
7 Best Shampoos For The Great Pyrenees
1. 6-in-1 Dog Shampoo and Conditioner for de-shedding and reducing itchiness
Why Do We Like It?
Oatmeal, turmeric and sweet basil in the product provide relief to painful or itchy skin.
It comes with a pleasant scent.
The coat gets detangled.
The product has oatmeal and aloe that has a soothing effect on the skin.
Removes smelly odour.
Works on de-shedding and dry sensitive dog skin.
Coconut and jojoba oil in it moisturises sensitive skin and prevents the brittleness of the coat.
What Do We Dont Like About It?
Watery consistency that pours quickly out of the bottle.
Fragrance doesn't last long.
2. Nature's Specialties Plum Pet Shampoo for making the coat silky
Why Do We Like It?
It can be used on all dog breeds and cats but is best for conditioning the hair of the Great Pyrenees.
The product has vitamins, silk proteins and aloe vera which cleanses and conditions the skin.
Adds shine and smoothness to the coats.
You can easily make the bottle last long by diluting it up to 24:1.
Makes the coat silky.
It has a pleasant fragrance of plum that lasts long.
What Do We Dont Like About It?
Its price is on the higher end.
3. Perfect Coat Pampered Puppy Shampoo for keeping the skin moisturised and bathing quickly
Why Do We Like It?
It has a moisturising effect on the skin of puppies because of the keratin, milk protein and jojoba oils.
Can be rinsed off the skin easily, preventing the product from settling on the skin.
Requires less time for bathing and is hence better for dogs who get anxious while bathing.
What Do We Dont Like About It?
Some could find its fragrance strong.
Doesn't have any conditioner added to it.
4. TropiClean Cat & Dog Shampoo & Conditioner for restoring natural moisture in Pyrenees coat
Why Do We Like It?
Vitamin E and oatmeal in it nourish the skin and oatmeal's anti-inflammatory properties relieve itchiness.
You can use the product even during tick and flea treatments.
The conditioner easily detangles and softens the coat.
Coconut and mango in the produce cleanse and detangle the coat gently.
Skin remains nourished and conditioned because of Kiwi and Papaya.
Doesn't irritate the skin.
The pour design of the bottle prevents the leaking of the shampoo.
What Do We Dont Like About It?
Difficult to leather because of thick consistency.
5. Skout's Honor Itchy Dog Kit (Honeysuckle) for soft and hydrated skin
Why Do We Like It?
It has avocado oil that softens the skin and prevents dandruff, itching and yeast.
Prevents excessive shedding.
Helps in relieving hotspots.
Prevents recurrence of common skin issues.
Doesn't contain dyes, parabens or dyes.
What Do We Dont Like About It?
Its strong scent might be disliked by some as it lasts long.
6. Buddy Wash Original Lavender & Mint Dog Shampoo & Conditioner for conditioning the dog's skin without drying it up
Why Do We Like It?
It has natural conditioning agents such as sage, chamomile, and aloe vera that cleanse and softens the skin coat.
Removes the dirt and grime from the skin without causing dryness.
It comes with a calming scent of coconut and mint, that has a soothing effect on the dogs while bathing.
Lathers easily and penetrates easily into thick and lush coats of dogs.
What Do We Dont Like About It?
Might leave some residue on the skin.
The build of the bottle is such that, squeezing out the product is difficult.
7. Pet Head Dirty Talk Deodorizing Shampoo for a fuller-looking healthy coat
Why Do We Like It?
Makes the coat appear fuller because of vegetable protein extract and soy extracts.
It comes with eco-friendly ingredients which are free from parabens, and sulfates.
Comes with a pleasant orange scent.
What Do We Dont Like About It?
Difficult to lather.
Needs extra scrubbing.
Conclusion:
Whichever product you go with, make sure to avoid frequently bathing your Great Pyrenees unless the vet has specifically asked to do so. This is because these dogs have a self-cleaning coat that prevents them from getting dirty often. Just a simple brushing is enough to get rid of the debris.
You Might Also Like: