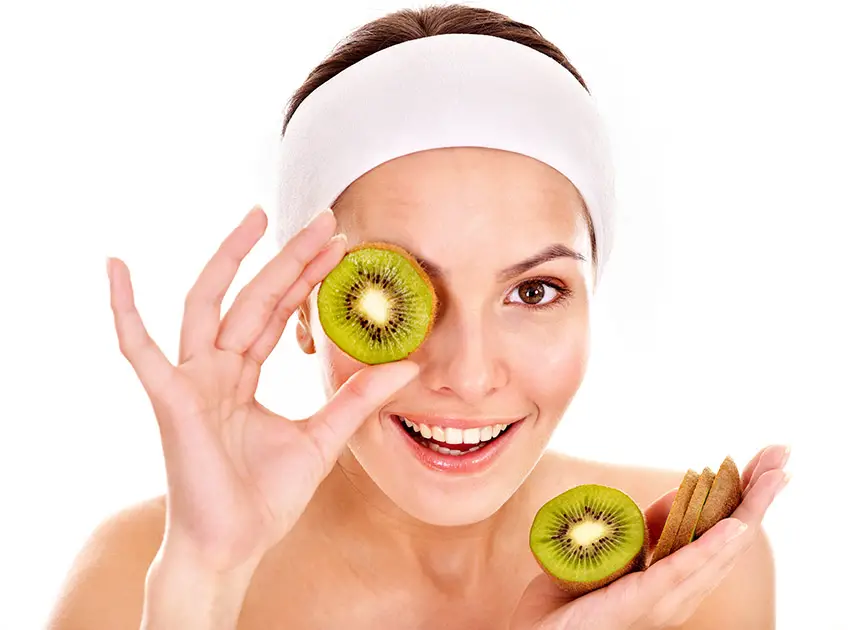 If you want to look beautiful then kiwi sets the stage for it. Kiwi is entirely packed with vitamins C and E which aids in collagen production and prevents sun damage. The brown critic fruit is enriched with antioxidants and fatty acids that contribute numerous benefits for skin and hair.
Benefits of Kiwi for Skin
The anti-inflammatory components of kiwi boost skin health and helps in relieving the damages caused by the sun. Listed below are a few famous benefits of kiwi for the skin.
1. Tackles Oiliness
Kiwi helps in balancing your excess sebaceous gland production that leads to oily skin.
Kiwi and Banana
Ingredients
½ Banana
1 Kiwi
1tbsp Honey
Recipe
Mash well banana and kiwi.
Add 1tbsp honey to it and mix well.
Use this mask on the face and neck.
Wash after keeping it for 20 minutes.
Tip: Banana is a wonderful component of giving your skin the needful nutrition.
[ Recommended: Benefits & Uses of Almond Oil for Skin and Hair ]
2. Facilitates Blood Circulation
Loaded with antioxidants, kiwi promotes blood circulation hence delivering your skin a healthy glow.
Olive Oil and Kiwi Juice
Ingredients
1tbsp Extra Virgin Olive Oil
1 Kiwi Juice
Recipe
Extract a kiwi juice by smashing one kiwi.
Add extra virgin olive oil to kiwi juice and stir well.
Using a brush apply this to your face and leave for 15 minutes.
Wash your face with lukewarm water.
Tip: Olive oil rejuvenates and energizes your skin cells very fast.
[ Recommended: Tomato For Skin, Face and Hair – Benefits And How To Use? ]
3. Refreshes your Skin
The nutrients in kiwi provide immediate hydration and paves way for smooth and rejuvenated skin.
Kiwi and Aloe Vera Gel
Ingredients
1 Kiwi
1tbsp fresh Aloe Vera Gel
Recipe
Mash the kiwi into pure.
Stir in the aloe vera gel, freshly extracted from the aloe vera herb.
Apply the mask to your face.
Let it dry for 12-15 minutes then rinse off.
Tip: Aloe vera and kiwi gives your skin natural soothing effects.
[ Recommended: Rice Water for Skin and Hair: Benefits and Uses ]
3. Repairs Dry Skin
Dry skin leads to dullness and lack of shine. The omega-3 fatty acids in kiwi bring out the required supple and shine to your skin.
Oatmeal and Kiwi Face Pack
Ingredients
1 Kiwi
3-4tbsp Ground Oatmeal
Recipe
Crush the kiwi and add the ground oats.
Mix them well.
Put on the mixture on your face.
Rinse thoroughly after resting for 17-20 minutes.
Tip: Oatmeal works great for lending your skin the desired moisture and nourishments.
[ Recommended: Benefits of Vitamin E oil For Your Skin And Hair ]
Benefits of Kiwi for Face
Kiwi has an abundant list of advantages for the face. The following are some popular benefits of kiwi for the face.
1. Get rid of Pimples
Acne and blemishes are the main concern for a clear face. Kiwi assists in treating acne and pimples. Owing to its anti-microbial properties, it also prevents the occurrence of future breakouts.
Kiwi and Strawberry Face Mask
Ingredients
1 Strawberry
½ Kiwi
1tbsp Sandalwood Powder
Recipe
Squash the strawberry and kiwi together.
Add 1tbsp sandalwood powder to it and blend well.
Use this smooth paste as a mask for your face.
Wipe off the mask with chilled water after 15 minutes.
Tip: Vitamin C in strawberries can help reduce spots and skin inflammation.
[ Recommended: Amazing Beauty Benefits of Egg Whites ]
2. Helps Brighten the Face
Because citric acid in kiwi, it bestows skin cell regeneration. It contributes to the production of new cells which lightens up your complexion.
Yogurt and Kiwi Mask
Ingredients
Recipe
Smash a kiwi with a fork and mix yogurt with it.
Use this mixture evenly over your face and neck.
Let it soak for 20 minutes.
Rinse off with warm water.
Tip: Yogurt contains lactic acid, and clears the face by removing stains and hyperpigmentation.
[ Recommended: Beauty Benefits of Yogurt for Skin & Hair ]
3. Offers Fantastic Glow
The antibacterial components of kiwi combat free radicals and give you a beautiful luminous face.
Kiwi and Honey Face Pack
Ingredients
Recipe
Take 1 ripen kiwi and mash it well along with the seeds.
Add honey and mix to get a smooth paste.
Apply the pure to your face.
Rest for 15-18 minutes then clean up.
Tip: As honey is enriched with humectants, it naturally moisturizes your face giving you a shimmering look.
4. Avoids Early Aging
Thanks to its high vitamin C and E, kiwis stimulate the collagen and elasticity of your face. It also protects against premature aging signs including wrinkles and fine lines.
Avocado and Kiwi Mask
Ingredients
Recipe
Take out the pulps of kiwi and avocado.
Blend them well to a fine paste.
Apply the paste to your face and let it settle for 30 minutes.
Use lukewarm water to rinse your face.
Tip: The anti-aging properties of avocado pierce deeply into your cellular structure and battle against free radicals that cause premature aging symptoms.
Benefits of Kiwi for Hair
The kiwi benefits are not only limited to skincare but also extensively indulged in hair care treatments. Some astounding benefits of kiwi for hair are mentioned below.
1. Prevents Premature Graying
The copper substance of the kiwi prevents your hair from becoming grayish prematurely.0
Kiwi and Henna Hair Pack
Ingredients
Recipe
Mash 1 kiwi and add 2tbsp henna powder.
Stir well and apply on to your scalp and hair.
Leave for 25 minutes by covering your hair with a shower cap.
Wash your hair thoroughly with your daily shampoo.
Tip: Henna makes wonders by working against premature graying of your hair.
2. Stimulate Hairline Growth
Vitamins high in kiwi fruit support the growth of hair, strengthening from the roots.
Kiwi Pulp and Coconut Oil
Ingredients
1tbsp Kiwi Pulp
1tbsp Coconut Oil
Recipe
Blend in kiwi pulp and coconut oil.
Now apply it to your hair evenly covering the roots.
Let it stay for 35 minutes.
Rinse it off with lukewarm water.
Tip: Coconut oil is the essential supplement providing nourishment to your hair.
3. Fights Hair Loss
The nutrient-loaded in kiwi is a boon for reducing hair fall and making your hair grow stronger.
Onion juice and Kiwi hair pack
Ingredients
1 tbsp Onion Juice
2 tbsp Kiwi Pulp
1 tbsp Olive Oil
Recipe
To kiwi pulp, mix onion juice, and olive oil.
Using your fingers massage the mixture to your hair and scalp.
Wash with warm water after soaking for 1 hour.
Tip: Onion juice serves as a great remedy for hair loss treatment.
4. Frizz and Tangle-Free Hair
To get tangled-free and lustrous-looking hair, include a kiwi fruit in your hair care pack.
Yogurt and Kiwi Hair Pack
Ingredients
1 Kiwi
¼ cup Yogurt
2tbsp Honey
1tbsp Coconut Oil
Recipe
Smash the kiwi and mix with yogurt, honey, and coconut oil.
Apply to your scalp from roots to ends.
Allow it to stay for 10 minutes and wash your hair.
Tip: Coconut oil and yogurt deliver a slick and smooth texture to your hair.
It's always a good idea to infuse kiwis into your skin and hair care routine. Your skin and hair will have an incredibly glamorous look by enjoying the amazing benefits of kiwi.
Recommended Topics: