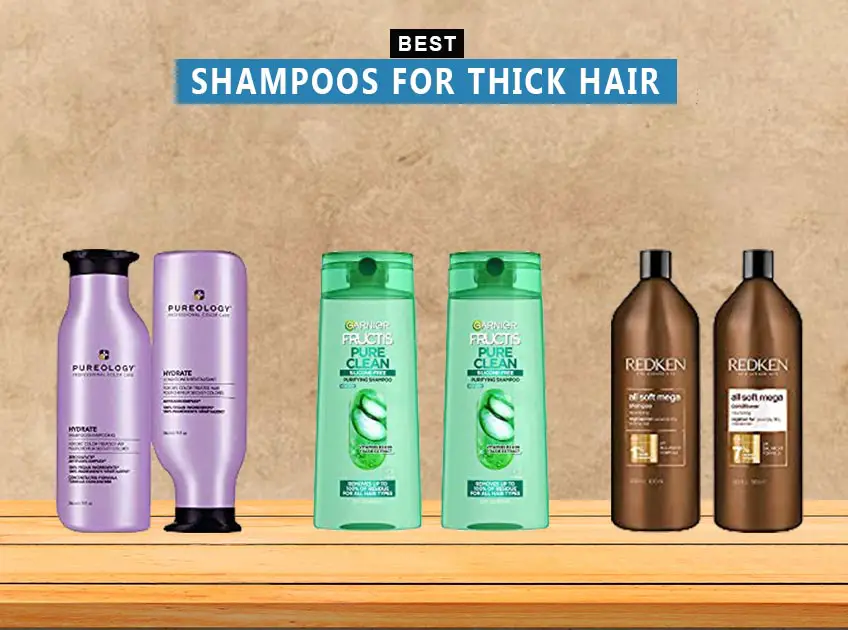 Having thick hair is nothing less than a blessing. People with fine and limp hair and those dealing with hair loss yearn for thick hair. However, when it comes to managing thick hair, the right hair care products can only help. Using the best shampoo for thick hair is essential to keep it well-nourished and healthy.
Luckily, many shampoos work wonders on thick hair, replenish nutrients, and make them frizz-free. At the same time, these shampoos help cleanse the scalp thoroughly and remove the buildup completely from the scalp. Also, it reduces stubborn dirt and grime.
Thick Hair
Here we have listed the 7 best shampoos for thick hair with their major features and drawbacks. Check them out and find the one for your thick hair.
7 Best Shampoos For Thick Hair
1. Gentle Hair Care Formula: Garnier Fructis Pure Clean Fortifying Shampoo
It is loaded with the goodness of plant-based fortifying ingredients like aloe extracts and citrus protein.
It contains essential vitamins like vitamins E, B3, and B6 and fruit and plant-derived extracts to tame the frizz and flyways.
The ingredients are gentle enough to use every day.
It is free of paraben, silicon, and other nasty hair ingredients.
What We Don't Like: The hair may feel greasy.
2. Works Best for Oily Hair: Maple Holistics Degrease Moisture Control Shampoo
Contains botanical extracts that work on frizzy locks.
Clarifies the scalp and strands, making them oil-free
Protects the colored strands and does not strip off the color
Infused with the peach kernel, rich in antioxidants and vitamins,
Offers huge protection from environmental stress and pollutants
It also consists of extracts of rosemary and basil, and cypress oil to improve blood circulation.
What We Don't Like: It may feel slightly heavy.
3. Best for Color-treated Hair: Pureology Hydrate Shampoo
Moisturizes the color-treated hair without stripping off the natural oil and color
The infusion of jojoba, green tea, and sage makes hair well-nourished
It helps repair, strengthen, and protect hair from breakage
It makes hair vibrant and soft
It is free of sulfate
What We Don't Like: Overpowering smell
[ Read: 7 Best Professionals Perm For Color-Treated Hair ]
4. Best For Brittle Hair: KERASTASE Paris Bain Extentioniste Length Strengthening Shampoo
Works well on weak, brittle, and fine hair
Features lightweight formula, perfect for rebuilding the internal structure of each strand
It contains lipids that help keep your hair shiny and bouncy and prevent breakage
It helps get rid of impurities, buildup, or excess oil
Works well with fine, damaged hair and struggles with slow growth
It enhances the natural hair growth speed and increases hair density
Reduces hair fall and removes buildup, dirt, and excess oil
What We Don't Like: It may be mild on thick hair types.
5. Prevent Dry and Brittle Hair: Redken All Soft Mega Shampoo
Formulated to manage dry and damaged hair
It consists of a powerful blend of three proteins
Also infused with a cactus extract that hydrates and adds shine
The presence of aloe vera keeps strands healthy and shiny
It contains sacha inchi oil to help retain moisture
It makes hair soft and manageable
Adds hydration to dry and coarse hair
It keeps frizz down to a minimum
What We Don't Like: It is not Suitable for thin hair. Also, it is not a cruelty-free or sulfate-free product.
[ Read: 7 Best Shampoos for Shiny Hair ]
6. Tames Frizz: Carol's Daughter Monoi Sulfate-Free Shampoo
It helps manage dry, damaged, and frizzy hair with split ends
Promotes hair health and makes them soft and smooth
Coconut-derived keeps strands healthy and moisturized
The presence of monoi oil and vitamin E prevents hair breakage
Works well for thick hair with its hydrating and soothing properties
Also infused with hibiscus extract works that detangle the tresses
Heal damaged hair by stopping protein loss
What We Don't Like: It may feel slightly greasy.
7. Keratin Infused: Virtue Recovery Shampoo
Loaded with Alpha Keratin 60ku that repairs damaged hair
Strengthens hair making them soft, smooth, and frizz-free
The infusion of natural ingredients like baobab seed oil helps nourish hair
Also packed with the goodness of grapefruit extract
It delivers vitamin C and antioxidants to revitalize the scalp
It is sulfate-free
What We Don't Like: It is not suitable for oily hair
Conclusion
So, these are some of the most effective and best shampoos for thick hair that tame the tresses, keeping them healthy and managing major hair issues.
You Might Also Like: