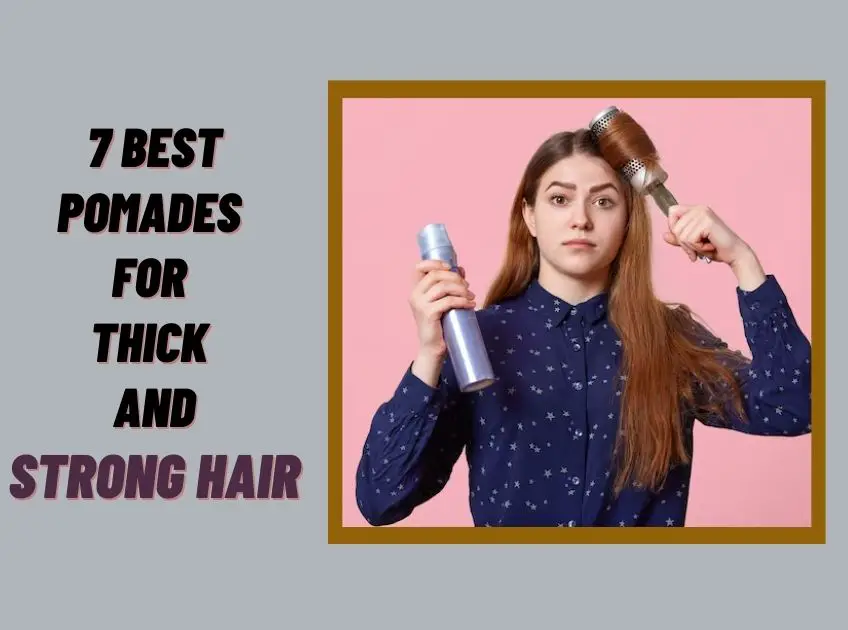 Even though the beauty of thick hair needs no explanation, managing them becomes daunting. Thick hair makes the scalp look dense and hair voluminous. While people with fine hair struggle to make their hair look dense, thick-hair people have no such issue.
However, the struggle to maintain and style thick hair is real. It is when certain hair styling products come in handy. You can find plenty of gels, oils, and moisturizers to manage thick hair, but pomades work the best.
They can help manage thick and coarse hair by soothing the fly aways and ensuring they stay where you want them to be. At the same time, they tame the frizz.
Here, we have curated a list of the 7 best pomade for thick hair that helps manage such hair with no hassle. Check them out!
7 Best Pomades for Thick Hair
1. Best for Men's Hair: Suavecito Pomade Original Hold
It features special creamy consistency and doesn't feel like wax or gel
Feels great in the hair
Do not congeal or get greasy or stiff
It helps get any hairstyle
Offers stronghold
Dries to a medium hardness
Doesn't get too stiff
Washes out easily with water
Doesn't leave any residue
What We Don't Like: It may feel slightly heavy on the scalp.
2. Top Grade Ingredients: American Crew Pomade
Comprises top-quality ingredients
Strengthens and conditions the hair strands
Free of synthetic chemicals
Offers medium hold with a high-shine finish
Holds thick hair in place
Effortless and free of synthetic additives
All-natural ingredients, making it safe for all types of hair
Designed to help you achieve a slicked-back look
Used on curly or straight hair and perfect for thick and coarse hair
The light scent is pleasant and doesn't feel too overwhelming
What We Don't Like: According to some users, the smell is not very pleasing and clings throughout the day.
[ Read: 7 Best Hair Products For Slicked Back ]
3. Water-Based Pomade: Imperial Classic Pomade
Offers industrial-strength hold
It is water based pomade
Easy to use and remove
Offers a semi-shine sheen to the hair
Doesn't make hair feel oily or greasy
Provide a smooth application
Glides easily on hair and distributes evenly
Perfect for all types of hair styling needs
Offers extremely strong hold when used on dry hair
Stays lightly firm when applied on damp hair
What We Don't Like: It may feel slightly heavy.
4. Best for Super Hold: Layrite Deluxe Original Pomade
Perfect for hairstyles that need stronghold
Suits all hair types
It features a less intensive formula
It spreads a light, pleasant scent of clean vanilla
Holds your hair firmly without drying it stiffly
Does not flake the hair
Wash out as easily as a gel
What We Don't Like: It may leave a residue when not washed thoroughly.
[ Read: How to Get Thick Hair Naturally at Home ]
5. Ultra Strong Finish: REUZEL Hair Pomade
Features water base for a soft and smooth texture
Hair looks natural
Lightly scented with the sweet fragrance of bubbly cola
Offers ultra strong finish to hold hair
Ensures high-shine finish
It makes hair look glossy without appearing greasy or oily
Works best when styled into dry hair
What We Don't Like: It may make oily hair slightly greasy.
6. Matte Finish: Baxter of California Clay Pomade
Extremely strong hold and a matte finish
Smooths and softens hair
Holds hair flawlessly and does not add unnatural grease or shine
Separates defines, and molds hair easily
Infused with natural ingredients such as beeswax and clay
Holds hair while conditioning and strengthening it
Perfect for textured hair
What We Don't Like: It may leave residue on the scalp.
[ Read: 7 Best Shampoos for Hair Smoothening ]
7. Water Soluble: Uppercut Deluxe Pomade
Made with a medium-strong hold
Tame even the thickest hair and do causing excessive greasiness
Lightly scented with the fragrance of coconut and vanilla
It offers a mid-shine finish that looks natural without appearing oily
Thick gel consistency
Easy to work with and remove
It washes out easily due to its water-soluble feature
What We Don't Like: According to some users, the smell is overpowering.
Conclusion
Using pomade can transform thick and unmanageable hair into something you always desire. It helps style hair the way you like without being messy.
Now that you know some of the best pomades for thick hair, you should start using them and flaunt your new hairstyle every day.
You Might Also Like: