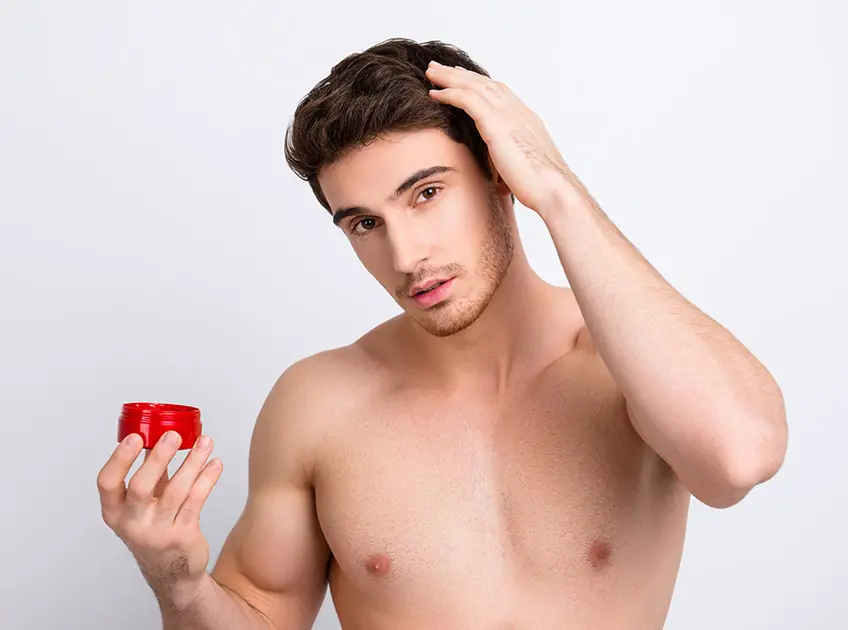 Styling hair with different products and tools is always in trend but knowing which product is the best for you is essential. It will help you style your hair perfectly and with the products meant for your hair type.
Whether you want a messy look or a slicked-back look, hair gels and pomade make achieving them easy. While these two products are different, often they are mistaken to be the same. So, let's understand the difference between hair gel and pomade so that you can decide which will suit your hair the best.
Pomade Vs Gel
Pomade
Pomade is a type of creamy hair product that helps achieve flake-free texture. It is free from alcohol and often has an oil-based or water-based formula.
Pomades with water-based formula are easier to wash out as they tend to break up when coming in contact with water. As you wash your hair after the pomade application, you will get fresh and clean hair instantly.
On the other hand, oil-based pomade formulas are not easy to wash out. They stay for longer and give a greasy feel and appearance to the hair and scalp. However, their application will give a glossy and shiny appearance. The major components of oil-based pomades are petroleum, beeswax, lanolin, etc.
Who Can Use Pomade?
One thing that makes pomade more preferable is it can help in getting different types of hairstyles. You can achieve a slicked-back look or any other look you desire with water-based and oil-based pomade. Pomade help to keep your hairstyle in place for a longer duration.
If the moisture content in hair is more at the time of pomade application, you will easily get a higher level of shine. You can also use pomade if you do not want the wet look. So, whether you are looking for the less-polished and messier look or a gentleman's look with a slicked-back style, pomade is your savior.
How To Use Pomade?
Using pomade is no brainer. You can use pomade in the following steps-
Take a small amount of pomade in your palm and let it warm up for a while.
Apply it to your dry hair (for a messy look) or damp hair (for a slicked-back look).
While application of pomade on dry hair will help in getting a more natural look, application on wet hair will give a more polished and shinier look.
Gel
Hair gel helps to hold the hair in one place for long periods. It offers the strongest hold than any other hair styling product. At the same time, it gives a vintage wet look to your hair. Another good thing about hair gel is you can find them in the different ranges- from light hold to extreme hold.
While pomade is alcohol-free, hair gels are alcohol-based and often include isopropyl alcohol. It is a drawback as alcohol tends to absorb the moisture from the hair strands, making them dry, dull, frizzy, and brittle when used excessively.
Who Can Use Hair Gel?
Gel is your go-to product if you are wearing a hairstyle that you can't risk going flat. For instance, gel is the best if you want a spiked hairstyle as it will hold the spikes all through the day. It is also good for people with thin and fine hair as the gel will give thicker look and adds texture to hair.
How To Use Hair Gel?
Hair gel works best when you use them on wet hair. You can use hair gel in the following way-
Wash your hair to make them wet or simply add a little splash of water to make them damp.
Take a small amount of gel in your palm and with the help of your fingertips use the gel to apply to your hair and style them.
Pomade Vs. Gel- What Is Best For You?
Now that we already know inside out about gel and pomade, deciding what to use depends upon the following-
Hold- If you are getting a hairstyle that needs the strongest hold for a longer duration, hair gel is your thing. Even though pomade also offers a good hold, it is not as strong as a gel. However, if your hairstyle is simple with a natural look, pomade will fit your needs. Pomade will make your hair look natural with a bit of flexibility.
Look- To get a natural look, wear pomade. The water-based formulation will give a laid-back and messy look to hair and add volume and flexibility to them. For a slicked-back look and greasy hair, you can use oil-based pomade. It will give an extra sheen to the hair. If you have a spiked hairstyle, use hair gel without any second thoughts. It will provide maximum hold and keep your spikes as such for a longer duration.
You Might Also Like: