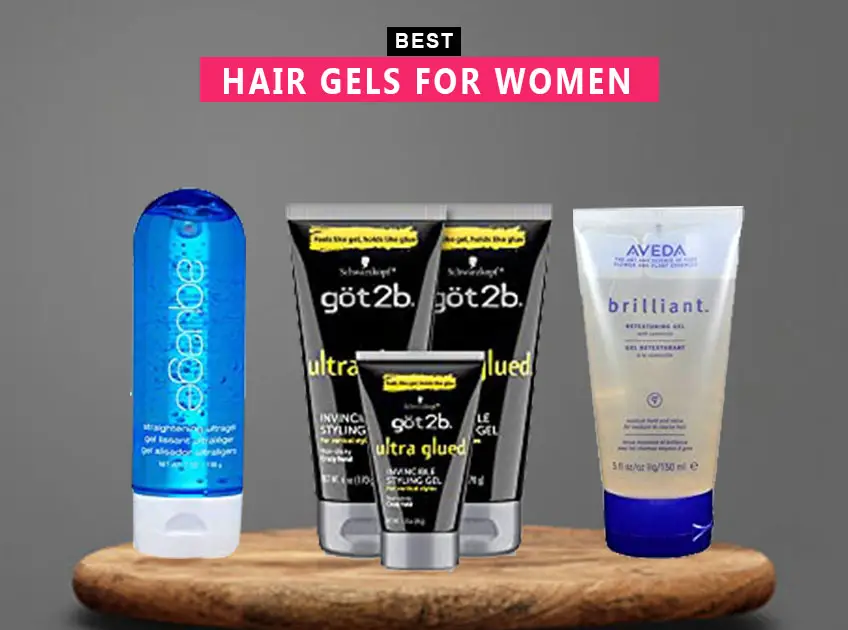 The nonconventional hairdo was all the rage in the late 1990s and early 2000s, and there was no better method to achieve the desired look than to slurp a blob of hair gel. Hair gel was a go-to product, whether it was for sharp, high-rise ponytails or highlighted, sleek hair.
Hair gel is a gelatinous material that holds our hair together while assisting in the creation of the desired style. This is the instrument for quickly putting together the ideal appearance for a fancy dinner or party-crashing.
Hair Gels
When it comes to hair gel, there are many options to choose from, and you can never have enough. So, for that stunning look, here is a carefully curated list of some of the best hairstyling gels.
Let us have a look:
7 Best Hair Gels For Women
1. No to Stickiness: Got2b Ultra Glued Invincible Styling Gel
The gel contains a high-tech ingredient called alpha-XTR, a supplement that promises to stop hair loss issues.
Due to the gel's lack of stickiness, it makes for the ideal night out without any fuss.
With this sculpting gel, more structure and shine are possible without any flaking.
It can be applied to dry hair for a firm hold or too moist hair for a slicked-back appearance.
What We Don't Like: Because of the alcohol component, the blend can form a hard composition.
[ Read: 7 Natural Ways to Grow Your Hair Faster ]
2. For the curl charisma: Briogeo Curl Charisma Rice Amino Quinoa Frizz Control Gel
For girls with curly hair, hair gel is their best friend because it is difficult to style without it.
It includes necessary components like rice, quinoa, amino acids, and tomato ferment to keep those curls supple throughout the night.
Gel makes use of plant-based ingredients to produce a light hold that has frizz-fighting advantages.
Utilize this product to define and shape your curls without producing any crunchy or stickier residue.
What We Don't Like: It causes the scalp to itch and leaves behind white flakes.
[ Read: Best Tips and Tricks for Curly Hair ]
3. Free of alcohol: Leonor Greyl Gel A L Hibiscus
Keratin is added to the formula to strengthen and condition the hair while taming frizz and enhancing thickness, manageability, and shine.
With no frizz, the hair gel is renowned for giving hair a soft, lustrous shine.
The main components are sweet almond oil, which is high in vitamin E and omega 9, moringa seed oil, and walnut extract, which helps to lock in moisture and control frizz.
It does not contain alcohol; and makes hair stronger.
What We Don't Like: It is expensive for daily use.
[ Read: Frizzy Hair – Causes, Home Remedies and Prevention Tips ]
4. For the vegans: Aveda Brilliant Retexturing Gel
The vegans out there will appreciate the high concentration of plant extracts in this gel, which gives a medium to coarse hair a strong hold and adds shine.
The cruelty-free, vegan product is made with 100% solar energy, comes in a recyclable bottle, and is produced without the use of animal products.
Water, castor oil, wheat protein, and wheat starch are the main ingredients, and they all work together to nourish the hair's core.
What We Don't Like: The gel's colour and smell can be overwhelming.
[ Read: 5 Homemade Hair Serum Recipes for Healthy & Nourishing Hair ]
5. For The Shine: IGK Rich Kid Coconut Oil
For a quick fix of the fuzziness, this is the best option because the gel is infused with coconut oil, which can hydrate any undone hair.
Other important ingredients for nourishment include Mica, Aloe Vera, Chamomilla Flower Extract, Rosa Canina
Fruit Extract, and Lemongrass Extract in addition to coconut oil.
The affordable gel not only conditions the hair by adding a lustrous shine, but it also nourishes the scalp.
What We Don't Like: Its shine may not be suitable for every hairstyle.
[ Read: 5 Best Homemade Hair Conditioners ]
6. Anti-Humidity: Bumble and bumble Curl Anti-Humidity Gel
For those thick afro curls or long, structured curls that might become frizzy in the humidity, this is the go-to product.
In order to deeply hydrate hair, lessen frizz, and add shine, the gel contains butter (Shea) and oils (Cocoa, Coconut, Jojoba).
UV protection is one of the best features because it protects curls from the sun's drying effects.
This moisturizing gel-oil blend adds hydration, bounce, and shine while defending against humidity.
What We Don't Like: It may not sit well with all the curly hair.
[ Read: How to Get Thick Hair Naturally at Home ]
7. The perfect straight hairstyle: Aquage Straightening Ultragel
Due to its unique combination of sea fennel oil and ultra-light silicones, it is one of the best hair gel in the industry.
When worn with curly hair, the gel gives it a voluminous appearance and shine.
They support the care, sturdiness, and defense of hair
It transforms hard hair into smooth, silky – texture due to its light weight formula.
With outstanding humidity resistance, the gel is a fantastic slip for simple blow styling for a day out.
What We Don't Like: In addition to making the hair frizzy, the gel can lessen the natural shine of the hair.
[ Read: 5 Easy Homemade Hair Rinse Recipes for Silky and Shiny Hair ]
Conclusion
The structures of each of these products vary to accommodate various hair types. Therefore, it is best to thoroughly review the product and perform a demo run before using it on your hair.
You Might Also Like: