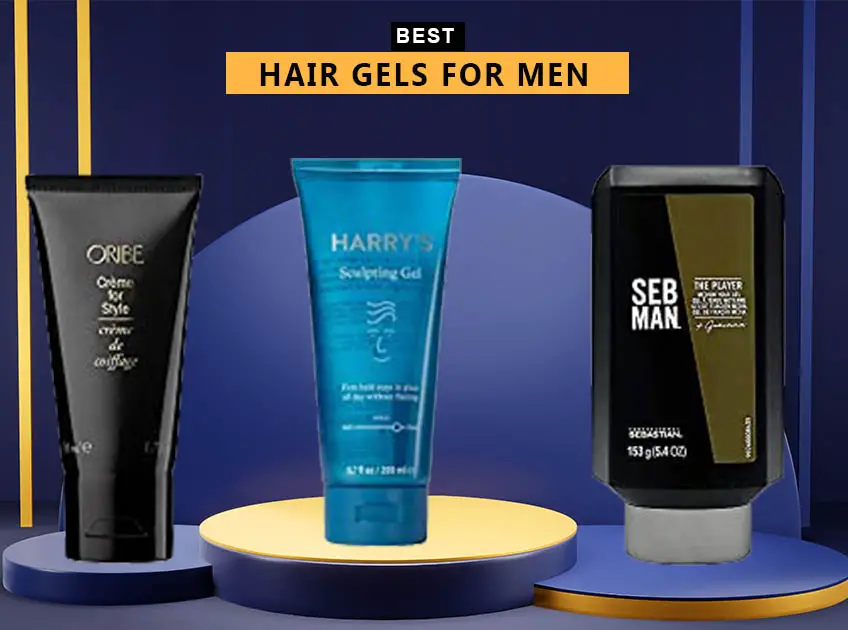 The phrase "hair gel" might recall the early 2000s, when many of us (unfortunately) applied an incredibly thick layer of product, leaving our scalps feeling dry and crunchy. It does leave a haunting memory to cringe at.
However, some of the most recognizable men's hairstyles ever were made possible by hair gel. For example, Gordon Gekko from Wall Street, who popularized the slicked-back Wall Street look in the 1980s; Sid Vicious' punk spikes; and the list goes on.
Hair Gels
Hair gel is actually more versatile than is commonly believed. The looks from the turn of the millennium are making a comeback, even though some of the aforementioned iconic hairstyles are currently out of style.
We have rounded up our top 7 products for you to check out. Let's head on!
7 Best Hair Gels for men
1. Right at our budget: Harry's Sculpting Gel
This is one of the most budget-friendly gel available. The hair gel is known for its good resistance and holds on the hair.
The best style to create with this hair gel is the slick-back look for the dapper evenings with the missus or the boys.
For quick touch-ups, you can use it to tame your obnoxious cowlick or sides that are poking out.
What We Don't Like: The hair gel can be sticky and messy.
[ Read: 7 Best Mousse For Crochet Hair ]
2. For the versatility: Baxter of California Thickening Hair Gel
Men occasionally struggle to find the best hair gel for them, so when this happens, they should look no further than the adaptable Baxter of California Thickening Hair Gel.
The versatility of the hair gel extends from curly hairstyles to boys with straight, thick, or wavy hair.
The primary ingredients of the gel are ginger, birch juice, and plus vitamin B5 for ideal hair growth and development.
What We Don't Like: It does not hold up as well as other products.
[ Read: 7 Best Curl Enhancers For Wavy Hair ]
3. For the players out there: SEB MAN
Sebastian Professionals SEB MAN is the best option for the boys about to hit off the bat at the club.
The gel has a medium hold and imparts a natural appearance to hair, making it appear like there is no gel in your hair.
The gel formula has less shine to give a more natural look and appearance for the part night.
What We Don't Like: The gel is not suitable for people with longer hair.
[ Read: 5 Natural Ways to Get Shiny Hair at Home ]
4. The Wet Look: Bumble and Bumble Surf Styling Leave In
To give hair a frizz-free, just-stepped-off-the-beach appearance, the product's lightweight, the cruelty-free formula moisturizes and detangles hair.
This seaweed-packed gel, designed for straight, wavy, thick, or excruciatingly dry styles, resists your desire to repeatedly restyle your hair.
Anyone looking to have a beachy atmosphere at a surfside party or a romantic bonfire on the beach should choose B&B Surf gel.
What We Don't Like: The gel can draw out water from hair in the long run, causing a dry scalp.
[ Read: 7 Best Hair Tools For Frizzy Hair ]
5. Environment Friendly: R+Co Motorcycle Flexible Gel
Since this gel is creamy and full of moisturizing natural ingredients, hair will not become dry or brittle.
For vegans looking to look stylish day or night, the brand is the best choice because it is vegan and cruelty-free.
By switching to 55% post-consumer resource (PCR) packaging for its bottles, the company has even reduced its environmental impact.
What We Don't Like: It has a strong smell and makes hair crunchy.
[ Read: Dry Hair – Causes, Home Remedies & Precautions ]
6. The Luxury: Oribe Crème For Style
The Oribe Creme is the opulence of luxury and it is rightly so because of the divine smell and smooth texture the gel exudes.
Calabrian bergamot, white butterfly jasmine, and sandalwood notes make up the opulent divine scent.
Geranium, lavender, chamomile, and green tea extracts are part of the formula, which will hydrate your hair and keep it from degrading in the chaotic city streets.
Feel it for yourself by simply rubbing it between your palms, letting the smooth texture run before you course on your hair.
What We Don't Like: Well, it is more like a hair cream than a gel.
[ Read: How To Improve Your Hair Texture Naturally ]
7. For dry hair: Imperial Barber Grade Products Gel Pomade
This water-based product, which is infused with vitamin B5, works great as a gel to keep your hair in place.
It has sufficient holding power to keep your hair in place all day. How much product you use and how wet your hair is when you apply it will determine how strong of a hold you get.
Due to its thickening and volume-enhancing properties, it works well with fine or thinning hair.
It can be reactivated with water, and it rinses out completely after use. Additionally, it will make your curls look better.
What We Don't Like: The gel quickly dries off, making it difficult to change styles once they have been established.
[ Read: How to Treat Hair Thinning Naturally ]
Conclusion
Using too much hair gel can lead to baldness, hair fall, brittle breakage, split ends, and many other problems. So, use the gel adequately, and consult a dermatologist if a certain problem arises due to the use of hair products.
You Might Also Like: