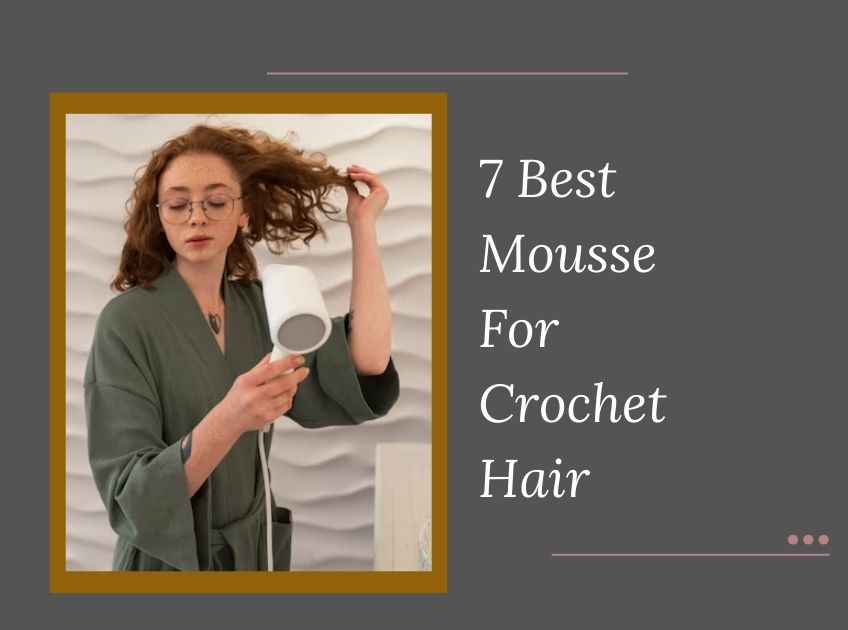 Styling crochet hair with mousse makes things a lot easier. The best mousse for crochet hair helps seat and set the hair for braiding while eliminating frizz and flyaways. It also helps get neater-looking and smoother braids that last longer. At the same time, the best mousse refreshes the old braids, so you don't need to re-braid.
Luckily we have many mousses for crochet hair that can provide a good hold and set hair in place. At the same time, it adds shine to the braids, making them healthy. To ensure a smooth finish in your hairstyle, mousses are a go-to option if you have crochet hair.
Here, we have curated a list of the 7 best mousses for crochet hair that are lightweight and ease your hair styling. Check them out and find your favorite pick.
7 Best Mousse For Crochet Hair
1. Best Overall: African Pride Moisture Miracle Rose Water & Argan Oil Curl Hair Mousse
Conditions hair while adding body, control & a flexible hold
Lightweight foam leaves natural styles defined, frizz-free and soft hair
Adds shine & definition to natural coils and curls
Infused with rose water that hydrates and softens hair
It also contains argan oil that adds natural shine and smooths hair cuticles
Free of harmful components, including parabens, mineral oil, sulfates, & petrolatum
It offers a flexible hold and enhances curls
What We Don't Like: It may leave a residue.
[ Read: 7 Best Curling Mousses For Straight Hair ]
2. Frizz Control: Aunt Jackie's Grapeseed Style and Shine Recipes Frizz Patrol Anti-Poof Setting Hair Mousse
It offers a lightweight hold
It brings smoothness and shine to the hair
Reduces frizz and flyaways
Hydrates the strands and sets curls, waves, coils, and textured hairstyles in place
Strengthens and improves the elasticity of the hair
Loaded with jojoba and tamanu oils that impart shine and health to hair
What We Don't Like: Overwhelming smell.
3. Intense Shine: Bb Tropical Roots Sculpting Foam
It is packed with natural oils that give a natural shine to the hair strands
It features superb holding power
Best to use for braids, twists, or sets
Ensures a more defined and neat look with no frizz
A refreshing scent that brings calm and smoothness
It helps prevent major hair and scalp issues
What We Don't Like: It may feel slightly heavy on certain hair.
[ Read: Do Braids Help Your Hair Grow ]
4. Anti Frizz: Argan Oil Foaming Mousse by Creme of Nature
It helps style crochet hair in whatever way you like
Creates soft wraps and defines curls
The anti-frizz ingredients keep flyaways at bay
Adds exotic shine to the strands
Infused with hair-loving and hydrating ingredients like argan oil
Help you achieve the look you want in the healthiest, most nourishing way possible
What We Don't Like: It May weigh the hair down.
5. Adds Body and Shine: Lotta Body Mousse Curl Define Milk & Honey
It is a non-flaking and non-sticky mousse
It helps define curls with its milk and honey ingredients
It stays non-greasy and offers medium hold
Suitable for soft curls and maintaining them for long
Long-lasting results are assured
Adds body and shine to the crochet hair
What We Don't Like: Overwhelming fragrance.
6. Curl Quenching Moisture: Design Essentials Curl Enhancing Mousse, Almond and Avocado Collection
Helps style waves, curls, and coils with perfection
Revamps and nourishes hair with intense moisture
Infused with almond and avocado oil for healthier hair
Avocado strengthens hair and prevents breakage
Wheat protein penetrates the hair cuticle
Almond oil helps in intense nourishment and shine
It is paraben, petrolatum, and sulfate free
It gives an instant result that helps save time while styling hair
Medium hold formula reduces frizz and defines curls
What We Don't Like: It may make the hair slightly oily.
[ Read: How To Use Mousse To Curl Hair ]
7. Define Curls: Maui Moisture Flexible Hold + Coconut Milk Curl Foam Mousse
It is an airy foam styling mousse
Moisturize and volumize while keeping curls intact
It is a lightweight, no-crunch mousse
It helps define and retain and adds volume to and de-frizzes curls
Quenches tight curls to make them look and feel hydrated and healthy
Infused with coconut milk and mango butter, giving hair the moisture it needs
Do not weigh the curls down
Free of parabens, silicones, sulfated surfactants, synthetic dye, mineral oil, and gluten
What We Don't Like: Overwhelming smell of coconut.
Conclusion
These are the best mousses for crochet hair. If you struggle to manage your braids or get a neater look of your hair, try any of these mousses right now and see the transformation. All these products are tried and tested on crochet hair. So, choose according to your hair type and flaunt your locks.
You Might Also Like: