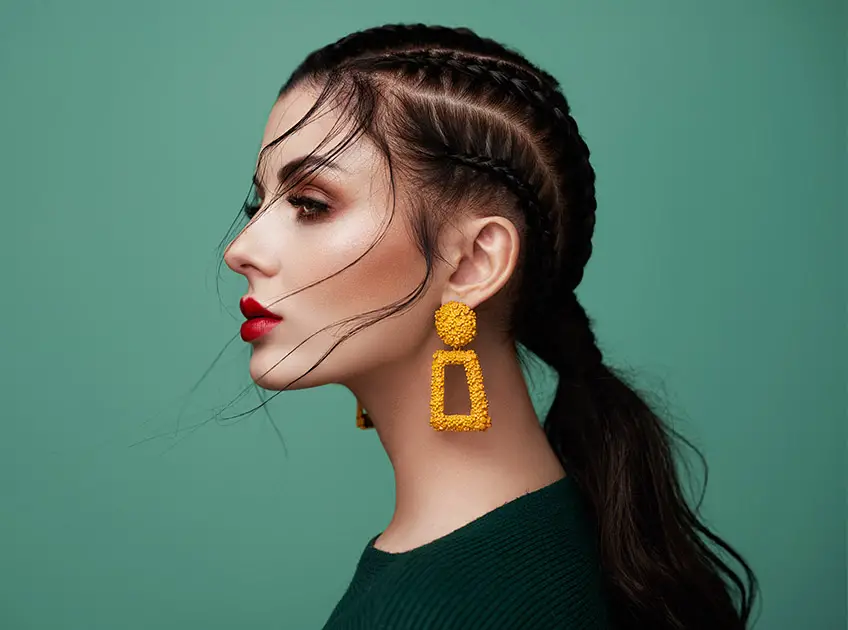 Most of you consider braids as a protective hairstyle. Because it offers rest from hair manipulation and also prevents hair breakage as well as tangling. Braids separate and interweave to make a pattern. Braiding your hair will not directly make it grow faster and protects your scalp as well as hair strands from pollution and dust. They are unbelievably diverse and their techniques are majorly suitable for various hair types and textures. This blog is going to explain how braiding can assist your hair growth.
What Are The Benefits Of Braiding?
Braiding hairstyle bestows some benefits if care should be taken properly and follows the hair care routines. Few benefits of braiding are given below
1. Gives Strength To Hair: If your hair is straight, curly, or anything in between, braiding your hair helps to strengthen the structure and block hair breakage while sleeping. The braid will decrease the friction between the pillow and the hair.
2. Change Into A Powerful One: You may think of a braid hairstyle that looks like a rope. The rope strands are stronger when they are tied together than when the pieces are separate. The same happens here, when you twist your hair together in a braided style, it becomes more powerful than you leave it loose or tying it in a ponytail.
3. Help To Block Frizz: Braiding provides support to maintain healthy and nourished hair. Braids lock the moisture in the hair, blocking frizz and dryness. If you braid your hair with oil, it will increase the moisture content of your hair and provide many other benefits.
Types Of Hair Braids For Hair Growth
The different types of people follow the various kinds of hair braids styles. They are mentioned below
1. Micro Braids: These are small braids woven tightly around the scalp. These braids can be kept on the hair for several months and the whole hair is not used to make these braids.
2. Box Braids: The box braid style is one of the classic braided hairstyles, suitable for kinky and natural hair. Box braids consist of braids of three strands with square hair sections.
3. Faux Locs: Faux locs are a protective hairstyle that keeps your hair manageable. In the Faux locs hairstyle, actual or natural hair is wrapped around synthetic hair, giving it a dreaded and heavy look.
4. Crochet Braids: Crochet Braids are always called latch hook braids. On natural hair, some synthetic hair extensions are attached using a crochet hook or latch.
How To Take Care Of Hair Before And After The Braided Hairstyle
Proper hair care maintenance is very crucial if you are trying to grow hair. Check out some braiding hair care tips which are mentioned below.
1. Very first, you have to spritz plain water on hair for 2 to 3 times in a week to keep the braids moisturized and hydrated.
2. Clean the braids at least once a time in a week using clarifying natural shampoo. Also should use a deep conditioner to rejuvenate and restore the locks.
3. You must avoid drying the braids by rubbing them with a towel. This may lead to damage the hair and scalp. After finishing the hair washing, squeeze the braids gently in order to drain the excess water.
4. Need moisturization from root to tip to restore shine and hydration after drying
5. You should not wear braids for higher than eight weeks. Keeping for a longer time may also cause some damage to the scalp and hair.
6. To prevent braids, wear a bonnet or satin scarf while sleeping
How Do Braids Promote Hair Growth?
As mentioned above, it is not recommended to keep the braids for more than 6 -8 weeks. It is necessary to let the hair and scalp breathe for a week or two weeks in between the braiding. Always try to change the braiding style and it is better to avoid weaving too close to the roots and scalp. Protective braids protect the scalp from damage and hair breakage as well as encourage healthy hair growth. Your natural hair growth depends on your lifestyle, diet, stress levels, hair health, and genetics. This versatile hairstyle safeguards hair from damage which is caused by daily wear and tears. If you tie your hair in very tight braids, you will be left with heavy hair loss. So maintaining a healthy hair care routine will stimulate good hair growth.
Conclusion
Styling the hair into braids will not directly make the hair grow faster. These styles can assist to nurture and then protect the hair as well as making it stronger. Though there have been many contents passing regarding braids, it is clear that braids can help to grow hair and also gives an amazing look on you.
You Might Also Like: