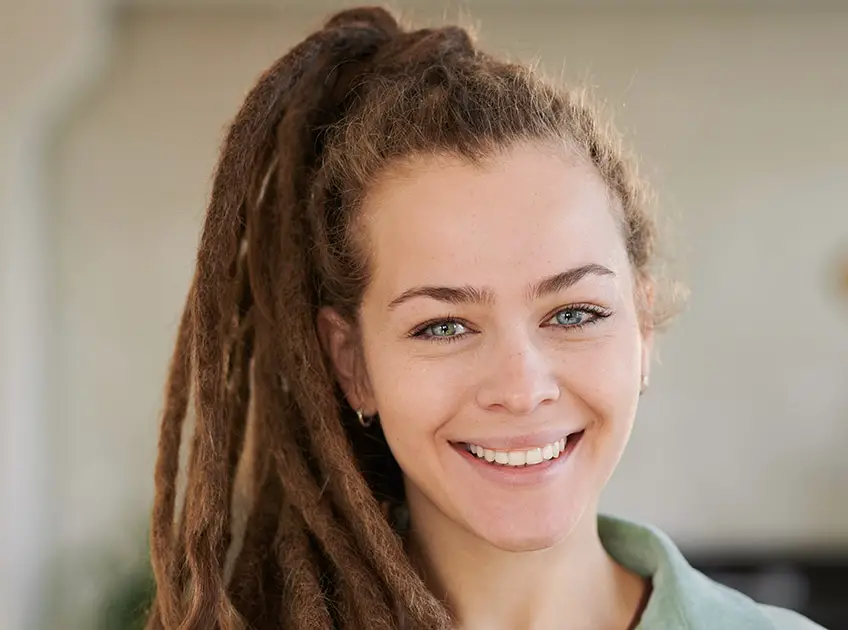 You may wonder about how to make dreadlocks and how long it will take to get dread. If your curiosity is peaked, then stick around to know the answers. The most natural way to attain dread is to leave your hair completely which means no cutting, no combing, or brushing the hair. Most importantly, hair will take nearly a year to get matted and to give you the desired dread look. Some people may attain it within three to six months and it depends on the texture of the hair. Softer texture may need more time to get dread and needs some products to obtain a look. But coarser textures tend to lock up in a fast way
It Take To Get Dreads
Type Of Hair And It's Time To Achieve Dreadlock
Growing healthy dreads usually takes lots of patience and time. Hair length depends on several things but let's begin with the stage that your hair is presently in.
1. If You Are Bald: Few people decide to shave their hair so their dreads can initiate with healthy as well as lengthy hair. For the first three months, you have to wash your hair with a sulfate-free or residue-free shampoo. If possible wash your hair in a week and it will help once the hair is long enough to begin dreading. As per the research, hair grows up to half an inch in every month. Once you obtain enough length you may go for the dreadlocks process. If you start with no hair, it will take around 12 to 15 years to get dread.
2. If You Have Short Hair: Dread hairstyle mainly depends on two things, they are hair texture and it should have reached at least 3 inches to hold a dread. You can allow the hair to begin dreading as it grows by not combing the hair, washing the hair weekly, and separating the hair with the help of hands. This is the natural and best way to start the dreads. It can take between 8 to 12 years for your dreads if you have started your journey with short hair.
3. If You Have Medium-length Hair: Many hairstylists won't do dread if someone has a minimum of 10 cm of hair. As said before, young dreads go for the natural tangling as well as the detangling process. If you feel you have too short hair, it would be a waste of money and time to invest in dread. Because it might unravel within a few days. On the other hand, if your hair is long enough, then dreadlocking will be a faster process. It may be a backcombed, freeform, crocheted, tear&rip, etc. If you have started dread with medium hairstyles, you will attain it between 7 to 10 years.
4. If You Have Long Hair:If you began your dread with long hair, you may get a shrink more before they show growth. The maintenance procedure of long dread is not meticulous when compared with short hair but it needs two years to notice the growth. If you start dread with long hair, it will take up to 6 years.
Certain Things To Keep In Mind Before Getting Dreads
A dread hairstyle is one that demands your attention, time, and more maintenance than you think. Here come a few things to consider before deciding to go for dread
1. Dread May Hurt You: Depends on the method you have taken, you will experience the pain. Wool rubbing gives more painful and backcombing methods are also painful. New dreads are pliable and soft, but mature dreads feel tight and hard. People with dread hairstyles reported that they feel uncomfortable or in pain when they are sleeping.
2. Chances To Get Frizz And Itching: Most of you spend more money on products to remove frizz, but dreads and frizz are always together, especially at the beginning. If you have dreads, then you should struggle with frizz. There are many products available to tame the frizz but in the nature of dread, frizz is unavoidable. In addition, itching is another main problem when dread heads report commonly. It can happen because of not combing and brushing the hair regularly. You may combat dry scalp with some moisturizing product as well as oils, but surely itching is going to be a part of getting dreads.
3. Requires A New Washing Routine: As you know, dreads cannot be washed daily because they will not dry properly. But cleaning at least once a week is highly important. You have to ensure that you are using a good shampoo and let your hair to dry completely.
Conclusion
Apart from its pain and hair problems, dread comes under the list of best hairstyles. Most people nowadays are moving towards this dread and working hard to avail this excellent hairstyle with a proper hair care regime.
You Might Also Like: