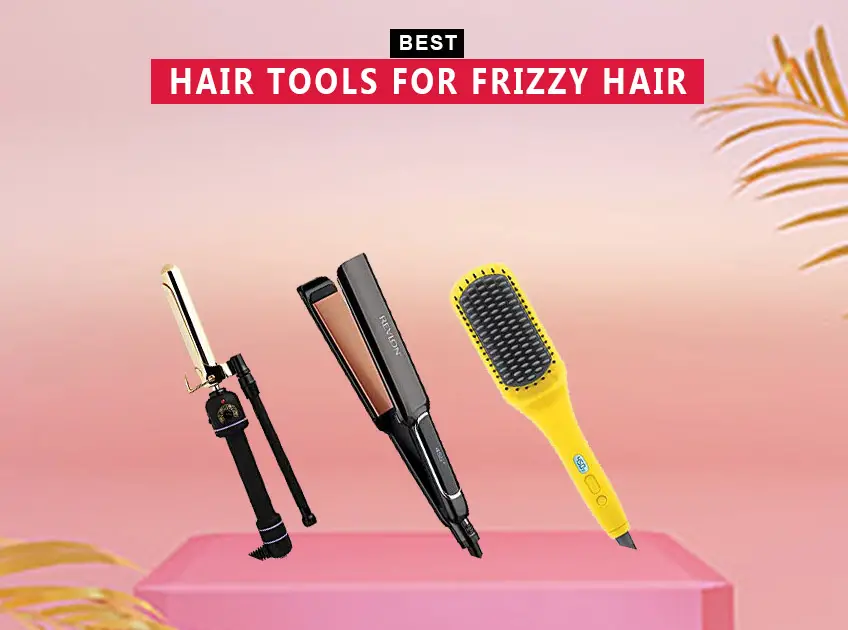 The struggle to manage frizzy hair is real. And this problem becomes double when the weather is humid or cold. Luckily, many hair care products and tools can tame the frizz and manage the flyaways.
If you cannot find the best product to style your fizzy hair, it's high time to check out the 7 best hair tools for frizzy hair that we have shared. All the products we have shared fight frizzy hair without taking too much time or compromising hair health.
Hair Tools
Moreover, the hair tools we have shared are selected based on quality and performance. We have also taken users' reviews into account. From hair straightening tools to curling wands, you can find everything suitable for different hair types.
So, irrespective of the level of flyaways you have, these hair tools for frizzy hair will help manage them perfectly. Also, the result will last for longer. Check them out!
7 Best Hair Tools For Frizzy Hair
1. Flat Iron for Long Hair: Revlon Salon Straight Copper Smooth 1″ Flat Iron
Made with copper and ceramic, this flat iron gives a sleek look to the hair and helps flatten them to the next level
It helps straighten the strands, even the curly ones, without any hassle
The presence of copper ceramic technology allows hair to be straightened without breaking while leaving behind a luminous shine
The heat distributes evenly, and the frizz smoothens naturally
It takes just 10 seconds to heat up
The maximum temperature is 455 degrees F.
What We Don't Like: The plates are too wide for shorter hair; thus, it doesn't work on short hair.
[ Read: 7 Best Flat Irons For Fine Hair ]
2. Best Curling Wand: Conair Infiniti PRO Curling Wand
Tourmaline ceramic technology and material makes it one of the best curling wand for all types of hair
Five heat settings manage curly hair and create at-home beach waves easily
One can easily get lose and tight curls with this wand
Also, it helps control frizz and manage flyaways
The maximum temperature is 400 degrees F
What We Don't Like: It might cause a little difficulty in use with long hair.
[ Read: Essential Oils For Frizzy Hair: How Do They Help? ]
3. Easy to Use Curling Iron: Beachwaver Co. Beachwaver Pro Dual Voltage
It is a perfect solution for all those wanting gorgeous beach waves at home
It features left and right settings for easy usage and gives long-lasting results
The device heats up quickly for instant results
The presence of a customized clamp ensures no kinks in the hair
The ergonomic handle makes it easy to use
It has an automatic shut-off option that shuts the device within 30 minutes
The maximum temperature is 410 degrees F
What We Don't Like: It is not suitable for fine hair.
[ Read: 7 Best Curling Irons For Fine Hair ]
4. Quick Styling Tool: Hot Tools 1106 3/8-inch Gold Curling Iron
The gold surface of the tool makes it look pleasant
It helps give the quick result a thus useful for quick styling
Distributes heat evenly and helps get bouncy and curly hair in no time
It is a stylist-recommended tool with a maximum temperature of 430 degrees F
Best for curly and wavy hair
What We Don't Like: It is not suitable for beginners as it is little tricky to use, unlike traditional curling iron.
[ Read: 7 Best Curl Enhancers For Wavy Hair ]
5. Give Definition and Volume: DevaCurl DevaFuser
It is a suitable hair tool for frizzy hair that helps give definition and volume to it
Made of ceramic, it fights frizz and enhances the shine
You can attach it to blow dryer to attain the desired hairstyle easily
Provides 360-degree airflow to surround curls and cut down on drying time
What We Don't Like: Reviewers note that it doesn't fit every hair dryer
[ Read: Home Remedies For Frizzy Hair ]
6. Quick Result: Drybar The Brush Crush Heated Straightening Brush
The materials in this hair-straightening brush are nylon and ceramic
It works quickly and efficiently, giving smooth and frizz-free results
It is a flat iron and paddle brush in one that help creates shiny, silky straight hair in one swift movement
The digital temperature control function allows for custom styling on all hair types
Automatic shut-off after 60 minutes
The maximum temperature is 450 degrees F
What We Don't Like: According to some users, this device takes multiple passes to straight thicker hair types.
[ Read: The 13 Best Hair Straightening Brushes ]
7. Lightweight Round Brush: ghd Ceramic Vented Radial Brush
It is a lightweight, easy-to-use device that helps manage frizz efficiently
It can be used with larger sections of hair
Allows for a smoother finish and faster drying time
Suitable for all hair types
What We Don't Like: According to some users, the brush bristles feel scratchy.
Conclusion
These are the best hair tools for frizzy hair. Go grab them and manage your frizz while styling hair in different ways.
You Might Also Like: