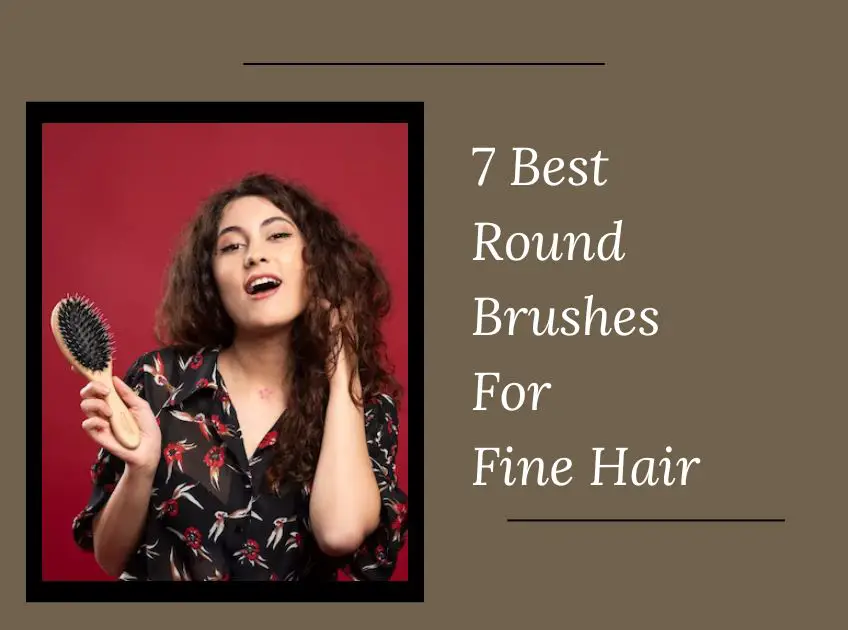 Fine hair needs styling tools that can help create volume in the strands. Even though you can find different types of brushes, not each is suitable for fine hair. For instance, a paddle brush is great for smoothing and detangling, and a round brush can curl and add volume.
Since fine hair looks limp, it is essential to use certain brushes that can help make them look dense and voluminous. If you want curls, here are the best round brushes for fine hair that can help achieve it in a jiffy. The best round brush for fine thin hair should have fewer bristles that can grip without pulling or breaking delicate strands.
Round Brushes
Here, we have curated a list of the 7 best round brushes that will help tremendously. Sometimes when you pick a brush, you don't think about the hair type but the look you want. For achieving curls, a smaller size brush is a handy one. Check out the list we have shared and tame your tresses in the most beautiful curls.
7 Best Round Brushes For Fine Hair
1. Best for Thin Hair: Care Me Blow Dry Round Hair Brush
It helps style fine and thin hair perfectly
Works well on all length
Features vented design that creates volume
It contains boar bristles with smooth strands
Delivers shiny finish
It helps catch flyaways and tames frizz
Added nylon pins make it more appealing
Available in three sizes- 1.3 inches, 1.7 inches, 2 inch
What We Don't Like: Only three size options.
[ Read: 7 Best Hair Brushes For Fine Hair ]
2. Best for Blow-Drying Fine Hair: Olivia Garden NanoThermic Ceramic + Ion Round Thermal Hair Brush
Speeds up drying time
Do not sacrifice the shine and luster of hair
It consists of a vented ceramic barrel-like flat or curling iron
Features soft tourmaline ion-charged bristles
Evenly distribute the heat of the blow dryer
Seals in the moisture in your hair
Results in smoother, silkier hair with less heat damage
It comes with a retractable sectioning tool tucked into the ergonomic handle
Available in sizes- .5 inch, .75 inch, 1 inch, 1.25 inch, 1.75 inches, 2.75 inches, 3.25 inch
What We Don't Like: Delicate handle
3. Effective and Affordable:-Drying Fine Hair: Fixbody Round Barrel Anti-Static Hair Brush
Excellent choice for blow-drying fine hair
It cuts down on drying time with its vented honeycomb barrel
Made with advanced nano-ionic and anti-static technology
It prevents heat damage and minimizes frizz and flyaways
Features a retractable needle at the bottom as a hair-sectioning tool
The needle is helpful in cleaning clumps of hair out of the bristles
Available in sizes- 2.5 inches, 3 inches, 3.3 inch
What We Don't Like: Only three size options are available
[ Read: 7 Best Hair Dryers For Fine Hair ]
4. Make Fine Hair Voluminous: Osensia Professional Round Brush
It helps create and maintain volume in fine hair
It contains vented holes that allow hot air to circulate thoroughly during a blowout
It boasts amazing hair-smoothing properties
Features anti-static, ionic-infused bristles
It helps reduce both flyaways and frizz
Features medium-size ceramic barrel
It helps thin hair wind around it without snagging
Can lift roots and curl ends for voluminous style
Available sizes: .75 inch, 1 inch, 1.3 inches, 1.7 inch, 2 inches, 2.5 inch
What We Don't Like: Delicate handle
[ Read: 7 Best Root Lifters For Fine Hair ]
5. Get Curls: PERFEHAIR Round Volumizing Hair Brush
Features both- nylon and boar bristles of varying length
Provides volume and lift to the strands
Creates curls that look like they were done with an iron
Easily grasp fine strands without getting them snagged or tangled
It makes hair both soft and shiny
It has a smaller barrel that helps wrap strands multiple times
It helps create a loose coil during a blowout
Available sizes: 1.5 inches, 1.7 inch
What We Don't Like: Only two size options are available.
6. Travel-friendly Brush: Conair Metal Round Brush
For blow-dry styling short to medium-length hair of all textures
Ball-tipped bristles gently smooth and straighten
Ideal for adding body and fullness
Metal barrel retains heat from the dryer for results that last longer
What We Don't Like: Even though it's a great brush and works well for short hair, the size of small.
[ Read: 7 Best Brushes For Short Hair ]
7. Helps Create Curls and Waves: Conair Round Brush for Blow-Drying
Adds body and fullness to the hair
Suitable for all types of hair as it helps creates soft waves or curls
It features nylon bristles
Suitable for blow-dry styling as it smoothes and straightens coarse, curly, or wavy hair
What We Don't Like: According to a few users, the handle of this brush is delicate.
Conclusion
Now that you know some of the best round brushes for fine hair, it's time to invest in any of them to get pretty curls in a jiffy. All these are the best for fine hair and help maintain luscious locks for longer.
You Might Also Like: