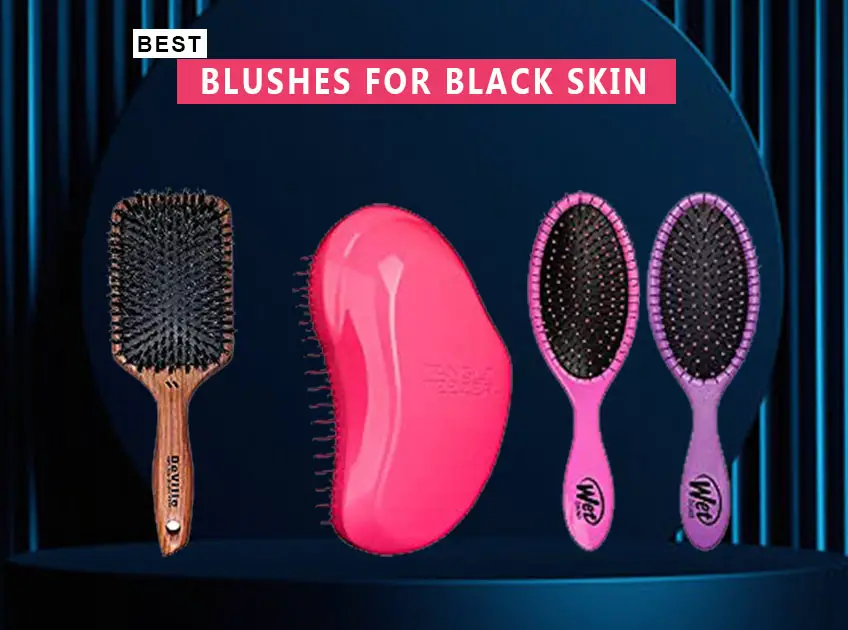 We all love to have healthy, long, and luscious locks; however, the struggle behind maintaining them is really hard. Washing, detangling, deep conditioning, and styling the natural hair can take a toll on your schedule, especially when you have problematic hair.
Apart from using the right shampoo and conditioner, one thing we need to ensure is using the right brush. It not only helps prevent damage but also aids in styling the way we want.
Brushes For Black Hair
Whether you have straight, curly, or wavy hair, having the right hair brush is essential to keep them healthy. Here we have listed the best brushes for black hair that will keep your luscious locks well-maintained.
Check them out!
7 Best Brushes For Black Hair
1. Best Ergonomic Designed: TANGLE TEEZER The Original Detangling Hairbrush
Ergonomic palm-shaped design
The unique two-tiered system has long teeth to detangle and short teeth to smooth the hair cuticle
Allows you to brush hair with minimum fuss, breakage, and damage, leaving you with glossy locks
Works on both wet hair and dry hair and that it never pulls or snags her locks
What We Don't Like: The size of this detangling brush is small.
[ Read: 7 Best Brushes For Wet Hair ]
2. Fully Flexible: Manta Hair Hairbrush
Molds to the shape of your hand and scalp
Flexible design to protect, control, and style your hair
Gives maximum shine to hair with minimum breakage
Creates less tension on each hair strand and hair follicle while massaging the scalp
Promotes a healthy scalp and hair growth
What We Don't Like: It is expensive.
[ Read: 5 Easy Homemade Hair Rinse Recipes for Silky and Shiny Hair ]
3. Best Anti-breakage: Keranique Hair Styling Brush
An anti-breakage hair brush that does not rip or pull out your knotted hair
Soft bristles glide through hair smoothly to untangle even the toughest knots with ease
Designed to cut down on scalp pain and protect hair against split ends and breakage
Helps stimulate blood circulation and strengthen the hair
What We Don't Like: It doesn't work well with short hair.
[ Read: 6 Best Homemade Hair Masks for Split Ends and Growth ]
4. Ultra Soft Brush: Wet Brush Original Detangler Hair Brush
Features the ultra-soft IntelliFlex bristles that glide smoothly through your tangled hair and knots without causing any pain
Massage the scalp to stimulate the blood flow and strengthen your hair
specially designed to minimize the scalp pain caused while brushing
Prevent hair breakage and split ends
What We Don't Like: For the price, it is an average brush.
5. Adds Shine and Texture: Belula 100% Boar Bristle Hair Brush Set
Soft boar bristle hairbrush to help you get smoother and shinier hair
Distribute the naturally produced oil by the scalp on your hair strands
Offers the best organic anti-frizz treatment
Hair becomes healthier, softer, and conditioned with regular brushing
Brush's 9-inch handle is made from bamboo
Boasts an ergonomic shape for comfortable holding
What We Don't Like: It is not suitable for fine or damaged hair as it may break them even further.
[ Read: Best Brush for Damaged Hair ]
6. Boar & Nylon Bristle Brush: BESTOOL Hair Brush
70% of the bristles are made from soft boar hair, taking the oil from roots and distributing it throughout the strands
The rest of the bristles are made with stiff nylon, known for its detangling powers
Features 3.9 inches-wide paddle brush head and 9.8 inches-long bamboo handle
It comes with a brush cleaner and a travel bag.
What We Don't Like: According to users, the brush gets dirty quickly. Also, the wooden handle hurts to hold.
[ Read: 7 Best Hair Brushes For Fine Hair ]
7. 5. 100% Boar Hair Brush: Spornette DeVille Cushion Paddle Boar Bristle 344
Extra-wide brush head and spaced-out bristles
An excellent option for anyone with thicker hair who wants a 100% boar hair option
Features a rubber cushioned base to securely hold the bristles in place
It's vented to allow the brush to dry quickly after use
The wooden handle is ergonomically shaped and lightweight
What We Don't Like: Even though the brush is high-quality, it is heavy.
[ Read: How to Get Thick Hair Naturally at Home? ]
Conclusion
Black hair needs special care due to its texture. Our list consists of some of the best, tried, and tested brushes for black hair that will ensure maintaining your hair forever. Investing in a good brush can be called a 'one-time investment' as it lasts for years.
So, pick any of these and allow your hair to look in great condition always.
You Might Also Like: