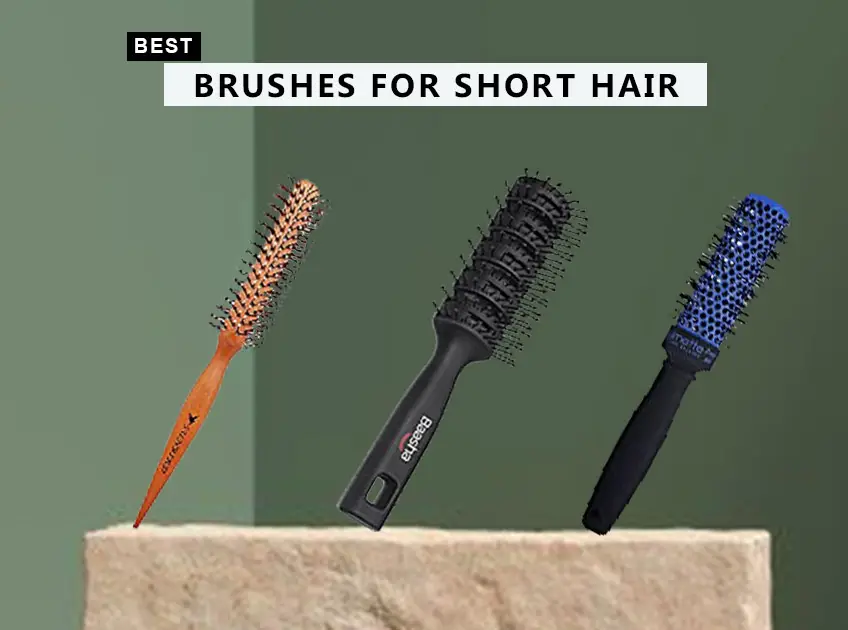 Short hair never goes out of trend. They give a stunning statement look, irrespective of your age. Whether you have a short hairstyle just because it is convenient or like keeping your hair short as it looks good on you, using the best brush for short hair can make a great difference.
While every brush may seem good for short hair, some brushes are made intently for them for some reason. Firstly, they help in styling short hair and help keep them in its best shape.
Brushes For Short Hair
Until you don't use a proper brush for short hair, you won't understand how valuable it is. If you are confused about what hair brush will be best for your short hair, check out the top 7 best brushes for short hair that we have enlisted.
7 Best Brushes For Short Hair
1. Comfortable Hair Brush: Spornette Prego 2 Inch Round Brush 265
Striking blue and black round brush will have your short hair looking red-carpet ready in no time
Aerated and incredibly lightweight
The ceramic-coated, aerated barrel also heats up while you blow dry, speeding up your dry time
Cushioned foam grip on the handle makes it super comfortable to work with
What We Don't Like: If your hair is too short, this hairbrush won't be of good use.
[  Read: 7 Best Round Brushes For Fine Hair ]
2. Helps Create Curls and Waves: Conair Round Brush for Blow-Drying
Adds body and fullness to the hair
Suitable for all types of hair as it helps creates soft waves or curls
It features nylon bristles
Suitable for blow-dry styling as it smoothes and straightens coarse, curly, or wavy hair
What We Don't Like: According to a few users, the handle of this brush is delicate.
[ Read: How to Take Care of Curly Hair ]
3. 11-Row Vented Hairbrush: Vent Hair Brush
Made of antistatic material and soft pins bring superlative toughness and durability
Perfect solutions to hair winding, electrostatic problems
It is easy to clean
Teeth are designed as cylindrical, and bristles have a double-colored ball tip
Ergonomically designed handles with soft and non-slip gel material
What We Don't Like: This brush is made specifically for short curly hair, so if you have fine and thin hair, skip this product.
4. Best for Precise Styling: Osensia Store Ultra Small Round Brush for Blow Drying
Antistatic, ionic, mineral-infused bristles perfect for short hair, bangs, or fine front baby hair
Infused ceramic delivers speeds up drying time,
Attached to a lightweight, ergonomic handle that's incredibly comfortable to hold
Boost thin hair appearance, creating luscious waves and luxurious volume
What We Don't Like: Brush does not have a very good grip if you have long hair.
[ Read: How to Treat Hair Thinning Naturally ]
5. Vent Brushes For Hair: Baasha Hair Brush
High-quality vented hair brush for styling, suitable for short hair women
Soft hair brush for men and women
Sturdy but soft bristles that make detangling wet or dry hair a breeze
The vented design allows air to pass through the brush for faster drying and styling
Ball tip bristles deliver a scalp massage effect through hair brush which can stimulate scalp circulation
What We Don't Like: According to a few users, the tip of the bristles fall off after a few uses.
[ Read: 7 Best Hair Brushes For Fine Hair ]
6. Best for Curling and Lifting: SUNBIRD Nylon Round Styling Hair Brush
Made with real wood and PA66 nylon
Ergonomic design handle with pointed tail handle design
Hand-polished, durable, and highly convenient
V-shaped double comb tooth design, with white oil round head to massage the scalp, relieve pressure, and promote blood circulation.
Suit short, medium hair, making natural wave roll, straight hair, or bang
What We Don't Like: It is pricy.
7. Travel-friendly Brush: Conair Metal Round Brush for Blow-Drying
For blow-dry styling short to medium-length hair of all textures
Ball-tipped bristles gently smooth and straighten
Ideal for adding body and fullness
Metal barrel retains heat from the dryer for results that last longer
What We Don't Like: Even though it's a great brush and works well for short hair, the size of small.
[ Read: 18 Gorgeous Short Straight Hairstyles ]
Conclusion
Here you would have seen some big brushes and some short ones that are suitable for styling short hair with no hassle. So, whether you have a pixie cut, a short layered look, or a stacked bob, all you need is to invest in one of these brushes to find the best way to style your hair. Investing in a small round brush will make styling so much easier.
So, buy any of them, style your hair, and thank us later!
You Might Also Like: