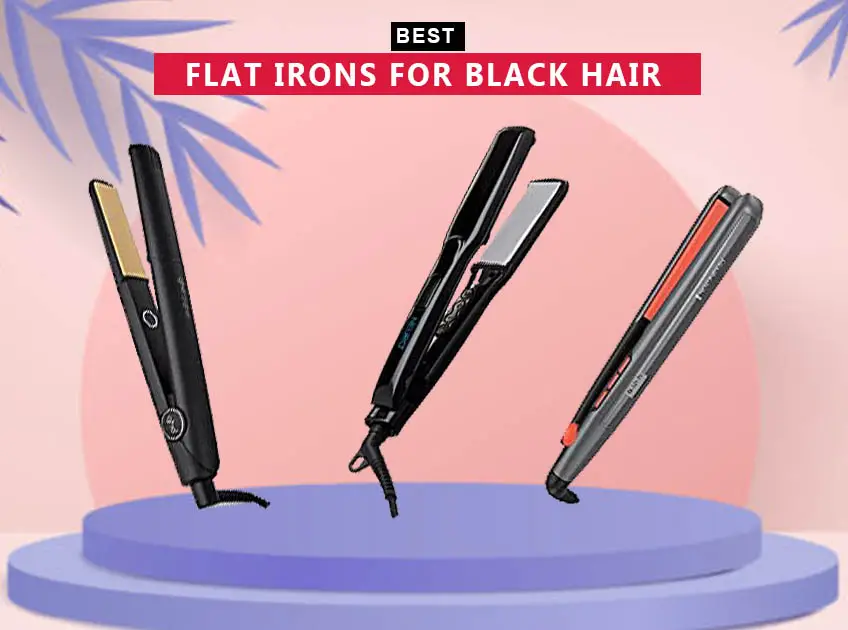 We all want to style hair and get a statement look. Luckily, today you can find multiple hair styling tools, creams, and accessories that work on all hair types. Whether you have curly, wavy, or fine hair texture, a flat iron can make things easier.
From getting luscious braids and locs to creating twists and turns, a flat iron can make things possible. With a good flat iron, possibilities are endless. The best flat iron for black hair helps revealing reveal smooth, sleek hair without the need for excessive heat exposure and damage.
Flat Irons
Since heat styling tools are notorious, using the best tool will only ensure hair health. Therefore, we have listed the 7 best flat iron for black hair based purely on their quality and performance. Check them out and select the one you like the most.
[ Read: 7 Best Hair Texturizers For Black Hair ]
7 Best Flat Irons For Black Hair
1. High Rated: HSI Professional Glider Ceramic Tourmaline Ionic Flat Iron
It has tourmaline plates, making it suitable for all hair types
It comes with adjustable temperature settings from 140 to 450 degrees
Generates negative ions that help reduce frizz
The ceramic plate makes it durable, giving long-lasting results in a short time
It comes with protective gloves
What We Don't Like: It does not have an automatic shut-off feature.
[ Read: Home Remedies For Frizzy Hair ]
2. Effective and Affordable: Remington 1-Inch Anti-Static Flat Iron
It has ceramic plates that heat up quickly and hastens the process of ironing black hair
The automatic shut-off feature helps manage hair and gives greater control over the ironing process
Gives feasibility to adjust the temp to up to 410 degrees on a digital display
It is an anti-static flat iron that comes at an affordable rate
What We Don't Like: If you have long and thick hair, it is very time-consuming.
[ Read: 7 Best Flat Irons For Fine Hair ]
3. Affordable Drugstore Flat Iron: Conair Infiniti Pro Flat Iron
It has tourmaline plates that heat up instantly to give you straight hair in no time
It ensures frizz-free and anti-static results
With 30 different settings and a heat setting going to 455 degrees, it helps achieve different hairstyles in a jiffy
Also consists of an auto-shutoff feature as a safety measure
Comes at an affordable rate and is available at the drugstores
What We Don't Like: It sometimes turns off automatically while you are working.
[ Read: 13 Best Flat Iron Straight Hairstyles For Black Hair ]
4. Travel-Friendly Design: Paul Mitchell Neuro Smooth 1.25″ Flat Iron
The plates are made of premium titanium that glides over hair easily
Features the SmartSense microchip, which is time-saving
It reduces the number of passes needed to achieve smooth strands, giving the desired result in no time
There is an adjustable temperature control, heating up to 450 degrees in just 30 seconds
Customizable auto shut-off feature is an add-on
Dual voltage for travel makes it travel-friendly too
What We Don't Like: It is pricey.
5. Suitable for Curls and Waves: ghd Classic Styler
It heats up quickly with its one heat setting
Contains dual voltage, making it suitable for travel
Floating plates ensure less or no frizz
It is best for curly and wavy hair that comes under the 4A category
What We Don't Like: The presence of only one heat setting makes it difficult to manage and control sometimes.
[ Read: Best Straightener For Your Curly Hair ]
6. Easy and Comfortable: CROC Classic Black Titanium 1.5″ Flat Iron
It is a comfortable and ergonomically designed flat iron, helping straightening hair
With plate width 1.5″, this device is comfortable to use
It has a wide temperature range where you can go from 200 degrees to 450 degrees
Allows managing heat in breakage-prone areas
The titanium plates ensure hair will stay safe
What We Don't Like: It is expensive.
[ Read: Best Flat Iron For Hair Straightener ]
7. Extra Long Titanium Plates: Moroccanoil Perfectly Polished Titanium Flat Iron
It features long four-inch titanium plates that allow even heat distribution and maximizes surface area for fast performance.
It is ideal for long hair
Features automatic shut-off feature, giving better control
Adds extra shine to hair and helps flat hair effortlessly
Gives frizz-free hair
Contains a digital display that gives precise temperature control
What We Don't Like: It is expensive.
Conclusion
These are the most useful and the best flat iron for black hair. Using any of them will help you style your hair and get sleek, shiny, bouncy, and luscious hair with no hassle. So, select the best flat iron according to your hair and get a stylish hairstyle.
You Might Also Like: