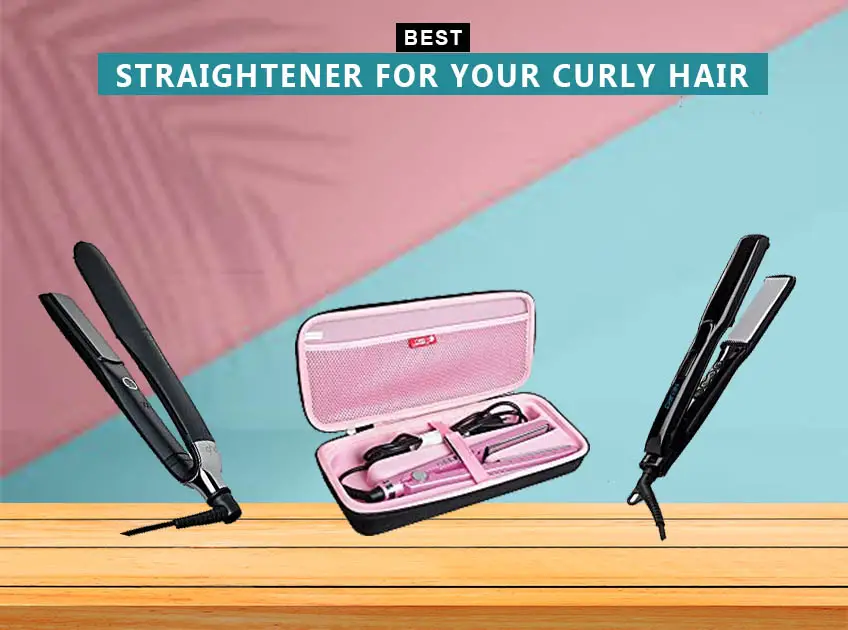 People with straight hair may like to have romantic curls. The one who has curly hair wishes to do straight as well as sleek hair. Curly hair needs the best straighteners which go smoothly on the hair without burning, but it must be strong enough to give the curls out. It is always necessary to do some research regarding the best straightener depending on your curly hair.
Things Involved In Picking The Best Straighteners For Curly Hair
Like selecting the best hair dryer, picking the best hair straighteners for curly hair needs some investigation to find the right one for you. Certain things to consider are as follows
1. Must Check The Temperature Range Of Products: When searching a straightener for your curly hair, it is better to check the temperature settings and also whether it is suitable for all hair types or not. Between 350 and 450 degrees Fahrenheit is the correct temperature which is suitable for coarse, thick, and curly hair.
2. Need To Ensure The Size Of Plates: For curly or thick hairstyles, wider plates can mostly do a great job. It will straighten the hair in the larger section at one time and also styling routine will cut down too.
3. Have To Check The Types Of Plates: Ceramic plates are highly helpful in ensuring heat distribution in order to make styling flawless. On the other hand, tourmaline plates are best for colored or damaged hair as they reduce frizz as well as seal the hair cuticles to sustain moisture.
Types Of Hair Straighteners Available For You
There are different types of hair straighteners available in today's market. Among them picking a quality one is a significant one. Some of the types of straighteners are as follows
1. Ironic Flat Irons: This type of straightener is made with Ionic technology which traps moisture in the tresses, leaving them glossy and silky. Ironic flat irons are wonderful for various different hair textures.
2. Ceramic Flat Irons: Ceramic Flat Irons assist to even the heat distribution. The only thing about ceramic coating is that it can start peeling off when works over time. This type is best for wavy or moderately curly hair
3. Titanium Flat Irons: This flat iron type produces negative ions and doesn't need as much heat but it also heats up very quickly. Titanium flat irons are best for all hair types and work satisfactorily for damaged or brittle strands.
4. Tourmaline Flat Irons: The plates present in these irons are infused with ground tourmaline dust. As like titanium flat irons, this also produces negative ions when heated and needs less heat to straighten the hair.
5. Wet To Dry Ions: These types are designed with venting systems that allow you to use them on wet or damp hair. Wet to dry ions is best for wavy, curly, frizzy, or coarse hair.
5 The Finest Hair Straightener That Suits You Great
Hair straightener which gives you a tremendous look are mentioned below
1. ghd Platinum +
ghd Platinum+ is the best and world's first smart hair straightener which predicts your hair requirements and works on it. This hair styler produces heat 250 times per second so that it gives healthier and stronger hair. GHD models have introduced a new product named Platinum plus. It enhances handling and also protects hair from damage. On the other hand, its flick switch can be easily operated in one hand and LED and gentle double beep instantly make you know the straighteners are readily available.
Pros
Gives you shiny and smooth hair
Made up of luxurious design
Fast styling times
Developed with smart technology
Cons
Quite expensive
Very different when compared to its older GHD version
2. Neuro Smooth Titanium Flat Iron
Digital high performance with titanium plates of this hair straightener will bestow smoothes and straighten strands. Titanium plates heat up to 450 degrees Fahrenheit in 45 seconds. Neuro smooth is mainly designed for flips, smoothing, and waves. But if you are looking for a stronger curl pattern, the Neuro style creates curls, waves, and smooth styles. This superior quality flat iron has adjustable temperature control, a smart chip, and IsoTherm titanium plates for lighting fast heat recovery. This thing allows users to get effortless style with professional-grade quality.
Pros
Heat very fast in 45 seconds
It has a large digital display which helps to control the temperature easily
Cons
Some users experienced that straightening is lasting only for one day
Need to develop with more smoothening technology
3. Kipozhi Hair straightener
Kipozhi straightener gives more shiny and less frizzy hair. Kipozhi flat iron utilizes the advanced PTC ceramic heater that aids you to save time. It has an adjustable setting of nearly 180 to 480 degrees Fahrenheit. It automatically identifies the voltage and adjusts so no need to adjust anything in this. Rounded edges make it very easy to add curls, waves, or tips. The flat iron for hair's curves and rounded edge assists straighten, flipping, or curl the hair very easily. Swivel cord present in which allows you for a free range of motion as you like.
Pros
It is the best option while traveling
3D floating plates allow the hair to pass smoothly via a hair straightener
Adjust the temperature that is suitable for your hair
Cons
Fragile construction
Sometimes it has a tendency to pull
4.  HSI professional Glider Steamer Ceramic Flat Iron
Do you always run to your stylist or ask for help from someone to straighten or curl your hair, you don't want to do hereafter, HSI professional glider assists you to create plenty of hairstyles without damaging the hair. It comes with an adjustable temperature setting from 140 degrees – 450 degrees Fahrenheit. This Glider Steamer professional styler flat iron features an integrated steamer which dispenses argan oil and plain water steam for added moisturization as well as gives thermal protection while ironing.
Pros
Highly suitable for all types of hair
It gives a Glossy finish
It has Dual – voltage
Contain a 360-degree swivel cord
Includes a heat-resistant glove
Cons
Not having a digital display
5. Remington Ceramic Straight 230 Straightener
This type is designed to use on towel-dried hair due to this you don't need to blow dry. In which excess water vapourize to the steam and escapes through vent holes. This steam hydration therapy gives quick, super straight as well as long-lasting hair. Cutting edge technology of Remington cares for your hair and gives superior results. It bestows variable temperature settings from 150 degrees to 230 degrees Celsius. The 360-degree swivel cord gives enough flexibility to move around when you are styling the hair. The tourmaline coating helps to heat up the plates very fast. Ceramic coating distributes the heat evenly thus preventing heat damage and hot spots. Teflon coating allows the plate to glide smoothly down the hair shaft.
Pros
Get smooth, silky, shiny hair in ten minutes
It has a variable heat setting with an LED indicator
Auto safety shut off
A plate lock is available for storage
Cons
The price is a little bit high
No heat pouch is present
Conclusion
If you are starting to find the hair straightener first consider your hair textures along with styling needs. Straightening the hair can make your look more pleasant with the attire that you are wearing. Whatever may be the reason, but investing more money in hair styling is not a worthy thing. Instead, you may choose the best hair straightener to get a beautiful look.
You Might Also Like: