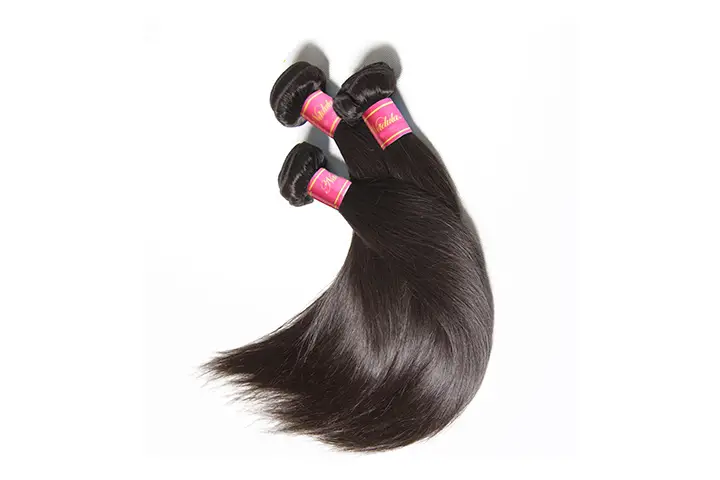 We all worry about why our hair will not grow fast. Nadula 8A Brazilian Straight Hair Weaves is the best solution for long hair. Change your hairstyle everyday, that is short one day and the next day long however you like.
It is 100% unprocessed human hair. It is made with high quality hair, no shedding, no tangles, no lices. You can style these hair weaves without affecting your hair. You can straightened, curled, bleached and styled as your own hair.
Nadula 8A Brazilian Straight Hair Weaves
How it Works:
The strands are sewn in under a layer of hair or you can fix a small section of hair using metal beads or hoops. The better you treat the hair bundles, the longer they will last. This product can last upto one year under good care.
Pros:
It is a double weaved hair.
Used premium hair material that is bouncy, shiny and comfortable.
It has very soft, volumized and thick hair ends.
You no need to worry about tangles.
It is grade 8A Brazilian virgin human hair.
Cons:
The clamping tool can cause hair breakage.
How to take Hair care:
Comb hair gently and dip into warm water.
Wash hair with moisturizing shampoo.
Rinse thoroughly until shampoo is removed.
Apply conditioner and Rinse the conditioner out with warm water.
Bolt the hair with a tower, let hair dry naturally.
Rating: 4.2 out of 5
Nadula 8A Brazilian Straight Hair Weaves is a natural root to tip 100% remy human hair. It provides top quality human hair which gives you a stunning look instantly to your hair. You can easily make any simple braid, bun or ponytail more voluminous and intricate.
Frequently Asked Questions (FAQ's)
Q. How many bundles should I purchase?
Ans: If you want to fulfill one head, 3pcs will be ok.
for hair 16″-20″ long 3-4 hair extensions are recommended;
For hair 22″-30″ long, 4 or more hair extensions are recommended.
Q. Can I dye it?
Ans: Yes, this hair is unprocessed virgin human hair, can be dyed and bleached, you can dye it.
Q. What colors does the hair come in?
Ans: None. it is 100% human, virgin hair – the 'virgin' is to indicate it has never been touched with a chemical product. You can color it however you like though, once you get it.
Q. Can I curl it?
Ans: Yes, but don't use too high a temperature, which may not do good for the hair.
Alternate Products:
You Might Also Like: