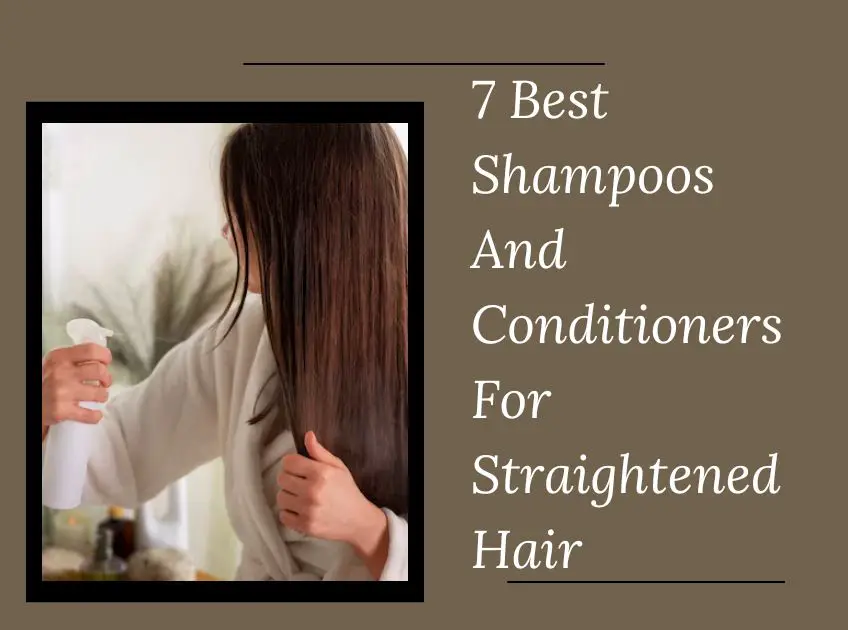 Chemically processed hair requires TLC. If you have recently straightened your hair, it's time to shift from normal shampoos and conditioners to those made specifically for chemically straightened hair.
Experiencing dryness and damaged hair is not uncommon, and this problem doubles when you have chemically treated the hair. Therefore, to preserve the effects of straightened hair without compromising hair health, you need to use the best hair care products.
Since shampooing not only removes the dust, debris, and grime from hair but also strips off moisture from the strands, you should not use any normal shampoo and conditioner for straightened hair.
Shampoos And Conditioners
If you are not able to find the right shampooing and conditioning products, fret not, as we have curated a detailed list of the 7 best shampoos and conditioners for straightened hair. All these products are of high quality and give great results without making hair dry or brittle. In fact, they are made to make strands ultra-hydrated and nourished.
Check them out!
7 Best Shampoos And Conditioners For Straightened Hair
1. Maintain Bond: Olaplex No.4 Bond Maintenance Shampoo
It is a sulfate-free bond maintenance shampoo
highly moisturizing and reparative formula
Formulated with an innovative ingredient and patented Olaplex Bond Builder Chemistry
It help protects, restore, strengthen, and nourish the hair bonds
Best to use after rebonding
Highly moisturizing and eliminates frizz & flyaways
It is Gluten-Free, Paraben Free, Phthalate Free, Nut Free, and Color Safe
What We Don't Like: It is pricey.
[ Read: How Often Should You Straighten Your Hair ]
2. Repair and Replenish: Moroccan Oil Moisture Repair Shampoo
Best for color-treated hair and smoothened hair
Works well for weakened and damaged hair by chemical processing or heat styling
Gives hair a bouncy and healthier look and increases elasticity and manageability.
Enriched with Keratin Protein, Fatty Acids, and Argan Oil to strengthen broken strands
Free of Sulphate, Paraben, Phosphate, Formaldehyde, and other harmful chemicals
What We Don't Like: It is not for oily scalp.
3. Hair Strengthening: Sebastian Professional Penetraitt Strengthening and Repair Shampoo
Deeply repairs hair for a super strong and silky soft style
formulated with an active rescue system to repair stress due to chemicals and heat
Cleanses and strengthens damaged hair
Deeply penetrates to repair and reduce breakage
Enhances radiance and richness of chemically treated hair
What We Don't Like: It has an overpowering smell.
4. Intense Hydration: OGX Renewing + Argan Oil of Morocco Hydrating Hair Shampoo
Infused with argan oil to maintain the straightened hair
Also contains Silk Proteins to moisturize and soften hair
Renews, restores, and strengthens hair for silky soft, and shiny perfection
Free of paraben and sulfate
Improves hair strength and elasticity of the hair.
What We Don't Like: It doesn't lather.
5. Extra Smoothness and Shine: Matrix Opti Smooth Straight Professional Ultra Smoothing Shampoo
It restores, controls, tames the locks and smoothens the uncontrollable frizz
Gently cleanses while maintaining the moisture content of the hair
Repairs the damage caused by the chemical treatment
Infused with Silk Amino Acids and Shea Butter
Features refreshing mild citrus fragrance
Improves the texture of the hair and leaves it deeply moisturized
Tames frizz and makes hair silky soft, and smooth.
Free of paraben and comes at an affordable price
What We Don't Like: It contains SLS.
[ Read: 7 Best Shampoos for Shiny Hair ]
6. Deep Nourishing: Wella Professional Invigo Nutri Enrich Deep Nourishing Shampoo
Creates high-performance hair care treatments for all needs
Deeply nourishing and moisturizing shampoo for chemically treated hair
Restores optimum hydration and prevents further damage to the dry and stressed hair
Nutri-Enrich Complex smoothens and softens hair
Also infused with Vitamin and Mineral Rich Goji Berry, Silk Extract, and Vitamin E
The presence of Peptides, Panthenol, and Oleic Acid makes it appealing
Smells good with an elegant chypre mix of fruity & musky notes
What We Don't Like: It contains SLS.
7. High Smoothness: Schwarzkopf Professional Bonacure Keratin Smooth Perfect Micellar Shampoo
Instantly controls frizz and makes hair more manageable
Hair gets smoother, shinier, and easy to handle
Enriched with Keratin Smooth Technology and Apricot Kernel Oil to ensure long-lasting smoothness
Gentles cleanses while providing intensive moisture to the hair
Suitable for thick, coarse, wavy, curly, unmanageable, and frizzy hair
What We Don't Like: It is pricey and contains SLES.
[ Read: 7 Best Deep Conditioners For Curly Hair ]
Conclusion
These are some of the most effective and the best shampoo and conditioners for straightened hair. With their hair-nourishing properties and without disturbing the effectiveness of straightened hair, these are the best to upkeep hair health.
You Might Also Like: