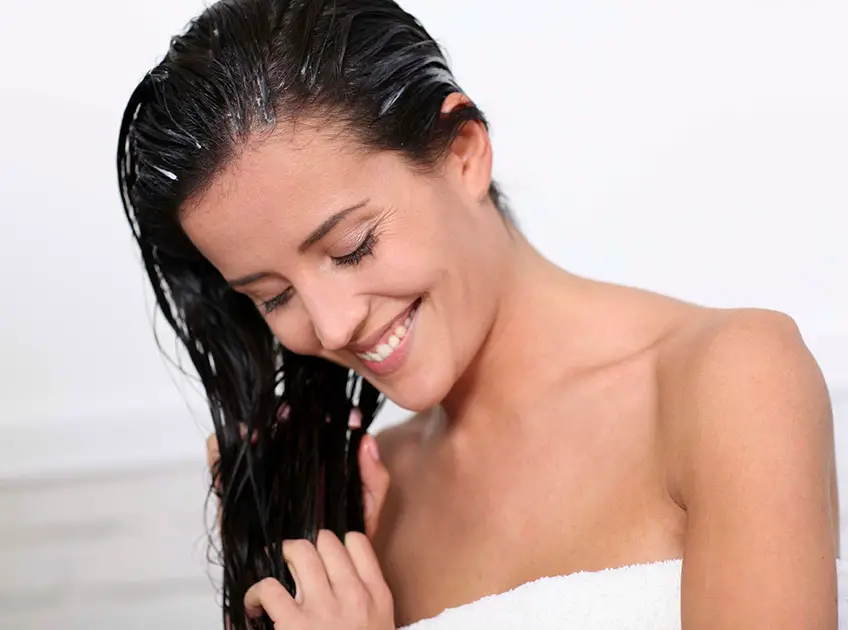 One of the best hair styles is straight hair, everyone would like to have straight, shiny and silky hair, it will give you a chic look. Especially when riddled with frizz and bad hair. Most of them will run to salons to make their hair straight through chemical methods but these chemicals may spoil your hair And make them frizz, lean and dry. To save your time and money just have a look at these homemade remedies to straighten your hair and make your hair healthier, strong, silky and shiny.
1. Milk, Honey and Strawberry Hair Mask
Milk, honey and strawberry are all delicious foods not only for eating t but also can be used for the hair straightening process. As it is proved that milk contains many vitamins and minerals and has excellent nourishing properties which help in straightening hair follicles.
And strawberries are rich in ellagic acid which helps in protecting hair from thinning. Honey also has many properties which help for hair follicles and nourishes the scalp. This hair mask not only straightens your hair but also makes it strong and healthy.
Process:
Take 2 tbsp milk
Add 2 tbsp of honey
Add freshly crushed strawberries
Mix all the ingredients
Apply it to your Scalp and hair
Wrap it with any cotton cloth
Wash it after 2-3 hours.
[ Recommended: How to Use Corn Flour for Hair Straightening ]
2. Olive oil and Egg Hair Mask
You know, that olive oil and egg hair mask will not only do wonders and nourish hair but also work in straightening hair. The vitamins and minerals in eggs will strengthen the hair follicles and make them soft, silk and shiny.
Olive oils are the essential oil which nourishes hair from roots and produce new hair growth. These two ingredient hair masks will help to straighten your hair.
Process:
Take two whole eggs
Add 1 part of olive oil to it
Mix well and make a smooth paste
Apply the smooth past to your scalp
Wash it off after an hour.
[ Recommended: Apple Cider Vinegar for Hair Straightening ]
3. Coconut Milk and Lemon Juice Hair Mask
Lemon juice is one of the most common ingredients which help to straighten hair. You can confidently tell anyone that lemon will straighten hair naturally by adding coconut milk, its creamy texture will nourish the hair follicles and maintain a standard that acts as a conditioner.
Lemon will also help for dandruff, dryness and itchy scalp. You can use these ingredients to straighten hair.
Process:
Take freshly crushed lemon juice
Add 3 to 4 tbsp of freshly squeezed thick coconut milk
Mix well and apply the mixture on scalp and cover it with shower cap
After 2 hours, wash it with warm water.
4. Papaya and Banana Hair Mask
Papaya and banana will help in strengthening the tensile of hair while conditioning and nourishing. Papaya contains enzymes that nourish your hair, and the antioxidants present in it will protect split ends, dull hair and dandruff. The papaya is also used for baldness.
Bananas will improve the manageability and the shine of the hair as bananas are rich in potassium, carbohydrates, natural oils and vitamins which help in softening your hair.
Process:
Take a cup of papaya and a cup of banana
Mash these two ingredients together and make smooth paste
Mix well and lumps free
Apply the paste on your scalp and leave it for 45 min
Wash it off with cold water then mild shampoo it.
5. Milk Spray for Straightening Hair
Milk contains essential nutrients such as vitamin B12, proteins, zinc, iron, omega fatty acids and biotin. All these minerals help in various ways like promoting new hair growth and making it healthier and stronger and also give shiny hair which makes your hair straight. The proteins in milk will also help to fortify the shafts, controlling frizz and makes your hair look straight.
Processes:
Take a spray bottle and fill ⅓ cup of milk
Spray the milk on hair till it become total wet
Remove the tangles and do regular massage with milk
Cover it with shower cap and leave it for 30 minutes
Finally rinse out the milk with cold water and then shampoo it.
To make your hair silky and shiny you need to follow these remedies twice in a week, there may be still more ways to straighten your hair that include hair mask packs Involve with messy ingredients but remember these may also damage your hair, always it is better to use the ingredients which are present in your kitchen and fresh fruits and vitamin based food.
Recommended Topics