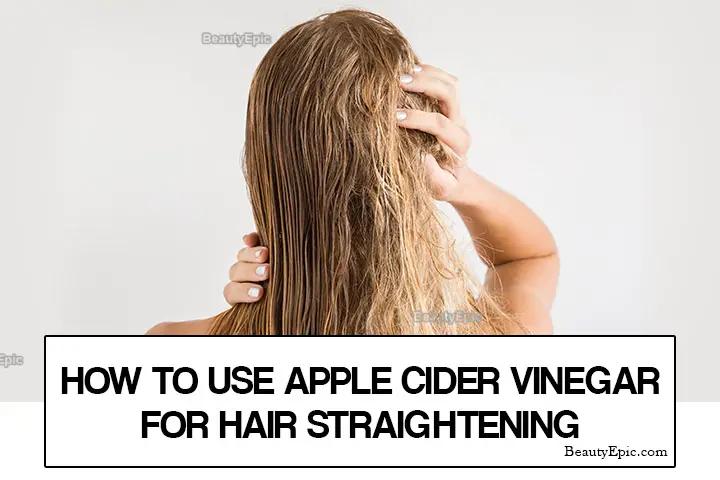 Apple Cider Vinegar is a common ingredient used for preparing various types of homemade remedies. Besides health benefits, apple cider vinegar acts as a cleansing agent that can work wonders for your hair.
Does Apple Cider Vinegar Straighten Your Hair?
Apple cider vinegar can straighten your hair to a certain extent. Even though the results may not be as perfect as the ones you would get by using hair-straightening brushes, apple cider can visibly reduce curls without causing any damage. It effectively detangles and makes the hair look shinier.
[ Read: How To Straighten Hair With Aloe Vera ]
Apple Cider Vinegar with Water
Apple cider vinegar can be applied to the hair in various ways. Also, it can be mixed with other ingredients like honey. However, for straightening purpose you need to leave apple cider vinegar on for several hours. Hence, mixing it with water is the best method to get the desired results. Follow the steps mentioned below to straighten your hair with apple cider vinegar.
Things Required:
Apple cider vinegar and
Water
How to Do:
In a mixing bowl take 1 cup of water and add 2 tablespoons of apple cider vinegar. Note that, for preparing the solution, you need to use filtered apple cider vinegar that doesn't contain any kind of residues. Mix the solution well and let it sit for a few minutes.
Prepare your hair by washing it with a mild shampoo. Preferably, use a shampoo which is free from the sulfate. After rinsing off the shampoo use a conditioner and moisturize your hair.
After applying conditioner wait for few minutes and then wash your hair thoroughly. Wring out all the water with your hand. You can use a towel to soak up water from your scalp but do not use a dryer.
Apply the solution of apple cider vinegar on your wet hair. You can apply it with your hands or a brush. Make sure that it is applied evenly to all the parts. You can also use a sprayer for getting it done easily.
Spill any leftover solution on your tresses. Gently press your hair and wipe the excess solution dripping from your hair. Leave the mixture on and let your hair dry on its own. Now you can notice that your hair has become straighter and smoother.
Best Time to Apply: Morning or afternoon.
No of Repetitions: Repeat the process 2 to 3 times a week.
[ Read: How to Use Coconut oil for Hair Straightening ]
Precaution and Tips
Apple cider vinegar can also make your hair lighter. So if you notice any change in your hair color you can add more water to the solution before applying it. And if you are using an inorganic shampoo, make sure that you rinse your hair thoroughly to remove all the traces before applying apple cider vinegar.
Applying apple cider vinegar is a safer and healthier way to straighten wavy hair. When used periodically it can make the hair stronger and smoother. It also works as a cleanser that removes excess oil and residues from your hair. It is a perfect remedy for frizzy hair.
You Might Also Like: