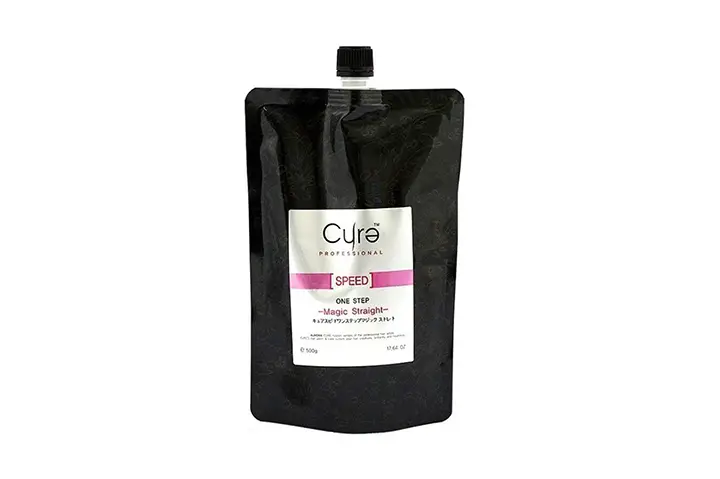 There are many ways to straighten your hair.It is very difficult to use a straightener every morning, here is the solution: Cure One Step Japanese Magic Hair Straightening. By using this treatment you can save your time and give a great look to your hair.
Cure-one-step is a permanent hair straightening product that will give you the best results like in a salon in the comfort of your own home. It is an easy to use, one step application for permanent straight hair.It is suitable for men and women.
Cure One Step Japanese Magic Hair Straightening Treatment Straight Cream by AURORA
How it Works:
This product is a combination of essential oils and extracts, which keeps your hair soft and glossy after treatment.
The application takes less than 2 hours to complete and the results can last from 2-6 months depending on the condition and type of hair you have.
One package will provide 4-6 treatments depending on the length of your hair.
Pros:
It helps to keep down the damage done to your hair.
Permanently straighten your hair in an hour.
No need for neutralizing agents.
Hair is typically straight for 2-6 months.
Cons:
It is compulsory to conduct an allergy test before using this product.
The results may vary person to person depending on the hair and scalp condition.
Rating: 3.8 out of 5
This is an amazing product that gives instant results and that lasts for a few months.Snap up Cure One Step Japanese Magic Hair Straightening and enjoy with your straight glossy hair.
Frequently Asked Questions (FAQ's)
Q. Can I use this product if I have colored hair?
Ans: The cure one step magic straightening treatment can be used to the hair with color treatment. However, you have to control the application time as your hair condition.
Q. If I wash my hair after the treatment will it stay straight?
Ans: Yes. It's permanent, it doesn't wash out.
Q. Does it come with an applicator?
Ans: No need for a special comb. But most important is not to touch the roots when applying 2cm. under the roots. Then rinse without shampoo after waiting time to make hair blow dry and iron. The hairs after rinsing are very soft and shiny when the hairs are dry. Don't apply too much over hairs not good.
Alternate Products:
You Might Also Like: