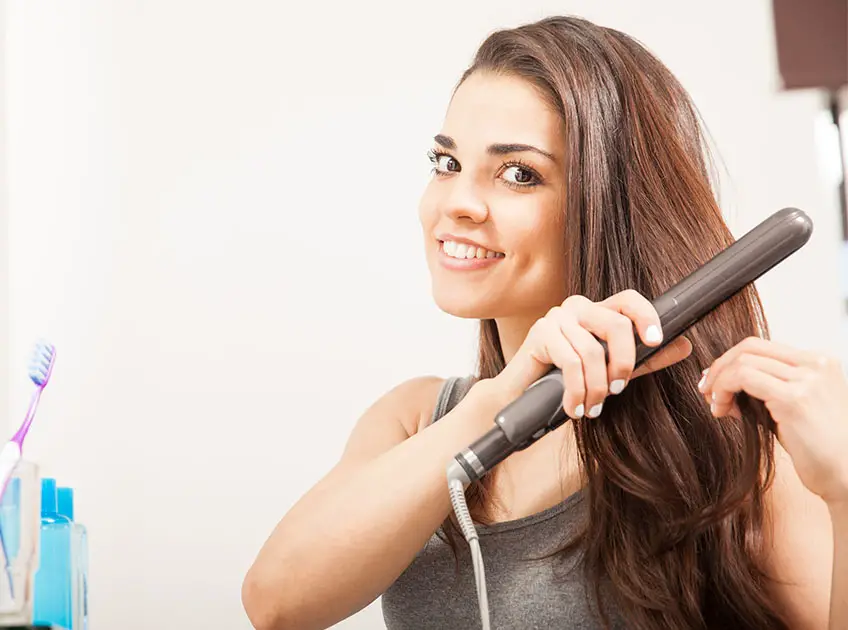 If you like to do curly or straighten your short hair, then you must need to choose the flat iron hair straightener. You know that long hair takes lots of time to straighten, but you should not think short hair is easier than longer hair. Short hair has its own problem while doing curling or straightening. Because short hair is not much longer for the flat iron to grab and also you should take the product too close to the scalp. If do it so, it will burn your scalp and leaves hair damage. But the best flat iron instantly gives a smooth and sleek finish to your straight hair, if used properly.
Guide To Pick Up The Right One For You
Buying a flat iron for short hair is said to be a tricky one. To help you, some guidelines are rolling out here.
1. Temperature Settings: Having multiple temperature settings makes you select the exact temperature that your short hair wants doing straighten. Recommended temperature ranges for different short hair are 250 -350 degrees Fahrenheit for fine hair, 300-400 degrees Fahrenheit for normal hair, and 350 – 450 degrees Fahrenheit for thick or coarse hair.
2. Plate Coating: Nowadays, every straightener is in build with plate coating to give you better styling. The most common infusion or coatings are as follows
Ceramic: Ceramic plate coating gives even heat distribution and also reduces heat damage. It builds up the heat to spread evenly without causing hot spots or overheating. It also reduces dryness and frizz in the hair.
Titanium: Titanium is considered as a good conductor of heat. This one heats up quickly and also assists heat to penetrate into hair cuticles very fast compare to other materials.
Tourmaline: Tourmaline crystal plate infusion safe guards moisture loss and frizz. It contains semi-precious stone when paired with ceramic, which improves the straightening effect. This tourmaline also bestows a smooth as well as straightened look without static.
3. Plate Size: The plate size is highly important as it varies depending on the length and type of hair. If you have short hair, you can use a 1- an inch or even smaller plate to target baby hair as well as bangs. Having a small straightener helps you to style hair from the roots with precise control.
4. Weight: Straightening the hair takes time, especially if you have coarse hair or thick. To avoid arm fatigue you should purchase a lightweight straightener. Titanium is the best choice as it is a lightweight as well as durable material.
Choose The Best Straighteners For Your Short Hair
Here comes the best straightener for the short hair that suits you well are as follows
1. HSI Professional Glider Flat Iron
HSI flat iron gives a smooth finish and includes an extra long cord along with dual voltage making it more convenient for travel. The solid ceramic hot plates give even heating as well and reduce damage by evenly heating hair. Ceramic and tourmaline crystal iron have been used purposely to render a high shine finish so hair appears healthy and radiant. Its sleek black look, as well as textured grip, are very appealing. This product is developed with tourmaline ceramic plates with eight micro-sensors that have Heat balance technology which helps to distribute heat evenly due to this you can spend the low amount of time when styling the hair. It regulates the temperature so that you do not apply high heat to straighten the hair. The tourmaline infusion assists to reduce frizz by generating some negative ions to protect the hair from breakage.
Pros
Fast heating design with microsensors regulates the temperature of the plates while in use
Easy to adjust the temperature for different hair types
Get silky smooth in one pass
Heats up extremely fast
Cons
[ Read: 7 Best Flat Irons For Black Hair ]
2. The Terviiix Flat Iron
The Terviiix Flat iron helps you to select the temperature based on the style and thickness of the hair. This product heats up within just 15 seconds and the ionic haircare technology present in this smoothens open hair cuticles, makes the hair non-frizzy, and seals the hair moisturizer. This flat iron also protects from hair damage by distributing the heat evenly. Terviix created a new way to safeguard hair. As a result, you may get frizz-free hair. The digital LCD panel helps to show the real-time temperature which avoids high-temperature damage to the hair. The package also includes a premium velvet pouch in order to store the straightener. 3/10 floating plate gives various angles to make style and go to the roots and edge. This small straightening iron can automatically turn off after 60 minutes when it is not in use. Swivel cord present in which gives tangle-free as well as more convenience style.
Pros
Perfect for short hair
Temperature is easy to control
Heat up in seconds
Gives long-lasting straightening
Cons
Cannot have a lock button to lock down for safety after usage
3. Ba Babyliss PRO Nano Titanium-Plated Ultra-Thin Straightening Iron
Ba Babyliss Pro Nano titanium plates use high heat conductivity in order to straighten the hair faster without damaging hair cuticles. Its slim design aids you hold the hair in place for flexible styling. Due to this, you can avoid hand fatigue which is caused by long straightening sessions. This BaBylissPro straightening iron works wonders on coarse or thick hair. A wider plate in it can cover the large chunks of hair at the first time itself. Titanium plates help to heat up quickly and make it ideal for the user who doesn't like to spend much time on styling their hair. Fast performing BaByliss product reached the highest temperature very fast.
Pros
Easy to use
High heat level
Lightweight and easy to hold in hand
A slim design can reduce hand fatigue
It helps to create loose and beachy waves
Cons
It is quite expensive
It doesn't have a mechanical lock which makes this product less travel friendly
4. Furiden Professional Flat Iron
Furiden Professional Flat iron contains 2-in-1 tourmaline ceramic suitable for all hair types. It is developed with 5 adjustable temperature settings to render you more control when styling the hair. Precision-engineered floating plates will eliminate snagging as well as give a glossy shine to the hair. This flat iron hair straightener is perfect for creating glamourous curls, mermaid waves, endless style, and a sophisticated straight look. Furiden professional hair straightener saves energy and time because it heats up quickly. This durable flat iron balances heat evenly to give a perfect style. It avoids snagging and this bestows more control over styling. Furiden comes with heat-resistant gloves, a salon comb, a flat iron, and salon hair clips.
Pros
Heats up just in 15 seconds
Have extra long cord
Ideal for all types of hair
Acts as a travel-friendly one
Safeguard from high heat damage
Cons
The plates present in which is too small
5. Kipozhi Titanium Hair Straightener
Kipozhi Titanium is best for people who have thick short hair. This product comes with one-inch plates which can grab and straighten short hair effectively and quickly. This flat iron contains floating plates made of titanium. This plate heats up fastest as well as distributes the heat evenly. In this, you can also adjust the nano-titanium floating plate angle to create other styles than straightening. Kipozhi is a truthful partner and will listen to all your expectations. This flat iron is said to perfect one when you experience unwanted static or frizz. It heats up very fast and brings its plates back to the normal temperature very faster after each pass. 360-degree swivel cord helps to recover from tangles messes or knotted cords
Pros
Two titanium plates help to deliver the heat fast and even
Adjustable temperature makes it suitable for all types of hair
450-degree Fahrenheit heat gets hair straight in a snap
Cons
Burns hair sometimes even it is in low temperature
You Might Also Like: