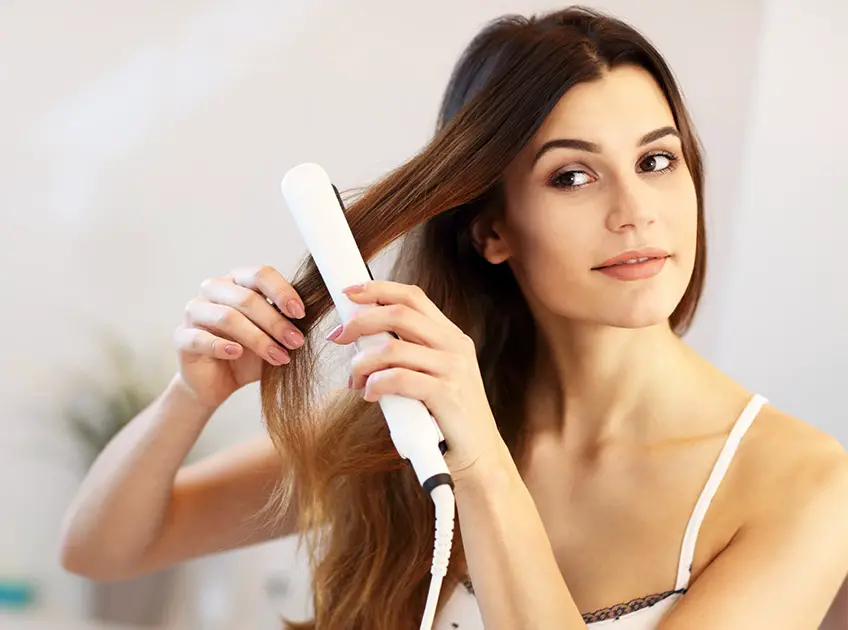 Hot tools are popular when it comes to styling hair. All you need is a flat iron to create the look you desire. But when it comes to hot tools, the major concern is, are they safe for hair?
Although using iron over the hair is safe if you use it once in a while, using it daily and multiple times a day can damage the strands and degrade the hair quality. Hot iron absorbs moisture from the hair pores, making them fragile and frizzy. Over time, it damages the hair excessively.
While flat iron deteriorates the hair quality, steam straighteners are the new fad. Slowly they are making their way to mainstream hair styling to achieve a smooth and sleek hairstyle.
If you can get the same result by using both tools, what makes steam straighteners different from the flat irons? Let's dig a little deeper to know how they differ and which one is better for hair health.
Steam Straightener Vs. Flat Iron
Even though a steam straightener looks the same as a flat iron, the presence of a water chamber and bristles make it different. The steaming function in this device helps to get a silky finish. They are more useful if you have waxy and straight hair types.
On the other hand, flat iron consists of two ceramic plates that utilize heat to straighten the hair. Steam straightener also has ceramic plates, but they consist of bristles. Also, there is a water chamber that produces steam. This steam is used to style the hair instead of heat.
While flat iron is easy to use and can create curls, waves, flips, and straight strands in no time, you need to fill the chamber with water each time before using a steam straightener.
[ Read: How To Use A Three-Barrel Curling Iron? ]
Features Of Steam Straightener
1. How to use– Using a steam straightener is the same as using a flat iron. The only difference is in flat iron, you only have to adjust the temperature, but in a steam iron, you have to fill the chamber with water.
2. Time– Using a steam straightener is more time-consuming than flat iron as you have to fill the water chamber every 15 minutes. The chambers are small, and water evaporates within 15 minutes. So, if you have more hair, be ready to refill the chamber again.
3. Bristles– The bristles attached to the steam straightener resemble a boar bristle hairbrush. They help to attain extra smooth and sleek hair. Also, they make hair shine. But the drawback is these bristles cannot handle too much hair at a time. Therefore, you need to work on taking sections of hair for styling them. It again consumes more time.
4. Safety– It is believed that since a steam straightener uses steam instead of heat for hair styling, they do not damage the hair. However, experts say that any heating tool can damage the stands when applied to hair excessively- be it a flat iron or a steam straightener. Therefore, using it correctly and applying a heat protectant can prevent hair damage.
What Are The Benefits Of A Steam Straightener?
Steam keeps the hair hydrated, lessening the chances of hair damage compared to flat iron.
Reduces dry and frizzy strands.
Works great for hair with low porosity.
Most curly hair does not do well with high moisture and humid conditions. If such is your hair type, steam straightener will not work best for you. However, if this is not the issue, a steam straightener can be your handy tool for hair styling. Once you get used to it, the styling time will also be cut down to half.
What Are The Benefits Of Flat Iron?
Less time-consuming.
Typically suits all hair types and textures.
Come in different types to meet your styling needs.
No mess like filling the water chamber.
[ Read: Best Flat Iron For Hair Straightener ]
If you think flat iron could damage the hair, choose the one with ceramic plates. They spread the heat evenly to the strands and prevent damage. They are convenient, less time-taking, and available at a lower price than steam straighteners.
Both flat iron and steam straightener have their own set of pros and cons. However, which one is right for you depends upon your hair type. While steam straightener adds extra sheen and shine to the hair, flat iron styles the hair in less time. No matter which tool you select, make sure you use them occasionally, as excessive use can damage the hair irrespective of the device. Style your hair and flaunt them using the right hair tool for your hair.
You Might Also Like: