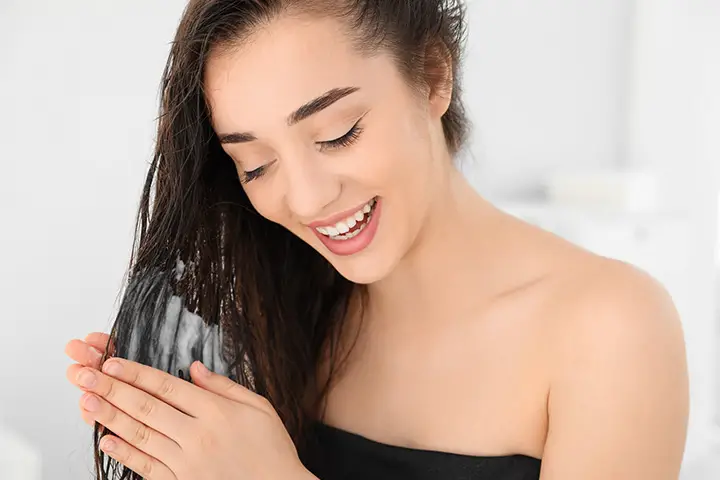 Frizzy hair is most difficult to maintain. Most people are skeptical about the wide range of products available in the market to keep hair moisturized to avoid frizz. In such a scenario, trying natural ways for moisturizing the hair is the best as there are no chances of negative effects. We will discuss these in the next section.
Reasons for Dry and Frizzy Hair:
Different Reasons for Dry and Frizzy Hair Include:
Swimming.
Too much exposure to sunlight.
Using products containing alcohol.
Treatments to smoothen the hair.
Changes in hormonal balance.
Cold winters can also lead to dry hair.
Unprotected methods of styling hair using heat.
Roughly brushing the hair when it is wet.
Ways of Naturally Moisturizing The Hair:
1. Stay Hydrated:
Water is an essential element for the hair that keeps it moisturized. So make sure to take 6-8 glasses of water regularly.
2. Washing the Protective Hairstyles:
A protective hairstyle can cause hair damage because of a lack of proper care. So make sure to wear it for 8 weeks maximum and then the scalp has to be cleaned using a light shampoo every 4 weeks after an installation. Following the cleansing and moisturizing, the routine prevents the hair from becoming dry as the natural moisture will be retained.
While washing the hair make sure to use a sulfate-free shampoo and a good conditioner. After wetting the hair, gradually apply the shampoo to loosen the product that has been built upon the scalp. Then the shampoo needs to be pulled throughout the hair length. It can be cleaned after repeating the process twice. Once washed, apply a conditioner on the scalp gently and then again thoroughly rinse it.
[ Read: Home Remedies for Frizzy Hair ]
3. Using Hot Oil Treatment:
Since oil is not a moisturizer, a light water-based mist needs to be applied prior to the oiling process to moisturize the scalp. Those having dry scalp need oiling with some organic oils like black castor oil, coconut, almond, or olive oil. Avoid oiling every day because this won't lead to effective outcomes.
Using hot oil treatment helps in softening the hair as well as strengthening them. It makes the hair shinier. For this, grape seed oil, avocado oil can be used along with those mentioned above.
Process of Using Hot Oil Treatment:
All the oils mentioned above have to be mixed in the applicator bottle and shaken.
Pour hot boiling water in a bowl or mug and place the applicator bottle in it for about 5 minutes so that it gets heated up.
Let this cool off a little bit and then apply to the hair beginning from the ends.
Gentle massaging will help in enhancing blood circulation in the follicles, which will lead to better hair growth.
Tie up the hair well by twisting every section into knots and cover it with a shower cap.
This has to be left overnight and washed off in the morning.
4. Using Sealants:
Sealants contain butter or oil to keep the natural moisture in the hair intact, resulting in softer and supple hair shafts. The hair cuticles also become smooth
Process of Using: First, wash your hair or just dampen it if you have washed it already. Twist it so that water itself acts as a natural moisturizer. Then use a sealant thoroughly on the hair to have smooth and non-frizzy hair.
[ Read: Home Remedies for Damaged Hair ]
5. Water-Based Moisturizers and Deep Conditioning:
Hair moisturizers with natural ingredients and waters help in easily locking the moisture in hair shafts. Thus the dryness and frizziness can be avoided.
Deep conditioning once in a week is a good practice to prevent hair damage, dullness and keeps it shiny. This can be done with coconut oil, honey, olive oil, castor oil, shea butter, eucalyptus oil.
Process of Deep Conditioning:
2 scoops of shea butter have to be taken in a bowl to which a tbsp of coconut oil, 3 tbsp of honey has to be added and mixed over the heat from hot water. In another bowl, a tbsp each from olive oil, castor oil, eucalyptus oil, and 2 tbsp of coconut oil needs to be taken and blended well. To this, conditioner needs to be added and mixed for 3 minutes. Then mix the ingredients in the first bowl to that of the second bowl and blend them.
Wash your hair and apply the deep conditioner while detangling the hair using the fingers. Once thoroughly coated, wear the shower cap and leave it for 30 minutes before rinsing and combing it.
6. Trying Natural Hair Masks:
Here are some homemade hair masks which you can try:
Banana and Almond Oil: Make a hair mask by mixing one banana with a teaspoon of almond oil. Apply and leave it for 30 minutes before rinsing. This will maintain the natural elasticity and lock in the moisture.
Coconut Oil and Honey: This mask can be created using 1/4th cup of organic coconut oil with 2 tbsp of honey. Thoroughly coat the hair with this mixture and leave for 40 minutes before rinsing.
Olive Oil and Raw Egg: Take a raw egg and mix it with a spoonful of olive oil. Apply and leave it for an hour before rinsing off.
Pumpkin Seed Oil And Honey: Mix a tbsp of pumpkin seed oil, 2 tbsp of honey, and 2 tbsp of coconut oil. This needs to be applied on wet hair and left for about 20 minutes before using a mild cleanser to rinse it off. Then use a conditioner. Repeat this 1 or 2 times a week for amazing results like better moisturization and less hair fall.
[ Read: Home Remedies for Dry Hair ]
7. Rinsing With Apple Cider Vinegar:
Use 2 tbsp of apple cider vinegar diluted in half a cup of water to rinse the hair. This seals the outer layer of hair, and cuticles, locking in the moisture.
8. Using a Restorative and Hydrating Hair Serum:
A hair serum made up of lavender, Lemon, and Chamomile is a smoothening and restorative, that nourishes the brittle hair strands and keeps them moisturized. You can also use serum made up of macadamia oil, linseed oil, and argan oil which has an amazing fragrance and also ensures better hydration.
9. Aloe Vera And Lavender Oil:
Take 1/4th cup of aloe vera gel, a cup of water with 2-3 drops of lavender oil, and blend them all. Pour them in a spray bottle to spray on the scalp and hair. Using this often will prevent hair damage because of harsh sunlight and also ensure better hydration and hair growth.
Tips for Ensuring Moisturized Hair:
Some Simple Tips that can Prevent Hair from Drying Up are Listed Below:
 Use a thermal protective formula before applying heat for hairstyling. It is better to opt for ionic thermal tools and select a lower setting to prevent drying the hair up. Avoid frequently using such tools for hair styling.
Avoid frequent shampooing as this will deplete the natural oils in the scalp, making them dry. Also using too much conditioner can result in dry hair.
Those having dry hair, must carefully select shampoo and conditioner designed to suit them. They often have a creamy texture and have ale vera, apricot kernel oils that have moisturizing properties.
Wear a hat or scarf while moving out in harsh sunlight to avoid the UV rays from drying up the hair. UV protection sprays can also be used.
Use a thick conditioning cream before swimming to avoid the chlorine water from affecting your hair. A treatment oil can also be used.
Avoid too many chemical treatments, such as hair colors, highlights, and other chemical smoothening agents. Ask your hairstylist for the balayage technique of hair coloring as it is a healthier option for the hair. Always opt for ammonia-free colors and other non-chemical options as they are gentler on your hair.
Trim your hair frequently as this prevents dry and split ends.
Taking food containing folic acid, magnesium, zinc, sulfur, B vitamins, beta carotene or equivalent supplements play a major role in maintaining healthy hair that is not dry,
Avoid using brushes that have jagged bristles as this will damage the cuticles, resulting in loss of moisture. Also, do not brush wet hair as it is prone to breakage. It is better to use a wide-tooth comb for detangling
Porosity of hair affects how well moisture is retained. For low porosity, it is better to leave oils and conditions for a little longer duration as the tight cuticle needs time to absorb it. Those with medium porosity hair can opt for protein treatments and high porosity, try the leave-in conditioners, and different blends of natural oils discussed in the previous section
Excess protein can result in stiff and dry hair. So, in this case, some protein-rich products can be discontinued or used less frequently.
When it comes to natural moisturization of hair, one must not just follow different treatment methods but also make sure to avoid any products or routines which depletes the natural oil in our scalp. Once this is followed strictly, you can easily have amazing hair that is well moisturized. This will also reduce your dependency on numerous chemical products available in the market.
You Might Also Like: