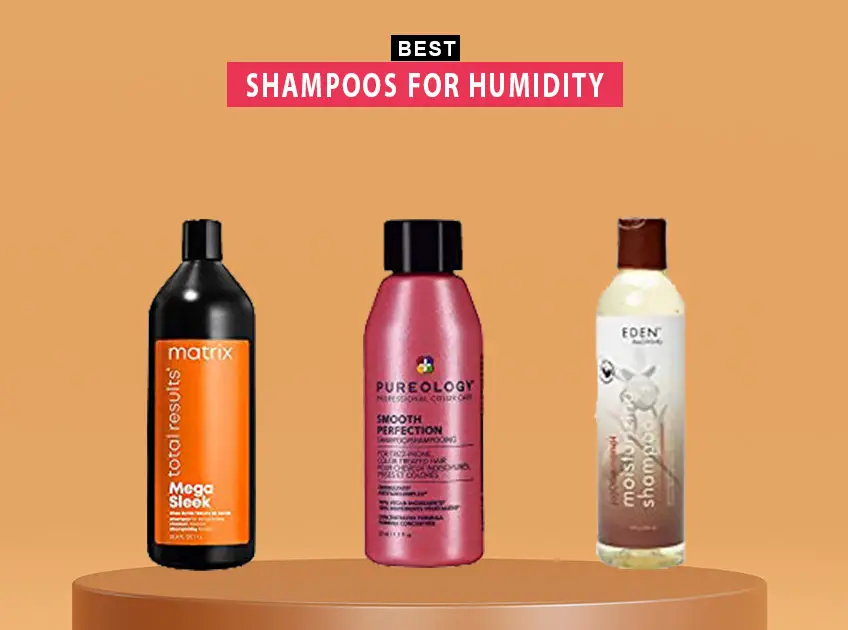 Even though we enjoy summer, unmanageable hair makes us less joyful. If you're anything like us, you may have noticed that your hair is frizzier and less manageable than ever due to the mix of warm, rainy weather and extreme humidity.
The easiest solution for this can just be to alter up your shampoo if you frequently battle muggy air. But which shampoo should I choose? That is a crucial and perplexing topic, and with so many options available on the market, you run the risk of making the incorrect decision.
It is always advisable to consult a guide that can help you choose the ideal shampoo for your needs. But you cannot always get a hair care expert for free, right? Hence, we have prepared a list in which you can take a look at the shampoos that have been categorized according to various preferences to suit your needs. Check them out:
7 Best Shampoos for Humidity
1. Overall Value: Living Proof No Frizz Shampoo
It is made up of a patented molecule that shields against moisture and lessens friction in the hair for sleeker, shinier hair.
It gives your colored hair a shine without fading or removing the color because it is sulfate-free and color safe.
It also lathers easily, giving you a weightless sensation while moisturizing and nourishing your entire head.
Removes pollution, product buildup, sweat, dirt, and oil.
What We Don't Like: It is too expensive for daily use.
[ Read: Home Remedies For Frizzy Hair ]
2. Paraben and Silicon free: Biolage Smooth Proof Shampoo
This is the best option if you are looking for silicon- and papraben-free shampoo for your hair.
Its formula shields the sleekly polished hair in a barrier while controlling humidity and preventing frizz.
It detangles, manages frizz, and protects hair that has been polished to a shine from humidity.
Without adding weight, it offers the highest level of smoothness and shine.
What We Don't Like: It contains SLS which may not suit everybody.
3. With Jojoba Fusion: Eden BodyWorks Jojoba Monoi Moisturizing Shampoo
It is made from the purest botanic ingredients jojoba, Tiare flower, and tea tree oil for deep nourishment and dirt and builds up- removal.
Regenerating and smoothing the hair shaft, strengthens the strand and prevents it from breaking during future manipulation.
It eliminates the need for moisture-sucking detergents that can cause frizz and dryness while still leaving hair feeling spotless.
What We Don't Like: It may not provide the moisture balance it claims.
[ Read: 7 Best Shampoos for Shiny Hair ]
4. For Color treated hair: Pureology Smooth Perfection Shampoo
It is the best product available on the market for colour treatments because its ingredients treat both the colour and the hair.
Its formula also includes several noteworthy components, including shea butter and camellia oil, which softens hair.
Its combination of sweet marshmallow and cocoa fragrance keeps your hair fresh and vibrant.
What We Don't Like: It is a bit too expensive for daily use.
5. For curly frizzy hair: Briogeo Farewell Frizz Smoothing Shampoo
Its formula contains rosehip, argan, and coconut oils which deeply nourishes the scalp for shiny hair.
Its farewell frizz formula is a standout that controls the fluffy, flyaway hair brought on by the humidity.
It is color safe, removes excess oil and impurities from the hair, moisturizes it, and blocks humidity that causes frizz.
The silky sheen of dry, brittle, and generally lifeless hair is successfully restored with this shampoo.
What We Don't Like: It does not lather up well.
[ Read: How to Take Care of Curly Hair ]
6. For Sleek shine: Matrix Total Results Mega Sleek Shampoo
The shampoo is the best on the market if you want to give your hair the right ingredients to give it a sleek shine.
It has shea butter, which helps manage frizzy hair caused by humidity and restrains rebellious, unruly hair for smoothness.
Use the shampoo on a daily basis along with the conditioner for getting a frizz free smooth hair.
What We Don't Like: For some, it does not give the shine they desire.
7. Value for money: Amika Velveteen Dream Smoothing Shampoo
Even in the presence of heat and humidity, this top-rated shampoo will prevent frizz and flyaways.
It has a ingridient that works on the cuticle to protect it from swelling which causes the hair to frizz.
developed especially for people who want to smooth their hair and shield it from humidity.
It also does provide deep nourishment for hair that are dry or damaged.
What We Don't Like: It has a subtle fragrance that may not be everyone's favourite.
Conclusion
Shea butter, vegetable protein, coconut oil, camellia oil, and soy protein are the finest ingredients to seek when purchasing shampoo. Sulfates, drying alcohols, and silicones should also be avoided because they can build up and harm hair over time. Also, getting advice from a dermatologist is recommended when it comes to scalp irritation or allergies. Always run a demo test before buying the product to know if it is the perfect fit for your hair or not.
You Might Also Like: