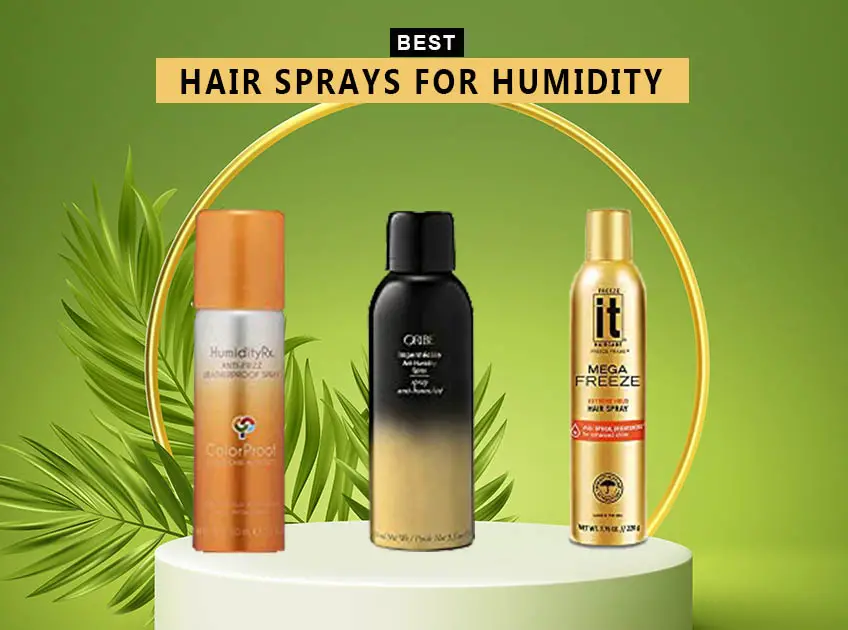 Humidity and hair are anti to each other. As the monsoon starts and humidity rises, people face multiple hair issues. Among them, frizzy hair is the most common problem.
In such cases, hair sprays come to the rescue. However, every type of hair spray does not help attain frizz-free hair. The best hair spray for humidity should tightly seal the hair shaft and the hair's cuticle layer to prevent moisture loss. It should act as a barrier over each strand and reduce frizz.
Hair Sprays
Fortunately, many anti-humidity hair sprays lock in natural moisture, making hair easily manageable in the humidity. At the same time, they ensure the upkeep of the hair's shine and softness. So, if you are looking for anti-humidity hair sprays with no luck, do not worry.
We have carefully selected the 7 best hair sprays for the humidity that act like sealants and topcoats to the hair. Besides, they create barriers to block out the moisture in the air to prolong a frizz-free hairstyle.
Check them out and include them in your hair care routine for beautiful, shiny hair.
[ Read: 15 Ways to Start a Hair Care Routine ]
7 Best Hair Sprays For Humidity
1. Sun Protection: Color Wow Dream Coat Supernatural Spray
It coats hair strands and prevents static or humidity from damaging them.
It contains heat-activated polymer that tightens, compresses, and seals the strands to give them a shiny, silky smooth texture
The result lasts for over 2-3 washes.
Hair stays frizz-free all the time
It is non-greasy and does not leave residue on hair or scalp
What We Don't Like: The hair feels brittle after its use. Also, many users do not like the fragrance of this hair spray.
[ Read: 5 DIY Natural Hairspray Recipes For All Hair Types ]

2. Lightweight Oil-free Formula: Design Essentials Reflections Liquid Shine
It features a scientifically proven formula and helps transforms dull and dry hair into silky, shiny
It helps control frizz and flyaways
Lightweight formula, giving a silky and luminous shine to hair
Do not leave a greasy residue on the scalp or hair
An oil-free and lightweight spray that does not weigh down the strands
What We Don't Like: The hair may feel slightly greasy initially.
[ Read: 5 Easy Homemade Hair Rinse Recipes for Silky, Shiny Hair ]
3. Best for Colored Hair: L'Oreal Paris Elnett Satin Extra Strong Hold Hairspray
It uses micro-diffusion technology to protect your hair from humidity and frizz
Offers resistance against humidity for 24 hours
The spray coats hair uniformly, thus controlling frizz
Do not leave residue or flakes on the scalp
Provides extra strong hold and long-lasting result
Suitable for processed and colored hair
What We Don't Like: It contains artificial fragrance.
[ Read: Essential Oils For Frizzy Hair ]
4. Quick Drying Formula: IT Haircare Mega Freeze Extreme Hold Hair Spray
Infused with vitamin B5 and hydrolyzed wheat proteins that repair and renew damaged hair
Offers strong hold that lasts for over 24 hours
It does not feel sticky or oily on the scalp
It is flake-resistant and offers UV protection too
Adds volume and bounce to hair along with high shine and sheen
What We Don't Like: Overpowering fragrance.
[ Read: Essential Oils for Dry and Damaged Hair ]
5. Plant Based: ColorProof HumidityRx Anti-Frizz Weatherproof Spray
It contains a powerful blend of rosemary, yarrow, and geranium botanical extracts to protect and nourish hair.
The advanced FlexiShield Technology provides heat protection up to 450°F and protects the strands from damage from heat styling tools
It contains cold-pressed sunflower oil that provides sun protection
Also, it offers an ultra-glossy finish and brings a natural shine to each strand.
What We Don't Like: It may not suit oily hair.
[ Read: Homemade Hair Lightening Spray With Lemon ]
6. Antioxidant-Rich Formula: Oribe Impermeable Anti-Humidity Spray
Infused with unique copolymers and antioxidants like tocopheryl acetate, retinyl palmitate
It also contains pro-vitamin B5, which helps hair to be healthy
The presence of panthenol helps swell the hair shafts, adding volume and thickness
It has Vitamin A and E as well to prevent external damage
Shields hair from humidity and thus reduce frizz
Adds shine and texture to every strand
What We Don't Like: It contains artificial fragrance.
[ Read: The 5 Best Vitamins for Hair Growth ]
7. Ultra Hydrating: Living Proof No Frizz Humidity Shield Finishing Hairspray
It protects hair from moisture, frizz, and static
It contains hair-loving ingredients like a humidity-resistant polymer, the patented Healthy Hair Molecule
Also, it consists of a high-refractive emollient and conditioning agent that protects hair from humidity
Shields hair from high temperature and UV rays
Suitable for color-treated hair
What We Don't Like: It has an artificial fragrance.
[ Read: 7 Best Professionals Perm For Color-Treated Hair ]
Conclusion
Now that you know some of the best hair sprays for humidity, start using them as soon as the monsoon arrives. It will lock in the essential moisture, keeping frizzy hair and flyaways at bay.
You Might Also Like: