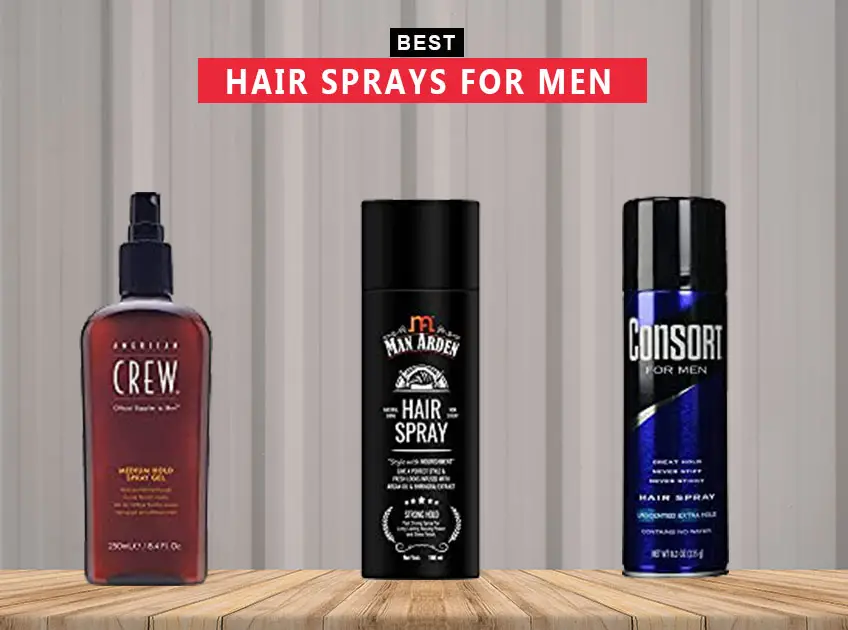 Using hair spray makes you look well-groomed and styled. Also, the hair looks thicker and more efficiently put together. While these are some common benefits of hair sprays, they also add shine and glossiness to hair.
Since men usually have short hair, trying different styles and maintaining them for long hours can take a toll. It is when hair sprays come in handy. If you are finding it hard to select one good hair spray for men, we have come up with a detailed list of the 7 best hair sprays for men.
Hair Sprays
All the products in our list are selected based on their quality, performance, and users' reviews. Go check them out and find one for your hair.
7 Best Hair Sprays For Men
1. Styling with Nourishment: Man Arden Hair Spray
Infused with argan oil and bhringraj oil, this hair spray helps tame frizzy hair and flyaways
Boosts healthier hair growth while offering a stronghold
It works well on all hair types, including thin hair
It does not make hair stiff and sticky
The lightweight formula does not let hair weigh down
Deeply conditions hair and makes them healthier
What We Don't Like: Overpowering smell.
[ Read: 5 DIY Natural Hairspray Recipes For All Hair Types ]
2. Medium Hold: Men's Hair Spray by American Crew
It has liquid consistency that makes it suitable to use on wet or dry hair
With medium hold, it offers good control over the strands
It is free of alcohol and infused with sunscreen that protects the strands from UV rays
Low pH prevents over-drying of hair and scalp
The major ingredients are PVP/VA Copolymer, Aloe Vera Gel, and Sage Extracts
What We Don't Like: The hair may feel slightly dry.
[ Read: How to Protect Hair from Sun Damage ]
3. Hair Spray for Slicked Back: Moroccanoil Luminous Hairspray Strong
Offers long-lasting hold
Infused with hair-loving ingredients that keep strands shiny and frizz-free
It does not leave a sticky residue and develop any buildup on the scalp
It can be used to achieve different hairstyles
What We Don't Like: Hair may feel slightly oily.
[ Read: 7 Best Hair Products For Slicked Back ]
4. Antioxidant-Rich Formula: Oribe Impermeable Anti-Humidity Spray
Infused with unique copolymers and antioxidants like tocopheryl acetate, retinyl palmitate
It also contains pro-vitamin B5, which helps hair to be healthy
The presence of panthenol helps swell the hair shafts, adding volume and thickness
It has Vitamin A and E as well to prevent external damage
Shields hair from humidity and thus reduce frizz
Adds shine and texture to every strand
What We Don't Like: It contains artificial fragrance.
[ Read: 7 Best Hair Sprays For Humidity ]
5. Unscented Extra Hold: Consort For Men Hair Spray
It helps hold hair for long hours with its stronghold feature
Works well on hair types and helps achieve a clean, neat, and well-groomed look
No water formula thus doesn't make hair sticky or stiff
It gives a neat, natural, and flawless look to the hair
What We Don't Like: It is not suitable for oily hair.
[ Read: 5 Easy Homemade Hair Rinse Recipes for Silky, Shiny Hair ]
6. Natural & Organic: Brickell Men's Texturizing Sea Salt Spray for Men
It is an unscented hair spray for men made with organic ingredients to upkeep hair health
The liquid consistency helps refresh hair immediately and adds volume to it
Works best in a humid climate and protects hair from getting frizzy
It contains Vitamin E and hydrolyzed proteins for a complete nourishment
It helps hold your desired hairstyle for the long run
What We Don't Like: Hair may feel slightly stiff.
[ Read: What Does Sea Salt Spray Do To Hair ]
7. Quick Drying Formula: IT Haircare Mega Freeze Extreme Hold Hair Spray
Infused with vitamin B5 and hydrolyzed wheat proteins that repair and renew damaged hair
Offers strong hold that lasts for over 24 hours
It does not feel sticky or oily on the scalp
It is flake-resistant and offers UV protection too
Adds volume and bounce to hair along with high shine and sheen
What We Don't Like: Overpowering fragrance.
[ Read: Essential Oils for Dry and Damaged Hair ]
Conclusion
Now that you know some of the best hair sprays for men, it's high time to achieve whatever hairstyle you want- slicked back, mohawks, or any other. These sprays will ensure holding hair for long hours without weighing it down. At the same time, these sprays will upkeep hair health too.
So grab the hair spray you think will work best for your hair type and flaunt your stylish look all the time.
You Might Also Like: