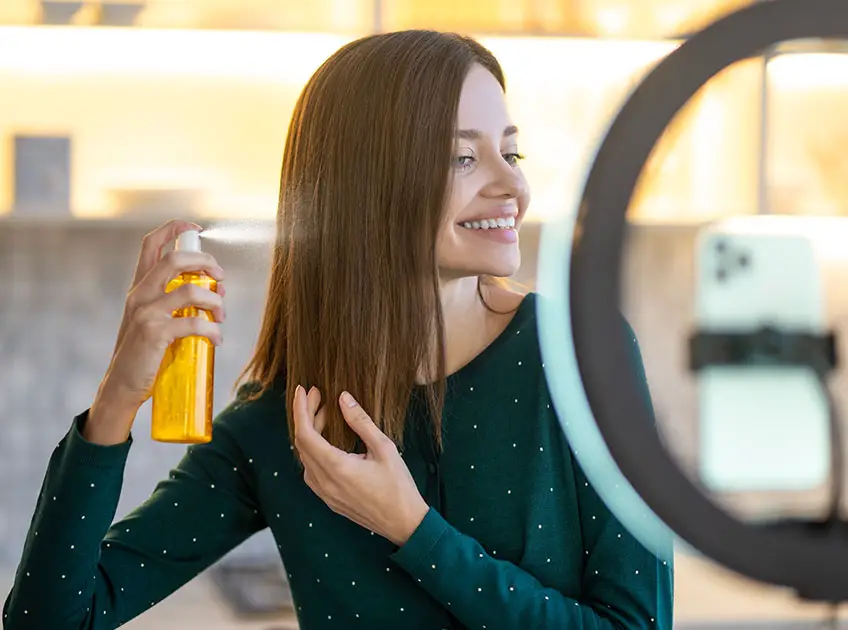 When you wash your hair, does it continue to fall limp? You've tried various styling products, but none seem to provide the natural lift you desire. Why don't you try sea salt spray on your hair?
Even though summer is over, beachy, carefree, and tousled tresses can be achieved all year round with a Salt Spray. With this essential styling product, you can achieve any hairstyle's effortlessly lived-in texture and volume.
Salt sprays give a natural finish for an undetectable appearance if you do not like the feeling of the product in your hair. The grip and volume of fine hair types are enhanced.
Looking to purchase sea salt spray for your lovely hair? Just read the blog.
What is Sea Salt Spray?
Sea Salt Spray is a great hairspray that contains saltwater or Seawater. Saltwater or Seawater absorbs the hair moisture and gets inside your hair cuticle. It adds volume to your hair.
Hence, with its lightweight, texturizing formula, you can use sea salt spray to get a "just got back from the beach" look. In addition to adding volume, it also reduces oil production. The lightweight spray product won't weigh down your hair or make you look greasy.
Is Sea Salt Spray Good For Hair?
When used excessively, sea salt can dry the hair because it absorbs natural oils. Nevertheless, most salt sprays also contain hydrating ingredients to counteract this effect. These formulations are perfect for drier hair types, featuring a blend of tropical oils and salt to create texture without feeling sticky or crunchy.
In addition, there are also salt sprays that contain sun protection factor (SPF) properties to help prevent UV damage. Your hair care routine should include a conditioner or mask if you have dry hair.
What Does Sea Salt Spray Do To Your Hair?
Sea Salt Spray is one the best hair products that give a perfect beach hair look without going near the ocean. It is rich in minerals and other ingredients like glycerin, alcohol, and water. The smell of the spray may vary from fruits to florals. However, it has a salty undertone.
Applying this hair spray to limp or straight locks infuses extra volume, texture and thickness into your hair. Some brands' textures may vary with their thickness. Some might be watery than others. However, when you apply it to your hair, it gives a natural effect to your hair.
Comparing the sea salt spray with your regular hair spray or gel will be lighter in nature. Try once because:
It is handy. Try this out if you want curly hair for a beachy wave hairstyle without using any product.
It adds a glossy texture to your hair.
Defines and enhances the natural waves and curls on the hair
Add volume to your hair
Perks the limp hair
It helps in achieving beachy wave hairstyles without any effort.
Can fix your hair quickly.
How To Apply Sea Salt Spray On Hair?
Comb your hair until your hair is free of knots.
It works perfectly on wet hair. Hence, spray the sea salt spray on your hair with water.
Split the hair into four sections
Spray the sea salt spray on all the split hair sections.
Use squinch motion to add texture and volume to your hair.
Now use the blow dryer with a diffuser
Apply argan oil or any hair serum to your hair and retain the shine and moisture.
However, frequent use of sea salt spray may lead to hair damage. Hence, take extra care while applying sea salt spray to your hair. For healthy hair, here are a few hair care tips for you. Let's get into it.
How To Reduce Hair Damage Caused By Sea Salt Spray?
Use castor oil or coconut oil as a mask at least once a week.
Use banana or avocado to keep your hair strands hydrated.
Try getting a hair spa treatment at least once a month.
Wash your hair twice a week to remove sea salt residue.
Try using a deep conditioner whenever you wash your hair.
Apply a serum or argan oil.
Avoid frequent use of heat protectants on your hair
Drink to consume 3 liters of water per day.
Try not to use the hairspray for repeated periods in a week. It may weaken your hair.
Use gentle cleansers that are paraben and sulfate free.
Improve your intake of good fats like seafood, nuts, olive oil, seeds, etc.
[ Read: 7 Best Heat Protectants For Natural Hair ]
Bottom lines
Sea Salt Spray is one of the best ways to add volume to your hair. However, overuse of this spray can lead to hair damage. Ensure to use the spray with proper care.
Image Credit: freepik
You Might Also Like: