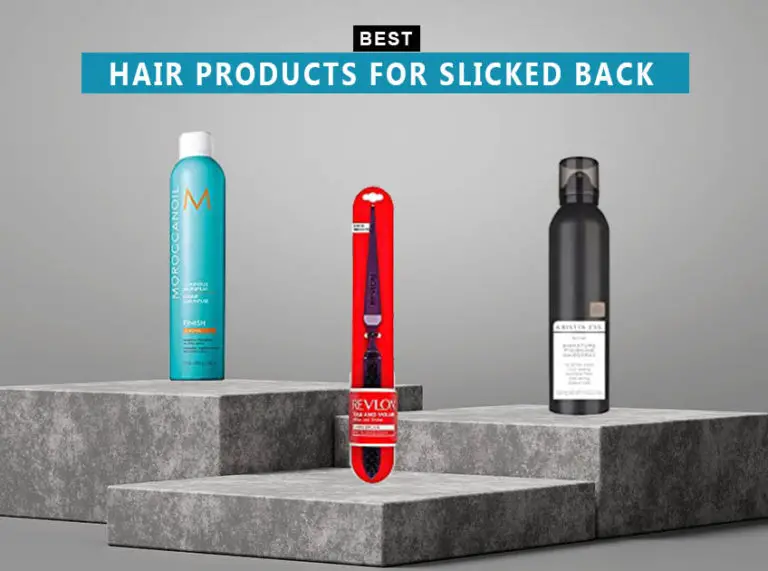 Slicked back look takes an instant to turn heads but a lot of time to achieve. Whether heading for a party or to the beach, a nice slicked-back hairstyle is all you need to get all the attention. It is one style that never goes out of fashion and looks great on all.
Hair Products For Slicked Back
Irrespective of your hair type, you need certain products to get slicked back hair. While gels and pomades are well-known hair products for slicked back, a few more things become essential.
Here we have listed the seven best hair products for slicked back with their features and a few drawbacks. So, if you plan to get funky and gorgeous slicked back, check out the hair products that will help tremendously.
7 Best Hair Products For Slicked Back
1. USDA Certified Hair Pomade: Seattle Pomade Co. Grooming Clay
It contains a natural blend of organic ingredients like beeswax and organic shea butter, ensuring a strong hold for slicked back.
With a low-shine finish, it makes hair look natural and classy.
Does not leave any residue or sheen, giving a low shine/matte appearance
The pomade clings to the hair strands and holds them together for long hours.
Also, it adds thickness and texture to hair, enhancing the hairstyle manifold.
Free of paraben, lanolin, mineral oils, petrochemicals, phthalates, silicon, sulfates, and artificial colors
What We Don't Like: It could make hair dry later.
[ Read: How to Get Thick Hair Naturally at Home ]
2. Hair Brush to Add Volume: REVLON Perfect Style Softness and Shine Teasing Brush
It is a perfect hair brush to achieve slicked back, suitable for all hair types
Helps comb hair back while giving them texture and shine
Works great for teasing and lifting the hair, making them voluminous
Gives smooth waves and straight styles in a jiffy
Bristles and handles are made with high-quality materials
What We Don't Like: The brush's design is not ergonomic.
[ Read: 7 Best Hair Brushes For Fine Hair ]
3. Hair Balm for Shiny hair: Paul Mitchell Super Skinny Relaxing Balm
It helps make hair shiny and more manageable with its super-rich formula
The creamy formula helps speed up drying and styling time by displacing water and constricting hair
It is infused with hair-nourishing ingredients that help attain slicked back
Free of parabens and other harmful ingredients
What We Don't Like: According to some users, the smell of hair balm is not very pleasing.
[ Read: How to Get Shiny Hair Naturally at Home ]
4. Hairspray for Hair Styling: Kristin Ess Hair Refine Hair Spray
Misting hair with this hair spray gives a stronghold to the strands that last for many hours
Offers strong support and hold
Adds texture and shine to hair and helps create whatever style you desire
Suitable for all hair types and textures
Gives a brushable finish for slicked back
Free of sulfates, parabens, and phthalates
What We Don't Like: Reapplication is necessary after a certain time.
[ Read: How To Improve Your Hair Texture Naturally ]
5. Hair Spray for Slicked Back: Moroccanoil Luminous Hairspray Strong
Offers long-lasting hold
Infused with hair-loving ingredients that keep strands shiny and frizz-free
Does not leave a sticky residue and develop any buildup on the scalp
It can be used to achieve different hairstyles
What We Don't Like: Hair may feel slightly oily.
[ Read: 7 Best Drugstore Products For Frizzy Hair ]
6. Bobby Pins for Managing Hair: EWAGOA 300 Bobby Pins Brown
The package comes with 300 bobby pins that help to achieve slicked back style with perfection
Comes in a travel-friendly and sturdy plastic box
Pins are comfortable and stay gentle on the scalp
Have thick rubber balls at both ends to protect hair and scalp from scratching
The wavy design in the middle looks elegant and beautiful
Powerful grip to prevent falling off
Made of premium metal and won't break easily
Double smooth-coated, rust-proof and will not fade easily
What We Don't Like: Available only in brown color.
[ Read: How to Detox Your Scalp for Healthy Hair at Home ]
7. Hair Serum: Olaplex No. 9 Bond Protector Nourishing Hair Serum
It is a weightless, leave-in antioxidant serum to protect from pollution, heat, and future damage
Protects hair from environmental stress and helps get healthy and neat slicked back
Adds shine and style to the hairstyle
Offers tangle and static control
Free of DEA, Aldehydes, Silicon, and Formaldehyde
What We Don't Like: It may not suit all hair types.
[ Read: 16 Effective Tips For Healthy Hair ]
Conclusion
Just one product does not complete the slicked-back style. You need to have different products and use them efficiently to attain the best result. Now that e have shared the 7 best hair products for slicked back go grab them and flaunt your impressive slicked back anytime.
You Might Also Like: