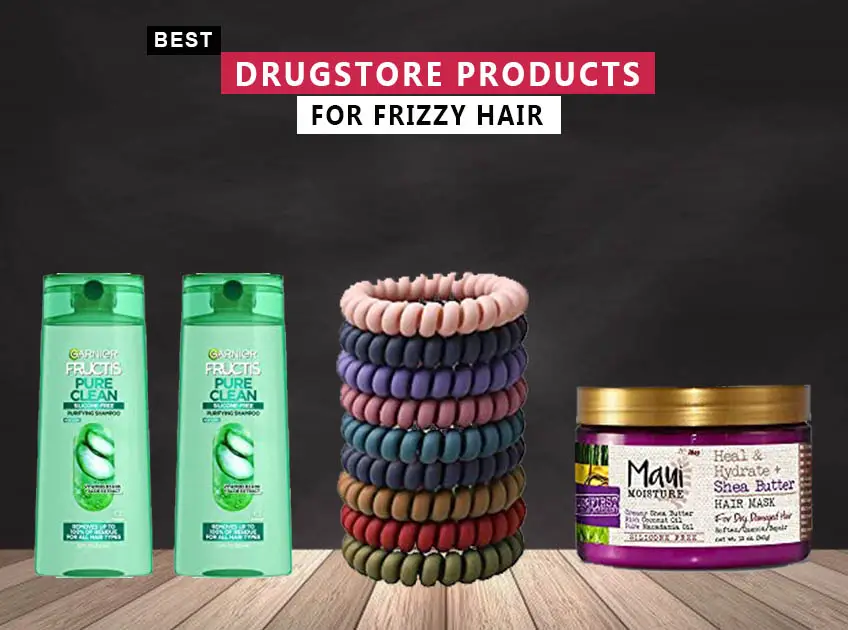 Managing frizzy hair seems irritating when you cannot tame the stubborn frizz. Even though many products claim to be anti-frizz treatments, most are of no use, creating more harm than help.
If you have already spent money on anti-frizz products with no positive results, it's time to check out these best Drugstore Products for Frizzy Hair we have mentioned. Starting from serum, we have included shampoo, conditioner, harm mask, hair ties, hair brush, and everything useful to tame the frizz.
Drugstore Products
All these products are selected based on their quality and performance with respect to frizzy hair. Check them out and find out which product will be useful for you.
7 Best Drugstore Products For Frizzy Hair
1. For Extra Shine and Sheen: OGX Smoothing + Liquid Pearl Luminescent Serum
It is an ultra-nourishing and hydrating serum, suitable for hair prone to dryness and frizz
It tames the frizz and makes the strands look sleek and shiny
It is packed with pearl extracts and sea kelp- both hair-loving products, making them soft and shiny
It works well on color-treated hair too
What We Don't Like: This serum will not give the desired results if you have thick and long hair.
2. Gentle Hair Care Formula: Garnier Fructis Pure Clean Fortifying Shampoo
It is loaded with the goodness of plant-based fortifying ingredients like aloe extracts and citrus protein.
It contains essential vitamins like vitamins E, B3, and B6 and fruit and plant-derived extracts to tame the frizz and flyways.
The ingredients are gentle enough to use every day
It is free of paraben, silicon, and other nasty hair ingredients
What We Don't Like: The hair may feel greasy.
[ Read: The 5 Best Vitamins for Hair Growth ]
3. Best Detangling Solution: Moroccan oil All In One Leave-in Conditioner
With a lightweight formula, this Moroccan Oil Conditioner is a perfect solution to fight off frizz and detangle knotted hair with ease
It offers long-lasting softness with its powerful hydrating ingredients
It consists of argan oil, an antioxidant-rich component, and pure amino acids that improve hair strength
It also contains vitamins, minerals, essential fatty acids, and naturally-derived sugar
What We Don't Like: It comes with a hefty price tag.
4. Ultra Hydrating and Nourishing: Maui Moisture Heal & Hydrate + Shea Butter Hair Mask
It is a perfect solution for dry, dull, and dehydrated strands as it quenches and nourishes it
Loaded with rich coconut milk, pure aloe vera juice, shea butter, and macadamia oil- everything that hair loves
It deeply nourishes and moisturizes hair and takes good care of the split ends
Free of harmful ingredients like parabens, silicones, mineral oil, and synthetic dyes
What We Don't Like: It may leave residue; therefore, a thorough cleaning is necessary.
[ Read: How to Use Coconut Milk for Hair Growth? ]
5. Best For Wave Textured Hair: TRESemmé PERFECTLY (UN)DONE Sea Salt Spray
The non-sticky formula of this amazing sea salt spray helps tame frizzy hair with perfection, giving a sleek and shiny look
Infused with non-sticky polymers and sea kelp extracts that help create silky smooth hair
It has a lightweight formula and doesn't make hair crunchy
Results are long-lasting
What We Don't Like: It may feel sticky.
[ Read: 5 Easy Homemade Hair Rinse Recipes for Silky and Shiny Hair ]
6. Hair Ties to Tame Frizz: Pengxiaomei Spiral Hair Ties
Soft and useful spiral hair ties that keep frizz at bay
Prevent hair breakage and doesn't create tangles
Comfortable to wear all day long
Good grip with the ability to hold hair easily
Non-absorbent and waterproof
Lightweight and travel-friendly
What We Don't Like: These hair ties may not be very useful if you have thick hair.
[ Read: How To Fix Hair Breakage On Top Of Head ]
7. Brush to Tame Frizz: Conair Pro Hair Brush
It consists of soft nylon bristles that stay gentle on hair
Suitable for all hair types- smooth, straightened, coarse, curly, and wavy hair
Works best for blow drying
It contains ball-tipped bristles for extra comfort while brushing
Glides smoothly on hair without damaging the strands
What We Don't Like: The grip is not so good.
[ Read: 7 Best Brushes For Wavy Hair ]
Conclusion
Infused with ingredients that stay gentle on hair and help manage frizz, these drugstore products for frizzy hair are worthwhile. They help rejuvenate the strands and do not compromise their health. Moreover, the hair ties and hair brush are also gentle on all types of hair. So, buy any of these and say goodbye to frizzy hair.
You Might Also Check: