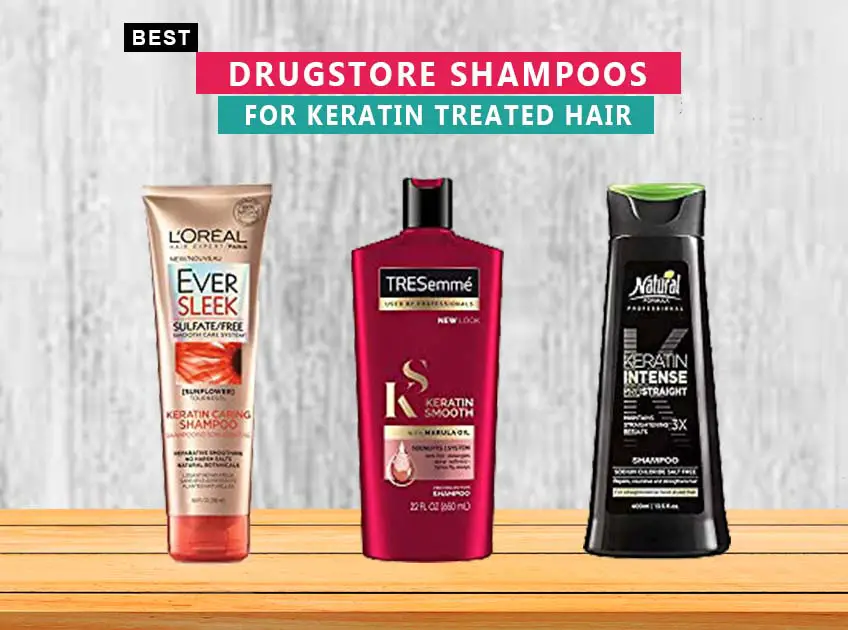 Sometimes maintaining the luscious locks becomes troublesome, especially if you have a hectic schedule. Even though we all love to have healthy, thick, and beautiful hair, the lack of proper care can soon make them dull and damaged. Therefore, using the best shampoo for hair is essential to maintain and managing it.
Drugstore Shampoos
If you have undergone keratin treatment and facing difficulty finding the right shampoo for it, fret not, as we have come up with a list of the 7 best drugstore shampoos for keratin treated hair. These shampoos are made specifically for keratin treated hair to make them soft, smooth, and easily manageable.
We have selected the best shampoos based on their quality and performance. Check them out!
7 Best Drugstore Shampoos For Keratin Treated Hair
1. Tame Frizz and Flyaways: OGX Anti-Breakage Keratin Oil Shampoo
It is infused with argan oil and keratin proteins to make hair healthier
Brings more strength to hair strands while improving their smoothness and elasticity
Prevents hair breakage and keeps dryness to a minimum
It is highly effective against split ends, frizz, flyaways, and other common hair issues
It is free of sulfates and parabens
What We Don't Like: The formula consists of EDTA and dimethicone, which are not considered good for hair health.
[ Read: 10 Best Shampoo For Dry Damaged Hair With Split Ends ]
2. Complete Protection: Natural Formula Keratin Intense ProStraight Shampoo
It creates a protective shield around the strands, protecting them from environmental damage
If the hair is damaged due to any hair styling techniques and tools, it helps bring back the shine, health, and bounce to it
Improves elasticity of hair and effects of keratin due to the presence of pentanol
It also protects hair from heat and chemical damage
What We Don't Like: It consists of ammonia and SLS, which are not considered good for hair health.
[ Read: 5 Easy Homemade Hair Rinse Recipes for Silky and Shiny Hair ]
3. Stays Gentle: Biolage Advanced Keratindose Shampoo
It is made with pro-keratin that helps revitalize and restore hair health and work on weak and fragile hair strands
Ingredients help improve hair elasticity, making them bouncy and lustrous
It is a gentle formula that stays easy on hair; therefore, suitable for everyday use
It is free of parabens and other harsh chemicals
What We Don't Like: It may contain sodium chloride and sodium lauryl sulfoacetate.
4. Ultra Hydrating: Amika The Kure Repair Shampoo

What We Don't Like: The formula may weigh down certain hair types.
It is infused with wheat proteins and keratin that helps repair and strengthen dull and damaged hair
The hydrating properties of the ingredients help restore hair moisture, making them soft and supple
It contains sea buckthorn, hydrolyzed keratin, hydrolyzed wheat protein, and avocado oil, delivering vitamins A and C, antioxidants, and omega fatty acids to hair
It is extremely good for dry to very dry and damaged hair
5. Softening and Smoothening Effect: L'Oréal Paris EverSleek Sulfate-Free Keratin Caring Shampoo
It works wonders on chemically-processes hair as it consists of sunflower oil that nourishes the scalp and hair strands equally
It helps restore damaged hair, bringing them a boost of health and shine
It is free of sulfates, harsh salts, or silicones
What We Don't Like: It consists of alcohol.
[ Read: How to Get Healthy Skin Naturally at Home ]
6. Clinically Proven: Nexxus Keraphix Damage Healing Shampoo
It improves hair resilience, bringing back the strength, shine, and health of hair
The formula contains keratin protein and black rice that replenish the lost shine and restore damage
It is clinically proven to combat extremely damaged and brittle hair gently
The high level of keratin, elasticity, and collagen helps in improving the overall health of hair
What We Don't Like: It has added fragrance and SLS.
[ Read: 5 Homemade Hair Serum Recipes for Healthy & Nourishing Hair ]
7. Anti-Frizz: TRESemme Keratin Smooth Shampoo

What We Don't Like: It consists of sodium laureth sulfate and sodium chloride.
It is formulated with keratin and marula oil that gives a complete transformation to hair
Makes hair more manageable
Works best for chemically processed and color-treated hair
Consists of high-quality hair-loving ingredients and is low in sulfate
It brings back health and shines to dry and damaged hair
Conclusion
Now that you know some of the best and most effective shampoos for keratin treated hair, it's high time to shift from your normal shampoos to these. They take extra care of your strands and bring back the lost shine. At the same time, these drugstore shampoos are easily affordable.
It's time to flaunt your gorgeous hair and look stunning.
You Might Also Like: