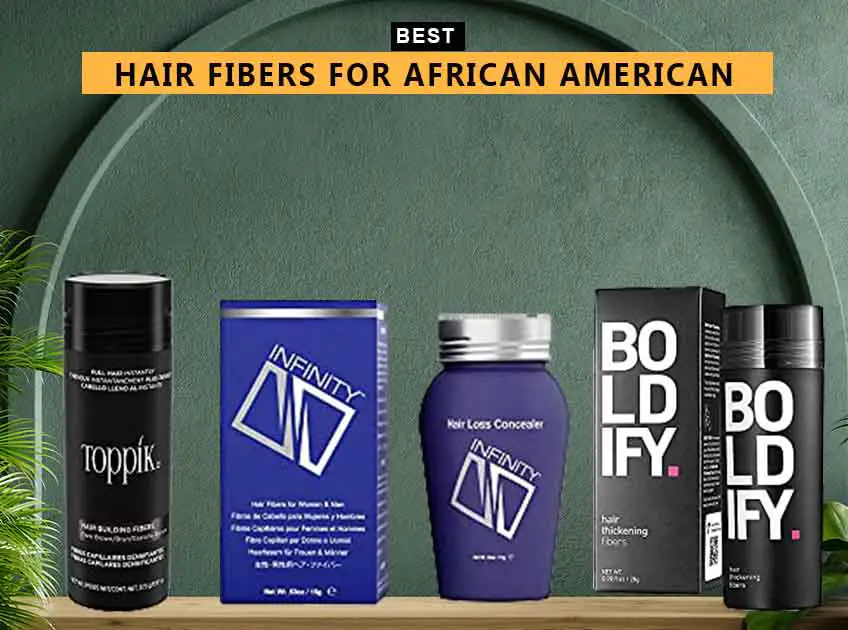 The African American population has some of the world's most diverse hair types. They have a range of hairstyles depending on their heritage, culture, and physical characteristics. Consequently, the hair needs a lot of care and products.
Hair fibers are one of the key products. But what exactly are hair fibers? Hair fibers are products for hiding bald patches and giving hair a fuller volume and a more natural appearance. The fibers are small articles that cling to our natural hair on the scalp and cover the bald spot.
Hair Fibers
When it comes to hair fibers, there are a ton of options available on the market. But there is still uncertainty regarding which is best and which one to choose. Here is a breakdown of seven different hair fiber types based on various classifications. Let's check them out!
7 Best Hair Fibers for African Americans
1. For all hair types: Toppik Hair Building Fibers
As a result of the business's use of premium natural keratin fibers, the product blends in well and seamlessly.
The high-quality keratin prevents the fibers from lumping on the scalp and giving it an unnatural appearance.
The keratin protein is created from the superior natural protein found in human hair, which has a good static
charge and promotes good adhesion to the scalp.
The fibers are rain, wind, and sweat resistant and easily removable by using shampoo.
It also ranges from greying hair to color-treated hair.
What We Don't Like: It can be tricky to use on the hairline, so you may need professional expertise.
[ Read: Best Dry Shampoo For African American Hair ]
2. For big budget: Hairtain by Re-Evolution
It is one of the best hair fibers in the market and is worth its budget.
The product uses magnetically charged keratin articles that adhere to the scalp effortlessly.
The product is also resistant to rain, wind, and sweat. All one needs to do is apply the product and seal it with some hairspray.
The product will boost the confidence in its users as they look extremely natural.
What We Don't Like: The price can be a bit over budget.
[ Read: Kerotin Scalp Massager Review ]
3. For those Grays: Xfusion b Toppik Hair Fibers
It works on the thinnest and finest hair to give it a fuller appearance. The product fares well to cover the greys.
The product has fibers that have a static coating, which helps them cling to the roots without causing any damage.
All one news to do is spray and gently dab the product on the area so that fibers can disperse evenly for a fuller appearance.
What We Don't Like: For sensitive skin, this product may not be the best.
[ Read: Home Remedies For Damaged Hair ]
4. For Colour Selection: Boldify Hair Fibers
Boldify is the best choice to make if you are concerned about the colour of your hair and the fact that it is thinning.
To cover wide parts, bald patches, and thin patches, this product uses cutting-edge hair fiber technology that mimics your hair follicle.
The product offers 14 ranges of color, so there is no stress to wonder if they may have your shade or not.
If you are having trouble finding your shade, they offer free customer service to assist you.
What We Don't Like: The application can become a bit messy.
[ Read: 7 Best Hair Colors For African American Gray Hair ]
5. For that shine: Get Back Gorgeous by Gen8 Hair Fibers
If you want the shiny texture that does not look false and pompous, then Gen8 has the perfect cover for you.
This product has wide range of colours available to match your hair for the perfect shine.
The brand promotes cruelty-free fibers.
If the product does not work for the customer or the customer is dissatisfied with the product, there are 100% money-back guarantees.
What We Don't Like: The product can rub off on items like quilts and clothes.
[ Read: 5 Easy Homemade Hair Rinse Recipes for Silky and Shiny Hair ]
6. Long-Lasting: Infinity Hair Building Fibers
The product gives a fuller appearance in under 30 seconds since it uses an Avant grade of hair fibers.
Electronic organic keratin proteins that work with different hair types and hairstyles make up the fibers.
Always wash your hair before applying it on the bald areas or thinning areas of your head.
The product produces great volume and density and is also available in many shades and colors to choose from.
What We Don't Like: It can be heavy on your hair.
[ Read: 5 Homemade Hair Serum Recipes for Healthy & Nourishing Hair ]
7. Tested Dermatologically: Cuva Hair Building Fibers
The product is known for its natural and undetectable hair fiber powder giving the bald patch covering a natural look.
These keratin hair fibers will be ideal for the needs of hair camouflage regardless of ethnic diversity.
It is excellent for root touch-ups in between salon coloring sessions and even helps cover the hairline seams if you are wearing a toupee.
What We Don't Like: The fibers may not last long as desired.
[ Read: 7 Best Drugstore Shampoos For Keratin Treated Hair ]
Conclusion
All of these products may suit you or not but it is advisable to have it checked out first or run by a demo to know the best. Also, if any sort of problem arises, contact our dermatologist immediately.
You Might Also Like: