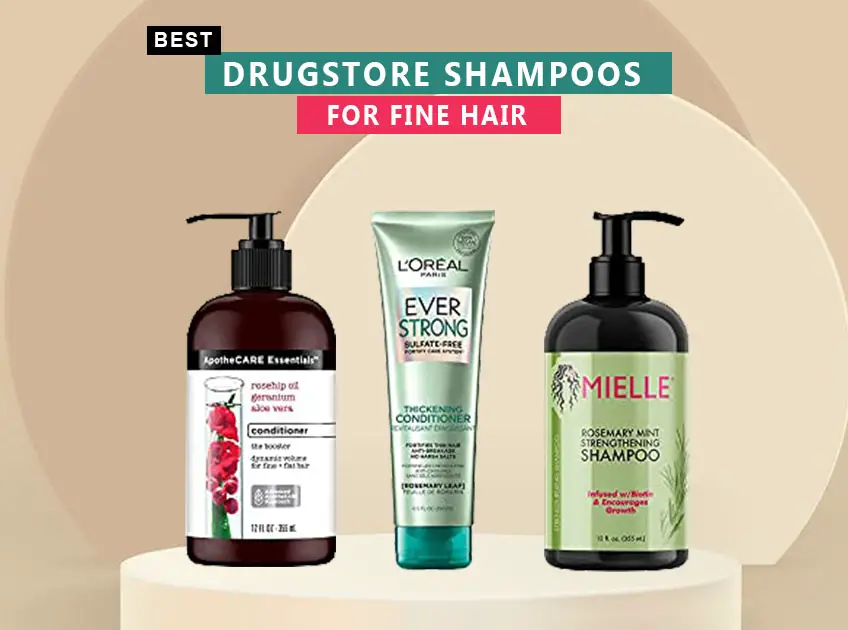 Fine hair can become weak and fragile when it lacks proper care. They start looking dull and limp with no bounce. Therefore, using shampoo and other hair care products made especially for fine hair is the right choice.
Many high-end brands make shampoos for fine hair, but since they are luxurious, they are out of the beauty range of many. Therefore, we have listed the best drugstore shampoo for fine hair that contains healthy ingredients and are available at a reasonable price.
Drugstore Shampoos
The best shampoo for fine hair will be the one that stimulates blood circulation around hair follicles, minimize hair fall, build hair growth and make hair look bouncy and voluminous. At the same time, they should maintain hair health.
Check out the 7 best drugstore shampoos for fine textured hair and bring oomph to your hair strands.
7 Best Drugstore Shampoo For Fine Hair
1. Ultra Nourishing: OGX Extra Strength Biotin & Collagen Shampoo
Packed with the goodness of biotin, Vitamin B7 nourishes hair and makes it strong
It consists of collagen, wheat protein, and bamboo fiber extract to bring more volume and health to the fine-textured hair
Delivering strands of plumping protein to hair helps hair look dense and voluminous
It is lightweight and easy to use
The floral scent makes it pleasing
What We Don't Like: It produces less lather.
[ Read: How To Improve Your Hair Texture Naturally? ]
2. Botanical Ingredients Based: ApotheCare Essentials The Booster Shampoo
The shampoo is infused with hair-loving ingredients that bring natural shine and volume to the hair
It is designed specifically for thin and fine textured hair to give a plumped and lifted look
Loaded with natural ingredients, it removes impurities and gives weightless nourishment to each strand
It is a lightweight and intensely moisturizing product
What We Don't Like: The shampoo smell could be overpowering for some.
3. Best for Hair Strength: Mielle Rosemary Mint Strengthening Shampoo
It features an exclusive hair-strengthening formula that helps nourish fine and thin hair and make it healthy
Packed with plant-based ingredients like babassu seed and coconut oil that helps in the easy detangling of the strands
The presence of biotin encourages new hair growth; this works best for hair fall too
It helps give intense shine and sheen to the strands
What We Don't Like: The shampoo could be drying for some, so skip this product if you have dry hair.
4. Effective and Affordable: L'Oreal Paris EverStrong Thickening Shampoo
Infused with extracts of rosemary that help bring natural shine and health to the fine hair
It helps fortify thin and fragile hair; therefore best drugstore shampoo for fine hair
The special formula helps build 15 times more strength to the hair strands
It cleanses the scalp and each hair strand without stripping off its natural oil
What We Don't Like: It is not good for people with extremely dry hair.
[ Read: The 14 Best Shampoos for Fine Hair ]
5. Coconut Scented: Maui Moisture Thicken & Restore + Bamboo Fiber Shampoo
It nourishes the strands gently and adds shine, strength, and density to it
Features a powerful blend of aloe vera, coconut water, castor oil, and bamboo fibers to densify and strengthen
It helps to get revitalized, strong-looking hair with volume, bounce, and a healthy shine.
The scent of coconut makes it pleasing
What We Don't Like: It may cause hair breakage in dry hair
[ Read: How to Strengthen Hair Naturally ]
6. Best for Color-Treated Hair: John Frieda Volume Lift Weightless Shampoo
It uses the exclusive Air-Silk" technology
It helps deliver a weightless body and noticeable fullness in hair without stripping the hair follicles
It is lightweight and adds volume and bounce in just one use
Smells great, and the results are long-lasting
What We Don't Like: Even though everything about this shampoo is excellent, according to some users, the sprayer is not very good and often clogs.
[ Read: 7 Best Clarifying Shampoos for Colored Hair ]
7. Good for Scalp: Head & Shoulders Classic Clean Paraben-Free Dandruff Shampoo
Works wonderfully on scalp issues like dandruff, flaky, irritated, and scaly scalp
It consists of pyrithione zinc formula that helps to rid your scalp of dandruff-causing bacteria
It helps give relief to multiple symptoms and makes hair healthy right from the roots
Features pleasing scent
What We Don't Like: It may cause itching on the scalp in people with sensitive skin.
Conclusion
These are the most effective shampoos for fine hair that give them a dose of health and shine. Now you can make your fine hair look healthier and better in all ways with the help of these products.
You Might Also Like: