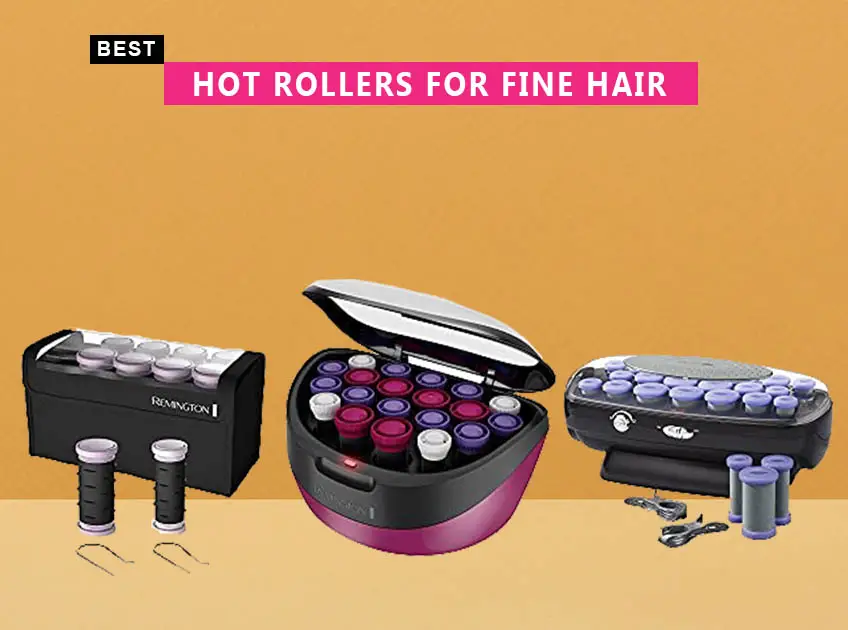 Using heat styling tools on fine hair may seem frightening as the chances of hair damage are always there. However, using the best hot rollers will help manage fine hair without compromising health.
The best rollers for fine hair stay gentle on hair strands and have a ceramic or steam heat source. They help create the desired look without potentially damaging vulnerable strands.
If you have fine hair and looking for the best hot rollers, check out the list we have shared. They will work wonders on your hair and ensure no damage.
7 Best Hot Rollers For Fine Hair
1. Gentle Steam Styling: CARUSO 30 Piece Molecular Steam Hairsetter/Hot Rollers
Creates longer-lasting curls as they offer three times the steam of regular steam setters
It can easily set hair within 15 minutes, depending on your hair length and the curls you're going for.
It comes with matching comb clips to hold the rollers in place
Do not leave kinks in your hair
It comes in a pack of 30 rollers of different sizes and uses steam for curling
What We Don't Like: It is time-consuming as it takes time to set up the rods and heats them.
[ Read: 7 Best Curling Irons For Fine Hair ]
2. Reduces Frizz: INFINITIPRO BY CONAIR Ceramic Flocked Hot Roller Set with Cord Reel and 20 Hair Rollers
These are ceramic rollers that heat up using gentle infrared heat
To protect hair strands, each roller comes wrapped in velvet
It comes with an ionic generator that reduces frizz and manages flyaways
There are 12 heat settings to choose from for the best and flawless finish
It works fast and heats within two minutes, so it is quick and efficient
It comes with 20 plastic, butterfly-style clips
What We Don't Like: The butterfly clips may seem difficult to use, especially on short hair.
3. Jumbo Rollers for Long Hair: Conair Jumbo and Super Jumbo Ceramic Hot Rollers
It works best for long and extra-long hair due to jumbo-sized rollers
It helps create bigger waves and voluminous curls
Features exclusive ceramic heating that provides even, long-lasting heat
Its heat-up time is just 85 seconds, thus giving instant results
The presence of soft and velvety material prevents fine hair from becoming damaged
It comes with 12 jumbo butterfly-style clips,
Keeps rollers snug on medium-length hair
What We Don't Like: The number of rollers is less than other products.
[ Read: 7 Best Derma Rollers For Hair Loss ]
4. Gentle Hair Styling Tool: BaBylissPRO Nano Titanium Hot Roller
These are nano titanium ceramic hot rollers that use far-infrared heat to gently style hair and make them look bouncy
Even heat distribution is ensured by leaving any hot spots on the strands
It helps style hair faster and thus prevents hair damage
It comes with 20 butterfly clips and 20 color-coded metal pins
It is easy to operate with a simple on-and-off switch
Features an indicator light and a heat-ready light
What We Don't Like: It takes time to heat up.
5. INFINITIPRO By Conair Instant Heat Tourmaline Ceramic Flocked Hot Rollers, 2-inch
It is a 2-inch hot roller setter that helps to attain mega volume and smooth waves
Large rollers are perfect for creating volume in long hair
It generates ions that help reduces frizz and enhance shine
Heats up in just 85 seconds, thus ensuring fast results
Made from tourmaline ceramic, it comes with an indicator light
The package includes eight rollers that are flocked in soft velvet
Comes with eight two-prong clips to hold the rollers in place without creating dents in the hair
What We Don't Like: You get only eight rollers, which may seem less for styling long hair.
[ Read: 5 Homemade Hair Serum Recipes for Healthy & Nourishing Hair ]
6. Ionic Conditioning: Remington H5600H Ionic Conditioning Hair Setter
It features a thermal wax core that retains heat for longer and helps create long-lasting curls
Each roller comprises velvet with ionic conditioning to help reduce frizz and leave hair shiny
The presence of a thermal wax core allows hair to retain heat longer
It comes with an indicator light
What We Don't Like: It takes time to heat up; thus time-consuming.
[ Read: 7 Best Conditioners For Fine Hair ]
7. Compact and Efficient: Remington H1018 Compact Ceramic Worldwide Voltage Hair Setter & Rollers
The lightweight and compact design makes the device travel-friendly
The rollers are wrapped in a rubber-like material that reduces hair slip
Ceramic core and ionic conditioning help create smooth and shiny curls
It offers a more substantial grip for fine hair without the risk of snagging
Heats up quickly
What We Don't Like: The package includes only ten rollers.
Conclusion
We have selected these hot rollers based on their quality and performance. So you don't have to bother about the strands getting damaged. Pick any of them and start styling your fine hair as you desire.
You Might Also Like: