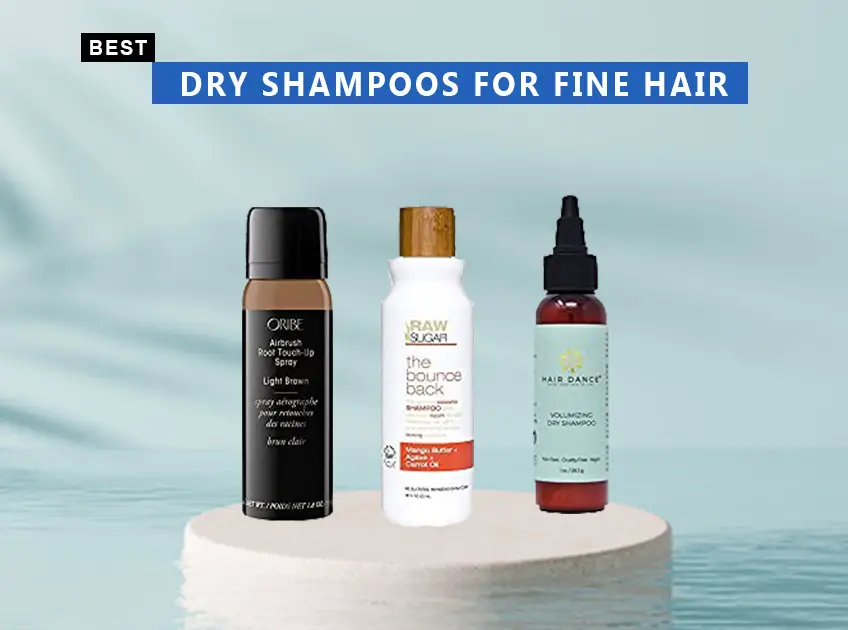 One major problem with fine hair is they stay looking limp and oily soon. While shampooing every day is not a good solution as the chemicals present in shampoo can strip off essential oil from the hair, damaging them in the long run, dry shampoos come in handy.
With dry shampoos, you don't need to wet your hair and spend hours in the shower cleaning hair. They are convenient and highly useful for days when you don't have time to wash your hair. They are travel-friendly too.
Dry Shampoos
Even though there are many dry shampoos in the market, finding the one best for fine hair is a little tricky. If you have a hard time finding the right product, scroll ahead and check out the 7 best dry shampoos for fine hair we have mentioned.
We picked these products based on quality and performance on fine hair. Pick your product and make your hair fresh and odorless.
[ Read: How To Take a Shower Without Getting Your Hair Wet ]
7 Best Dry Shampoos For Fine Hair
1. Effective and Affordable: Living Proof Perfect Hair Day (PhD) Dry Shampoo
It offers refreshed and bouncy hair immediately as it absorbs all the impurities in a jiffy
The pleasing scent that it offers brings good vibes
It removes the dirt as well as odor effectively from the fine hair
Silica and linalool are the active ingredients of this dry shampoo
Suitable for chemical processes and color-treated hair too
Free of silicones, SLES and SLS, parabens, phthalates, and gluten
What We Don't Like: It may be drying for some hair types.
[ Read: 7 Best Clarifying Shampoos for Colored Hair ]
2. Best Texturizing: Oribe Dry Texturizing Spray
It is a gentle cleanser that also works as a texturizer for fine hair
The pleasing aroma makes it highly appealing
It absorbs excess oil right from the roots, calming the scalp and making hair strands refreshing
Zeolite, Aloe Vera, and Linalool are the active ingredients
Free of silicones, SLES and SLS, parabens, phthalates, and gluten
What We Don't Like: It is pricey.
[ Read: 7 Best Hair Oils For Fine Hair ]
3. Best Overall: Moroccan Oil Dry Shampoo Light Tones
It works wonderfully on blonde, white, platinum, and gray hair
It is infused with rice starch that cleans grease and product buildup
The presence of argan oil makes hair smooth and healthier than ever
It helps bring more volume and shine to the hair
The invisible finish makes Moroccan Oil Dry Shampoo the best
What We Don't Like: If you have fine hair, it would be too heavy.
[ Read: 7 Best Dry Shampoos For Oily Hair ]
4. Best for All Hair Types: ACURE Dry Shampoo
It consists of certified organic ingredients that help give extra bounce and volume to the hair
The presence of rosemary and peppermint oil calms the irritated scalp and gives a refreshing smell
It absorbs all the excess oil and removes impurities from the scalp and hair strands making hair feel fresh and clean
It acts fast and gives you refreshed hair conveniently.
Free of parabens, phthalates, and other harmful ingredients.
What We Don't Like: You may feel little stiffness in strands for some time.
5. Plant-Based: Act+Acre Plant-Based Dry Shampoo
Due to the presence of botanical extracts, it is one of the safest and healthiest scalp cleansing products, suitable for hair extensions
It contains six types of organic plants that bring health and shine to the strands
It is detoxifying in nature, supplying natural nutrients to the scalp and hair, promoting their healthy growth
Contains rice and tapioca powder that absorbs grime, oil, and impurities from hair effectively
It also consists of Fulvic acid and 65 more minerals that are considered better than talc-based dry shampoo
Free of chemicals, alcohol, aerosols, and parabens
What We Don't Like: Hair may feel a little stiff temporarily.
[ Read: Best Dry Shampoo for Extensions ]
6. Lightweight Dry Shampoo: Hair Dance Volumizing Dry Shampoo
It consists of non-aerosol that helps cleanse hair in a jiffy, leaving it fresh and aromatic
Infused with rice starch, oatmeal, non-crystalline silica, lavender oil, and olive leaf extract– everything that makes hair healthy
It is free of talc and ensure no white residue after you use it for dry shampooing
Contains 100% organic ingredients and no harsh chemicals and additives
What We Don't Like: it is not suitable for sensitive scalps.
[ Read: Tips for Healthy Hair ]
7. Highly Refreshing: Raw Sugar Volume Dry Shampoo
Marshmallow Root and Bamboo Powder are the active ingredients
It doesn't leave white residue on hair or scalp, leaving it feeling and looking fresh
The plant-based ingredients stay gentle on the scalp and do not compromise hair health
It is free of sulfates SLS and SLES, parabens, silicones
What We Don't Like: It doesn't add much volume to hair like other dry shampoos.
[ Read: Home Remedies for Dry Itchy Scalp ]
Conclusion
For fine hair, dry shampoos work miraculously, bringing volume and shine. Buy any dry shampoos for fine hair we have mentioned, and give a refreshing luster and bounce to your hair locks.
You Might Also Like: