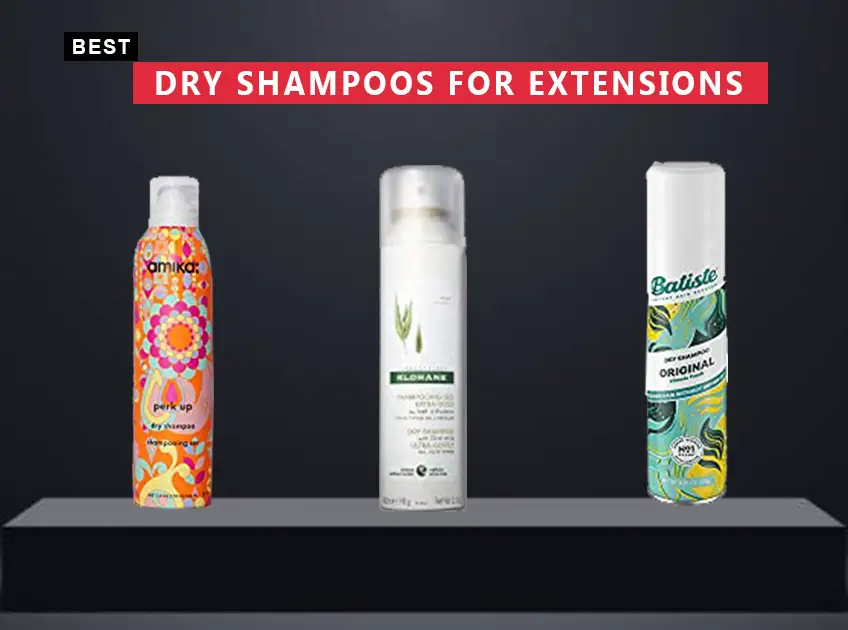 Hair extensions help enhance the beauty of hair. If you yearn to have long, luscious locks or some particular hairstyle, hair extensions will work to help achieve it. Getting hair extensions is easy; however, maintaining them is a task. You need to use the right hair care products to maintain the hair extensions for a long.
Hair extensions can be sewn, taped, or bonded to the scalp with the help of some attachment. For maintaining hair extensions for a long, you are instructed not to wash them frequently. In such cases, dry shampoo comes to the rescue.
Hair tends to become dirty after some days, and the feeling of living with such hair is unappealing. To maintain the shine and refreshing look of hair, dry shampoos work wonders. They clean hair without the use of water; thus highly suitable for hair extensions.
If you are looking for the best dry shampoo for extensions, your search ends here. Check out the list below and find your pick.
7 Best Dry Shampoos For Colored Hair
1. Best Overall: Moroccan Oil Dry Shampoo Light Tones
It works wonderfully on blonde, white, platinum, and gray hair
It is infused with rice starch that cleans grease and product buildup
The presence of argan oil makes hair smooth and healthier than ever
It helps bring more volume and shine to the hair
The invisible finish makes Moroccan Oil Dry Shampoo the best
What We Don't Like: If you have fine hair, it would be too heavy
[ Read: 7 Best Dry Shampoo For Colored Hair ]
2. Volumizing and Texturizing: BATISTE Dry Shampoo
It is formulated to eliminate excess oil and grease at the roots.
Leaves hair feeling clean between washes
a classic fragrance with a citrusy and refreshing burst of orange and bergamot, balanced by hints of rose, lily, lavender, and powdery musk
Waterless shampoo formula that is effective for several hair types and perfect for the girl-on-the-go
This dry-scented shampoo also removes oils to provide added hair texture and volume that gives the appearance of fuller hair
What We Don't Like: It may make the hair slightly stiff.
3. Budget-friendly Dry Shampoo: OGX Extra Strength Refresh + Restore Coconut Miracle Oil Dry Shampoo
It is an excellent absorbent that removes all the buildup and grime from the scalp and strands effectively
Offers an invisible finish and doesn't leave any residue on hair
Helps in making the hair look refreshed, voluminous and healthy
Contains the pleasing fragrance of coconut and flowers
What We Don't Like: it may feel heavy for fine textured hair.
4. Pleasing Smell: Amika Perk Up Dry Shampoo
The oil-absorbing power of Amia Perk Up dry shampoo is excellent
It helps bring more volume and shine to the hair
It ensures giving invisible finish and removes all the dirt and grime
The pleasing scent that makes your hair smell fruity and flowery all through the day
The scalp feels clean and relaxed
What We Don't Like: It makes hair slightly stiff.
[ Read: 7 Best Dry Shampoos For Fine Hair ]
5. Best for All Hair Types: ACURE Dry Shampoo
It consists of certified organic ingredients that help give extra bounce and volume to the hair
The presence of rosemary and peppermint oil calms the irritated scalp and gives a refreshing smell
It absorbs all the excess oil and removes impurities from the scalp and hair strands making hair feel fresh and clean
It acts fast and gives you refreshed hair conveniently.
Free of parabens, phthalates, and other harmful ingredients.
What We Don't Like: You may feel little stiffness in strands for some time.
[ Read: 7 Best Dry Shampoo For Colored Hair ]
6. High-quality and Performance: Klorane Dry Shampoo with Oat Milk
It is an award-winning dry shampoo with a highly effective formula that absorbs dirt and grime
It gives great shine, volume, and bounce to the hair
It stays gentle on the hair due to its plant-based ingredients infused with starch and silica
Tackles oils as well as odor with its highly effective oat milk that also soothes the scalp
What We Don't Like: You may temporarily feel white residue on your hair.
7. Plant-Based: Act+Acre Plant-Based Dry Shampoo
Due to the presence of botanical extracts, it is one of the safest and the healthiest scalp cleansing products, suitable for hair extensions
It contains six types of organic plants that bring health and shine to the strands
It is detoxifying in nature, supplying natural nutrients to the scalp and hair, promoting their healthy growth
Contains rice and tapioca powder that absorbs grime, oil, and impurities from hair effectively
It also consists of Fulvic acid and 65 more minerals that are considered better than talc-based dry shampoo
Free of chemicals, alcohol, aerosols, and parabens
What We Don't Like: Hair may feel a little stiff temporarily.
Conclusion
So these are some of the best dry shampoos for hair extensions that are excellent in quality and performance. Whether you have straight, curly, or short hair wigs, they'll give stunning results.
You Might Also Like: