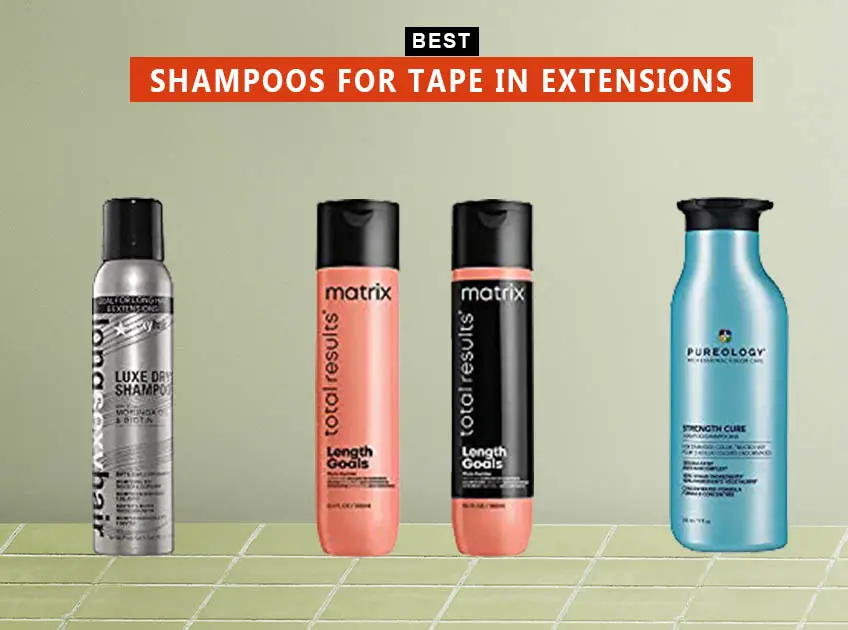 Using hair extensions helps you get voluminous and dense hair in a jiffy. They work great when you have thin hair or bald patches. Besides, hair extensions also help achieve different hairdos and styles, especially those requiring more scalp hair.
Even though hair extensions are useful in many ways, managing them can take a toll. Since they are attached to the scalp with the help of tape or some other adhesive, they do not get the scalp's natural oil. As a result, hair extensions become prone to dryness.
Shampoos
To keep hair extensions well-moisturized and nourished, it is essential to use the best shampoo for tape-in extensions. They keep hair moisturized, soft, and silky and prevent breakage. Also, the problem of frizz and flyaways subside.
Check out the best shampoos for tape-in extensions that we have listed, and enjoy the luscious locks for a longer period.
7 Best Shampoos For Tape In Extensions
1. Best Overall: Pureology Strength Cure Shampoo
Infused with ceramide, a hair-conditioning agent
It boasts a unique formula that strengthens the hair's strands and prevents breakage
Repairs dry and damaged hair and locks in essential nutrients
Leaves hair extensions healthier
Also infused with arginine, which protects hair extensions from damage caused by hair dyes
Suitable for colored extensions as well
What We Don't Like: It features an overpowering fragrance and may leave a greasy residue on hair
[ Read: 10 Best Shampoo For Dry Damaged Hair With Split Ends ]
2. Best for Color-Treated Extensions: BIOLAGE Color Last Shampoo
Features low pH that prevents it from stripping off colors from the extensions
It gives long-lasting results and preserves hair color for over nine weeks
Free from harsh chemicals like sulfates and parabens
Do not damage the strands; leave them moisturized and free from split ends.
It lathers well
What We Don't Like: It contains sulfate and is more pricey than other shampoos for hair extensions.
3. Best for All Extension Types: Matrix Total Length Goals Shampoo
Even though formulated to promote hair growth, you can use it on all types of extensions too
Free of sulfates, so do not leave extensions dry and dull
It makes extensions feel soft and smooth
Infused with Phyto-peptides that enhance the hair's longevity and overall appearance
Hair develops a soft, silky feel, free of knots and tangles
Works well on color-treated extensions too
What We Don't Like: It doesn't lather well. Also, the smell is unpleasing.
4. Best for Curly Extensions: OGX Nourishing & Coconut Milk Shampoo
Prevent drying, tangling, and frizzing of hair extensions
Infused with coconut milk that nourishes the hair and restores its strength
Features thick and creamy texture
Lathers easily on wet hair and adds shine to the extensions
Reduces hair breakage and restores the hair's elasticity
Ensures getting fuller, shinier, and more defined hair
What We Don't Like: It is slightly greasy and may weigh the hair down.
[ Read: 7 Best OGX Shampoos For Curly Hair ]
5. Best Hydrating Shampoo: Keratese Nutritive Nutrition Shampoo
It is a hydrating hair shampoo that provides much-needed oil to the strands
Enriched with Rhizome extract, proteins, glucose, and lipid blends
Penetrates the dry strands and locks in the moisture
Do not weigh the hair down
Delivers soft, light, and glowy look to the hair
It is best for 4C hair extensions as it reduces tangles effectively
What We Don't Like: It may dry the color-treated extensions.
6. Best for Tape-in Extensions: Big Kizzy Volumizing Shampoo
Leaves the tape in place for the next application
Free of oils that cause hair extensions to slip out easily
Free of harsh sulfates, parabens, and silicones
Fortified with ProVitamin B5 and Biotin
Nourishes and strengthens the hair locks and keeps it frizz-free
What We Don't Like: It doesn't lather well.
[ Read: How To Put Your Own TAPE IN Hair Extensions ]

7. Best for Quick Fixes: SexyHair Luxe Dry Shampoo
It is the best dry shampoo for hair extensions
Extend the hair's life by minimizing the number of times you wash extensions
Enriched with moringa oil that prevents product buildup
Absorbs grease, dirt, and excess oil, bringing extensions hair to life
Adds shine to the hair without leaving residue
What We Don't Like: It has a strong smell and is not too absorbent.
Conclusion
Now that you know some of the best shampoos for tape-in extensions, it's high time to start using them to prolong their life and keep them healthy, shiny, and natural.
You Might Also Like: