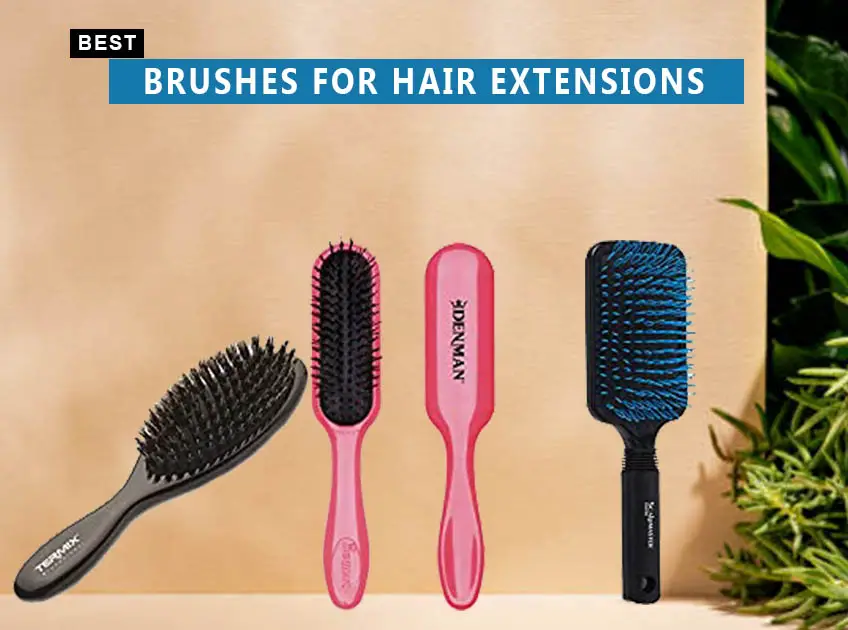 The best way to manage hair extensions is by brushing them frequently. However, it is more important to use the right hair brush for hair extensions. Depending upon the type of hair extension you wear, you can decide what brush will work best for you. It is essential to keep hair extensions detangled to increase their longevity.
Whether you wear extension hair straight or with a slight wave pattern, you need the best brush for hair extensions to keep them in a manageable condition. Besides managing hair extensions, brushes also help detangle and style the locks. Remember, brushing is the key to longevity in hair extensions.
Brushes for Hair
If you have recently got hair extensions and finding the right brush for them is taking a toll, do not worry and check out the listed brush for hair extensions. They are hand-picked by us to narrow down your search.
7 Best Brushes for Hair Extensions
1. Best Long And Short Bristles Brush: Denman Tangle Tamer Hair Detangling Brush
Features both long and short bristles that glide through the knots and tangle smoothly
The handle is ergonomically shaped for optimum control and a firm and comfortable grip
Made of anti-static rubber and soft nylon bristles
Nylon bristles have round ends that are gentle and do not damage the hair
What We Don't Like: This brush won't be helpful if you have thick curly locks. Also, it will not reduce static.
[ Read: 7 Best Brushes For Short Hair ]
2. Detangling Styling Hairbrush: Navaris Paddle Brush
It can be used for all hair types, hair extensions, wigs, and weaves
Has a large, flat surface that helps reduce frizz and makes the hair smooth, soft, and voluminous
A paddle brush helps spread the hair evenly so the drying time is cut
The gel handle is non-slip for better grip and control when styling
What We Don't Like: According to some customers, this brush is unsuitable for people with thin hair. Also, the top of the bristles may come out after some time.
[ Read: Home Remedies for Frizzy Hair ]
3. For Superior Styling: Termix Professional Extensions Brush
It uses a special blend of nylon bristles and natural boar bristles, which provides superior styling
Heat resistant and has a non-slipping handle for a better grip
Comfortable cushion base for a comfortable grip
Works on all hair types and is suitable for wet hair too
What We Don't Like: The handle seems delicate and may break.
[ Read: 7 Best Brushes For Wet Hair ]
4. Ergonomically Designed: Scalpmaster Hair Extension Cushion Paddle Brush
Features designed loop bristles for hair extensions that pass through the hair easily and gently without causing damage
Helps detangle knots and messy hair
Comfortable cushion paddle with a firm grip
Enhance natural hair shine, softness, and smoothness without damaging the hair texture and quality
What We Don't Like: It is a heavyweight brush that may have some missing loops.
[ Read: 5 Easy Homemade Hair Rinse Recipes for Silky and Shiny Hair ]
5. Looped Hair Brush: RemySoft One Twenty Three Loops – Loop Brush
Uses 123 nylon loops, which allows the brush to glide through the hair without pulling or snagging
Works well with hair extensions, wigs, weaves, and other hair systems
Does not destroy the synthetic bonds of hair extensions
It has classic black cushioned handles for a comfortable grip.
What We Don't Like: The handle is delicate and prone to breaking.
6. Best For all hair Types: Tangle Teezer
Suitable for all hair types and hair extensions – clip-ins, wigs, and weaves
Makes the hair smooth and shiny and is ideal for styling in updos
Adds volume at the roots by back-brushing
It has soft tips and glides over synthetic bonds without destroying them
What We Don't Like: If your hair is coarse and thick, this brush may not work. Also, it will not reduce static.
[ Read: 30 Gorgeous Updos for Short Hair Ideas ]
7. Looped Nylon Brush: Spornette Large Super Looper Wig Brush 215
Helps to detangle hair without reducing the life of wigs and hair extensions
Uses unique looped nylon bristles without pointed tips, adding another layer of protection for extensions and wigs
Has a cushion body that ensures no tension on hair strands
Protects the sensitive scalp and hair from stretching, breaking, and damage
What We Don't Like: According to some users, the loops may catch on extension tape.
[ Read: Home Remedies for Damaged Hair ]
Conclusion
Undoubtedly hair extensions increase the volume and length of hair, and improper brushing makes them prone to damage and pulling out. It is when the best brush for hair extension comes to the rescue.
The brushes we have mentioned are tried and tested on hair extensions. They are extension-friendly and keep these beautiful hair accessories intact, extending their longevity.
You Might Also Like: